Don't expect Matt Mitrione to get a swelled head about his position in the sport if he wins the Bellator Heavyweight World Grand Prix. Mitrione (12-5 MMA, 3-0 BMMA) competes in the second tournament quarterfinal bout tonight at Bellator 194 when he rematches Roy Nelson (22-14 MMA, 1-0 BMMA) in the Paramount-televised headliner at Mohegan Sun Arena in Uncasville, Conn., following...
UFC champs Stipe Miocic and Daniel Cormier faced off for the first time ahead of their upcoming UFC 226 superfight this summer. The attached surfaced from yesterday's TUF 27 'Undefeated' media day. Cormier and Miocic will coach teams of undefeated fighters from two divisions on the upcoming season which is scheduled to premiere April 18th on FS1. Two new "Ultimate Fighters" will...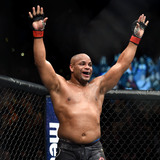 Daniel Cormier doesn't have to prove anything to fight fans anymore. But on June 7 at UFC 226, he fully intends to.That's because on that night, heavyweight champion Stipe Miocic takes on the light heavyweight champion in Cormier. It's champion versus champion, but that's not all. If DC emerges victorious, he believes that makes him the greatest of all time."I win this fight July...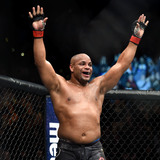 Get ready, UFC fans. You're about to get another clash of champions.Heavyweight champion Stipe Miocic is going to defend his title at UFC 226 on July 7. But here's the catch: it's against UFC light heavyweight champion, Daniel Cormier. But that's not all. These two title-holders, of course, will star as coaches during The Ultimate Fighter 27. Excited yet?Both Miocic and Cormier have...
UFC 220 looks to be the biggest clash in heavyweight history between the heaviest hitters on the planet and only one can walk away the champ. The light heavyweight belt will also be on the line in the UFC's return to Boston. Stipe Miocic vs Francis Ngannou This is a fight between two of the most frightening men on the planet. The heavyweight champion Stipe Miocic looks to make history...
The UFC has featured a lot of great heavyweight champions, but with Stipe Miocic's second title defense over Junior dos Santos this past Saturday night, Miocic tied the record for most heavyweight title defenses in the promotions history with two. The Cleveland native is on his way to becoming one of the best UFC heavyweights in the history of the promotion. Legendary fighters such...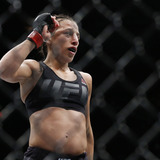 UFC 211 is finally upon us, and despite the lack of transcendent super-star talent on the docket, it may very well be the best card the UFC puts on display this year. Here are the five reasons why. Your Favorite Fighter's Favorite Fighter(s) Are you looking for a new favorite fighter to watch? One who is vicious on her feet and is always looking for the finish? Then Joanna Jędrzejczyk...
Stipe Miocic is the UFC heavyweight champion but he's also a blue collar guy from Euclid, Ohio, just east of Cleveland. He works as a firefighter and paramedic in the suburbs, and he trains at Strong Style Mixed Martial Arts & Training Center, a local gym. Growing up and still living in the Cleveland area, Miocic knows his way around the local scene. Here are his five go-to...
UFC Heavyweight Champion Stipe Miocic is one big dude. Listed at 6-foot-4, 246 pounds, Miocic has to eat a lot to keep his weight up. Though he eats pretty clean most of the time, he does allow himself an occasional cheat meal. When that time comes, he turns to a traditional junk food favorite—pizza. "I'm a heavyweight, so during camp I just eat clean. I have my cheats meals...
Here's what UFC Heavyweight Champ Stipe Miocic is not: He's not "Sty-pe." The fighter's first name does not sound like the last name of REM's lead singer. Yes, the two names are spelled the same. But they're spoken far differently. Neither is Miocic's first name "Stee-pee" or "Stye-pee." And even though the video has more than 3,000 views, Miocic's name does not sound anything...
MORE STORIES >>
MMA News

Delivered to your inbox

You'll also receive Yardbarker's daily Top 10, featuring the best sports stories from around the web. Customize your newsletter to get articles on your favorite sports and teams. And the best part? It's free!