Found May 23, 2013 on Fox Sports:
The heavyweights -- much like last Memorial Day weekend here -- were the focus of Thursday's Ultimate Media Day. Saturday's UFC 160 features a title bout between champ Cain Velasquez and Antonio Silva. Junior dos Santos takes on Mark Hunt. But as UFC president Dana White took to the stage for his usual pre-fight scrum, the talk was mostly about the future. White detailed the following in his nearly hour-long chat with reporters: Irish featherweight Conor McGregor will fight on UFC's debut on FC on FOX 1 on Aug. 17. White declined to disclose the opponent. Former UFC heavyweight Josh Barnett will soon make his return to the UFC after more than a decade away. White said Barnett has asked to be able to take part in a full training camp, so it looks like his return is a couple of months off still. Longtime UFC middleweight champ Anderson Silva signed his 10-fight contract. Welterweight Dan Hardy has agreed to seek a second opinion on his heart condition that has interrupted his MMA career. Ronaldo "Jacare" Souza and Yushin Okami will fight in the near future. And here are the five rounds from the UFC 160 media day: Round 1: Hunt 'not a threat to America' Hunt was present, something that seemed in question just a few days ago. He sat for more than an hour, mostly fielding questions about his visa issue that nearly prevented him from entering the U.S. "I've got no animosity toward anybody," Hunt said. "It was my problem that happened a long time ago. You have to do what you got to do to be safe, whatever it is. I'm not a threat to America. Look at me. I'm a nice guy." Before he was finally allowed on a flight from New Zeeland on Monday, Hunt got as far as the gate before U.S. Customs and Border agents prevented him from boarding. The problems are traced back to an assault arrest in 2002. "With the Boston bombings, it's crazy to get into this country," White said. "It's something that's definitely going to be on the radar moving forward." Round 2: Sticking to the code The UFC's code of conduct is about fourth months old, and it has already ensnared two UFC fighters: Matt Mitrione and Nate Diaz. Both fighters were suspended and fined for homophobic remarks. "It's definitely a good thing," White said of the code. "I like the direction we're going. Everybody was all pissed off after the Mitrione thing. I said, 'Believe me, it's going to get worse before it gets better.' When you start getting fined and it costs you money, you stop and think before you do this stuff." Mitrone was fined an undisclosed amount and suspended three weeks after verbally attacking transgender MMA fighter Fallon Fox during an online interview in April. Diaz was suspended last week for 90 days and fined $20,000 for using a homophobic slur on Twitter. "I'm fed up with the (expletive)," White said. "One thing I noticed is that money makes people react really quick. A 'sorry' is great. I love a 'sorry' here and there. 'Sorries' are always good, but when you have to start forking out the cash, you start remembering." White also said it isn't fair to compare Diaz's use of the derogatory word to the time White dropped it in a web video in 2009. "You think that I didn't pay in a million different ways for saying that word?" White said. "The difference is that I'm really sorry for saying it. I am not a homophobe whatsoever." Round 3: Hunt schooled on testosterone Testosterone replacement therapy (TRT) has been one of the most discussed issues in MMA of late. Hunt, however, had no idea what it was -- and at 39 you'd think he'd be a prime candidate. "What is TRT?" Hunt said. "Testosterone," FOXSports.com replied. "Maybe I should get some of that," Hunt said with a smirk. "How do I get it?" "A doctor. You need a prescription," FOXSports.com said. "It's allowed? Damn," Hunt said. That's been the reaction by many anti-doping officials. TRT is meant to bring flagging testosterone levels in men (usually middle-aged and older men) to normal levels. At higher doses, it can lead to muscle growth and aid in recovery. Pharmaceutical companies have spent millions advertising TRT via television commercials and other media in recent years. The use of TRT in professional sports requires a therapeutic-use exemption, something that's usually all but impossible to get. In MMA, it's been much easier. Vitor Belfort, for example, was granted a TRT exemption before his fight last week at UFC on FOX 8 -- a bout he won as he knocked out Luke Rockhold. "Vitor Belfor followed the rules," White said. "I don't like it, but it's legal right now." White said Belfort was tested leading up to the fight to ensure his testosterone levels stayed within the range of an average male. White has advocated that state and national sports commissions -- who carry out the testing for performance-enhancing drugs -- ban TRT altogether. "And you're allowed to us this?" Hunt said with amazement. "I should get some of this stuff, shouldn't I?" Round 4: TUF set to begin filming UFC women's bantamweight champ Ronda Rousey and challenger Cat Zingano will get to see the talent -- both men and women -- they'll be dealing with when the Season 18 of The Ultimate Fighter begins filming next week. "I'm always excited when we start TUF," White said. "I love it. It's fun. This year is going to be interesting because it's the first time we've ever done the women. Men and women living in the house together. It's going to be exciting." As far as how the two coaches will get along, White said he thinks it'll be cordial. "They're obviously competitors, but they respect each other," White said. "It's not like Miesha (Tate) and Ronda. That's about as bad of a relationship as you can get. I think it's going to a like (last season's TUF with Chael) Sonnen and (Jon) Jones." TUF will debut on FOX Sports 1 on Sept. 4. Round 5: Cigano calls his shot Dos Santos is typically one of the more reserved fighters in UFC, a guy with an easygoing demeanor who isn't usually about self-promotion. He stepped outside of that shell some on Thursday. "I'm going to knock him out," dos Santos said of Hunt.
Original Story:
http://msn.foxsports.com/ufc/story/UF...
THE BACKYARD
BEST OF MAXIM
RELATED ARTICLES
Josh Barnett is coming home. The seventh Ultimate Fighting Championship heavyweight champion has signed a multi-fight deal to return to the octagon for the first time in over eleven years.
They say the best way to a man's heart is through his stomach. Well, UFC president Dana White (pictured) believes the best way to get his fighters to stay within the politically correct lines is through their wallets. After docking two of his athletes substantial amounts of money for their insensitive remarks towards the GLBT community, most recently Nate Diaz for using the three...
At a UFC 160 presser, Dana White discusses drug testing. **Follow us on Twitter or Facebook. Subscribe, or Return to BobsBlitz.com.Follow us on Twitter. Subscribe or Return to Bob's Blitz. Full story at Bob's Blitz ~ http://www.bobsblitz.com
Get up to speed on all the latest and greatest news and notes from inside the walls of Ultimate Fighting Championship (UFC) from none other than promotion president Dana White., http://juicedsportsblog.com/sports-news/news/full-dana-white-media-day-scrum-video-for-ufc-160-in-las-vegas
UFC President Dana White spoke with members of the media on Thursday afternoon to discuss a variety of interesting topics including TRT and Marijuana policies in MMA, Nate Diaz's suspension, Anderson SIlva's new fight contract and much more. Watch the entire media scrum below: Courtesy of: MMA Heat
The prevailing opinion has never favored Mark Hunt.  Always fighting against the odds, Hunt has gritted his way through a tumultuous yet highly respectable career. He's never been the most technical fighter, certainly never the most athletic but always the toughest man in the room and the power in his hands could light a city grid. Mark Hunt is a journeyman. His path in combat...
Dana White stood at the dais, black suit, black shirt, the post-fight press conference after a long night of fights in San Jose coming to a close. The usual assortment of "What's next?" questions had been lobbed at the UFC president by the assembled media, and one by one, White deflected them with his trademark non-answers. Good question. I'm not really sure....
On Friday at the UFC 160 weigh-ins, UFC lightweights Khabib Nurmagomedov and Abel Trujillo got heated in their stare down after Nurmagomedov shoved Trujillo. UFC President Dana White separated the two, and UFC event coordinator Burt Watson led Nurmagomedov away to another exit. Nurmagomedov had also failed to make weight for the bout, coming in heavy at 158.5 lbs. He was fined 20...
I'm currently rewatching The Ultimate Fighter season 1, and it's incredible to see the career arcs for some of those fighters over the last decade. Sure, quite a few of them are retired, but Kenny is front and center every week for us now on UFC Tonight, and he's breaking down fights, conducting interviews and dropping thought-provoking knowledge such as this for our fight...
This Saturday UFC 160 goes down in the promotions hometown of Las Vegas.  Cain Velasquez and Antonio "Bigfoot" Silva square off for the second time, this time for the heavyweight title.  The UFC has been hyping that fight quite a bit, but I think the real fight to watch will be the evenings co-main event between Junior Dos Santos and Mark Hunt. Mark Hunt has done something...
Who says you can't come home again? According to MMAJunkie, former UFC heavyweight champion Josh Barnett (pictured) has signed a multi-fight deal to return to the planet's premier mixed martial arts promotion. Barnett owns an extensive 32-6 professional record. The 35-year-old hasn't been seen since beating Nandor Guelmino in January. "The Warmaster's" return to the...
MMA News

Delivered to your inbox

You'll also receive Yardbarker's daily Top 10, featuring the best sports stories from around the web. Customize your newsletter to get articles on your favorite sports and teams. And the best part? It's free!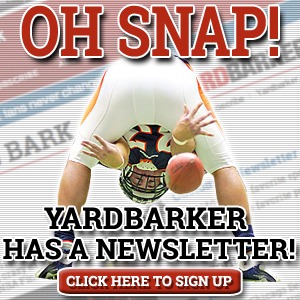 Latest Rumors
The Backyard

Today's Best Stuff

For Bloggers

Join the Yardbarker Network for more promotion, traffic, and money.

Company Info

Help

What is Yardbarker?

Yardbarker is the largest network of sports blogs and pro athlete blogs on the web. This site is the hub of the Yardbarker Network, where our editors and algorithms curate the best sports content from our network and beyond.