Found August 17, 2013 on hov-mma:
• Shogun Rua vs. Chael Sonnen Dan Rose: Chael Sonnen by takedown, top control, ground and pound, rinse, repeat and finish to a unanimous decision victory. Won't be the most exciting main event, in fact, it will likely be the least entertaining fight on this entire card. Unless Sonnen gets cute and gets caught standing, which would be entertaining. Very much so. I want to yell Pride Never Die and pick Shogun, but Sonnen will out wrestle him to a decision. Dave Reno: When Rua is at his best he comes out aggressive and uses the whole cage. When Sonnen is at his best he dives right in for that takedown and uses those big pillow gloves to annoy his opponents for 3- 5 rounds, while always staying busy. The difference between these two is that there is no quit in Rua. Sonnen on the other hand knows how, and when to quit. Shogun will piece up the gangster from West Linn taking this one via TKO. When he steps off that plane in Brazil he will be an even bigger hero than he was before - if that's even possible. Evan Shoman: I see Shogun finishing Chael.  Everyone knows Chael can't punch his way out of a wet paper bag. He's already said he is going to go for takedowns and do what he does. However, one of the things he does is get submitted by Brazilians. Btw it's my birthday August 17th. Sean Sheehan: Can Shogun stop the Sonnen takedown? Probably not. On the ground his leg attacks could be dangerous for Chael but at the end of the day it will be one more (decision) win for the bad guy. Dwayne Wolff: Shogun trained with Freddie Roach. He now has a new approach, from his legendary boxing coach. For Chael the night will sour, as he tastes Rua's new power. Each round will feel like an hour. Mauricio will use footwork and angle's for this victory he will wrangle. For he is the warrior called Shogun, and for Chael P. this will be no fun. - Rua via UD. Total: 3-2 for Shogun.  • Alistair Overeem vs. Travis Browne Rose: The problem with Overeem is, you never know which Barry Bonds is going to show up. I think Browne has the size and talent to withstand the furious attack from Overeem in the first round, that will undoubtedly be followed by Overeem running low on fumes, and getting picked about and TKO'd. I just don't think Reem has "It" anymore. Browne by TKO. Reno: Browne has all of the tools to be heavyweight champion one day. It's something I staked claim in before he stepped into the Octagon for the first time and I'm certainly not going back on it now since we've seen what he's done against some of the best at Heavyweight. He'll use his smarts to outwit the beast, just like CM Punk will when he takes on Brock Lesnar (Reem's last victim) tomorrow night. People know Reem's game all to well. He's an incredibly talented kickboxer and if the fight hits the mat he can submit any one with a below average ground game. Browne just isn't that guy. He takes this one late. Browne via TKO. Shoman: I have to go with Reem on this one. Wouldn't be shocked if Browne won because Reem's chin is suspect. But still going with Reem via horsemeat. Btw it's my birthday August 17th. Sheehan: This is a tough one. Maybe it would be better to pick the winner after seeing how Overeem looks at Fridays weigh-ins. As of now I think Overeem will be able to stop the Browne takedown, out-strike him and knock him out in round 1. Wolff: Alistair looks big and mean, like a bad bad fighter on the big screen. But, this is Overeem, and not always what he seems. He faces Travis Browne, who will make Overeem go down. For Travis is a man of action, and he trains with Greg Jackson. So it will be something flyin because he is Hawaiian. Once again The Reem's fans will be cryin. - Browne - TKO/KO. Total: 3-2 for Browne.  • Urijah Faber vs. Iuri Alcantara Rose: Reno will tell you, there are certain things I go by that are written in stone. If Faber is facing someone not named Cruz, Aldo or Barao, he wins. Faber will win this fight and look amazing doing so. I think he weathers the storm, gets control in the clinch and outworks Yuri time and again, until he submits him in the 2nd or 3rd round. Faber by submission. Boom. Reno: Faber is money in the bank in any fight that doesn't involve a belt. He's also a submission machine, he chokes out 135 and 145'ers for breakfast. Faber via RNC. Shoman: I never pick against Urijah or his chin. Btw it's my birthday August 17th. Sheehan: Alcantara is a rising star and will be bang up for this fight. Faber doesn't lose non-title fights though an I don't see that trend ending. Faber via decision. Wolff: Faber is the leader of Team Alpha Male, and they do not fail, when coached by Duane "Bang." On this night Iuri's bell will get rang. Continuing the undefeated dream, that is this formidable team. People will cheer and scream. Which brings us to Overeem. - Faber TKO 2nd rd. Total: 5-0 for Faber.  • Matt Brown vs. Mike Pyle Rose: Pyle has won four in a row, Brown has won five in a row. People are continuously shocked at how Matt Brown has elevated his game. He's broken through to a new level, and in doing so gained the most important facet, confidence. He believes he'll beat anyone, and he has a legitimate skillset to back that up. Pyle has long been a bully in the gym, and now he's become one in the UFC as well. Never liked him much, but there's no denying the ability he has, and the heart he shows. I love this fight, and can't wait for it. I think it's the best fight on the entire card and could very well steal fight of the night from Joe Lauzon. In the end, I think Brown has too much standing, and his ground game has elevated to the point to keep Pyle from manhandling him. I think Brown can keep it standing, and win the fight in a war. Both men will face moments of Rogan screaming "He's rocked" but in the end they go the distance and Matt Brown wins a unanimous decision for the ages. Reno: One of my favorite stories in MMA today is the Matt Brown story. It doesn't end with him losing to Mike Pyle. It ends with him fighting GSP for the title. Brown via TKO. Shoman: Pyle by submission. Btw it's my birthday August 17th. Sheehan: Between them Brown and Pyle are 9-0 in recent fights. This should be a great scrap. Close fight but I have Pyle winning a decision. Wolff: It may take awhile, for Mike Pyle, to win this fight tiger style. For Matt Brown is like a king with no crown, he stays up rarely goes down. It will be a sight, possible fight of the night. It will be a hit, unfortunately a decision that is split. Some people will throw a fit. So mad they could spit. For now I will quit. Oh no! Sorry, I am too legit. - Pyle via SD. Total: 3-2 for Pyle. • Uriah Hall vs. John Howard Rose: Let's see, you're Joe Silva and you want to showcase Urijah Hall. Who do you have him face? The former UFC one dimensional striker John Howard. It's perfect, except if Howard lands, Hall could go night-night. Perfect plans are often derailed, but Hall's kicks and fast hands should more than do the trick here. I expect Hall to eventually land the telling shot and swarm an outgunned and tired Howard. Reno: Uriah Hall looked scary on TUF until the Finale where something just didn't seem right with him. Is Hall the real deal? He'll need a win over a man who hasn't won against UFC level competition since 2010 to find it. The problem is - Hall has never won against UFC level competition in his career. Watch out for the return of Doomsday. Howard via UD. Shoman: Uriah Hall isn't fighting his good friend anymore and was humbled by him being the only person who could beat Anderson Silva. I see him coming into this fight vicious. Btw it's my birthday August 17th. Sheehan: If Hall doesn't come out and hold the trigger for three rounds without letting it go he will lose a decision. I hope he has learned his lesson. Hall via KO round 2. Wolff: Howard is no coward and Hall will give it his all, but will he fall? After he turned him into a Melvin, he now trains with young Kelvin. His new religion is one of no decision. Instead he will kick and hit. Winning the fight with some spinning ****. An elbow, fist, foot, shin or knee. It will be something Howard won't see. - Hall via Spinning KO. Total: 4-1 for Hall.  • Joe Lauzon vs. Michael Johnson Rose: LOVE this matchup and I have no doubt it will compete with Pyle and Brown for FOTN. All things being equal, I like Johnson's standup and Lauzon's ground game. However, Joe Lauzon isn't going to lose the first main card fight of Fox Sports One in Boston, Mass. Isn't going to happen. So, logic out the window. Back and forth war for two plus rounds, ends with a Submission and Fight of the Night check being tucked into Lauzon's pocket on the way to get stitched up. Reno: There should be some kind of alarm or bat symbol that goes off in this world when a Joe Lauzon fight is about to take place. He's one of those can't miss, appointment viewing fighters that always leaves every single thing he has inside of that cage. Future UFC HOF'er, future HOV inductee. It's gonna be a sad day when he hangs up those 8 oz. gloves. Lauzon via bonusviolence. Shoman: Lauzon just had a baby and he's fighting in Boston. Sounds to me like Rocky in Philly. I would normally pick Johnson, but I am going with Lauzon. This fight is up for grabs, imo. Btw it's my birthday August 17th. Sheehan: Johnson has all the attributes that would suggest he will be a top fighter eventually. We just haven't seen it yet. I don't see him finishing Lauzon or lasting the pace. Lauzon via submission midway through round 2. Wolff: Johnson has lost six times by submission. That will be Lauzon's mission. That and FOTN, SOTN, KOTN, and best Lauzon of the night. If you are a Lauzon fan it will be Out of Sight. For Johnson's faithful it will be a Fright Night. - Lauzon by submission. Total: 5-0 for Lauzon. Preliminary Card (FOX Sports 1) • Michael McDonald vs. Brad Pickett Rose: Michael McDonald might want to be "taken it to the streets", but "only a fool believes" he can out-strike Pickett. He might be thinking "I keep Forgetting" how good Pickett's hands are, and he'll soon be thinking, I'm "on my own" After Pickett lands a couple of huge shots, McDonald might sing to himself, "I can let go now" and seek the "Sweet Freedom" of a TKO loss to Brad Pickett. Ok, that was fun. See what I did? I like McDonald to add his name to KO of the Night consideration with a TKO of Pickett in the second round. Reno: Here's another fight that features strength vs. smarts. If McDonald can avoid, or temporarily enjoy Pickett's power he can outsmart him and eventually pick his shot to stun and submit him. McDonald via submission. Shoman: Not going to pick a winner. But this one will steal the show. Mark my words. Btw it's my birthday August 17th. Sheehan: I really can't wait for this fight. It's a travesty these two are not on the main card. It will be close throughout, both men will swing hard and fast. I think Pickett may get his chance at the title after this. Pickett via KO in round 2. Wolff: McDonald one punches Pickett's ticket. Brad's face is the ball, Micheal's fist the wicket. McDonald rebounds, with some renown, for Pickett is no clown, but he is still going down. - McDonald via TKO. Total: 3-1 for McDonald. • Conor McGregor vs. Max Holloway Rose: Conor McGregor is a breath of fresh air in the UFC. He's an entertaining fighter and will be looking to make short work of the talented but frail Max Holloway. Nobody looks more like they need a hug and a warm meal (with the exception of Pablo Garza) in the UFC than Holloway, and he's going to have a crazed Irishman unloading hand grenades on him. Holloway is game, and he'll survive for a bit. In the end though, he'll go the way of the dinosaur and after some smelling salts, a trip to the doctor and some warm milk, will be all better. Conor by KO. Reno: How can you not love this kid. Everyone is drinking the Conor McGregor kool-aid of late and I'm right in line with them holding my plastic red solo cup. McGregor via something special. Shoman: I'm picking Holloway. Just because I know everyone is picking McGregor. Btw it's my birthday August 17th. Sheehan: Let me think about this one... Ok. McGregor via Capoeira kick in round one and the UFC featherweight belt in Ireland around this time next year. Wolff: I do not know what to say, to the fans of Mr. Holloway. They are in for a fright. It will be a short night, unlike his height, which is tall. What can I say McGregor has it all. - McGregor 1st rd KOTN win. Total: 4-1 for McGregor.  • Mike Brown vs, Steven Siler Rose: Mike Brown has won two in a row, but hasn't competed in over a year in the Octagon. He steps in against the unassuming but talented and seemingly always improving Steven Siler. I think this fight will have moments of pure fireworks, but I also expect Siler to catch and hurt Mike Brown, late in the first or early in the second. I think Siler gets his biggest win, via scary TKO/KO and puts his name in the running for a "of the night" bonus. Reno: When Michael Thomas Brown's head is in the game he is one of the toughest 145 lb'ers in the game. He didn't trip, fall and land on that WEC belt by accident. If he's anywhere near 100% physically and mentally (which he has to be or he wouldn't of decided to come back, unless he needs money) then he bests Siler in Boston. This one could be a dogfight, a fight of the night sleeper if you will. Allow me to be the only annoying idiot on this pick em to shout out from the rooftops "WEC never die!" when takes this one via a hard fought UD. Shoman: Mike Brown. Hopefully this layoff has gotten him back to his dominating ways. Btw it's my birthday August 17th. Sheehan: Siler is tough as nails and Brown is coming back from retirement. Never lose the class though. Brown via decision. Wolff: Mike Brown will take him down, Round by Round and a decision victory will be found. - Brown by UD. Total: 4-1 for Brown.  • Diego Brandao vs. Daniel Pineda Rose: Diego Brandao won the Ultimate Fighter and then lost to Darren Elkins. He's won two in a row since that time, and he finds himself in the cage with Daniel Pineda, who 3-2 in the UFC, and should be a perfect showcase fight for Brandao. All of the things Pineda does well, Diego does a touch better, and as a result he should hold an advantage and be one step faster, and earlier than Pineda. I expect Diego to look really, really good here and get the TKO stoppage over a game, but slightly outgunned Daniel Pineda. Reno: Brandao via pure unadulterated exictement. He wins the first fight in UFC on FOX Sports 1 television history via some crazy modified something or other. Shoman: Brandao. Btw it's my birthday August 17th. Sheehan: Always love to watch Brandao fight. If he can get Pineda on the ground he should be able to submit him. Armbar for Brandao in round 1. Wolff: Brandao will make Pineda say ow ow. When he goes pow pow. The crowd will say wow wow. 80's after party with Bow Wow Wow. - Brandao via KO. Total: 5-0 for Brandao.  Preliminary Card (Facebook) • Manvel Gamburyan vs. Cole Miller Rose: It is a true testament to how LOADED this card is, that Cole Miller and Manny are on the under-undercard. No disrespect though, because they could very well have a fight for the ages here. Neither fighter knows how to be dull, they both love to mix it up standing and on the mat. I think we'll see some really fun exchanges on the mat, but in the end, Cole Miller gets ahold of Manny's arm or neck and earns the submission victory. Reno: Gamburyan hits so hard man. He just suffers from that Leonard Garciaitis where he wings shots and doesn't pick his spots. If Miller can keep moving and avoid that power he shouldn't have an issue finding his way inside to land some of his own. Gamburyan takes Miller down. Miller reverses, subs, and remains the favorite for sub of the night until Lauzon takes center stage. Shoman: It's Miller time! On my birthday, August 17th. Sheehan: Miller has a huge height advantage and will need to keep Manny at arms length. Gamburyan will need to get close and use his throws to get Miller on the ground, I think he can do just that. Manny via TKO round 2. Wolff: If Manny can stay healthy. He will be quite wealthy. When he takes SOTN.  It will be dynamite.  -Gamburyan via submission. Total: 3-2 for Miller.  • Cody Donovan vs. Ovince St. Preux Rose: I think Ovince has the skillset to win this fight. He's a talented fighter and should be able to get past Donovan here. That said, Donovan has some considerable punching power, and if OSP (yikes) gets too comfortable, he could get caught. I expect a solid fight here, with St. Preux utilizing his experience edge to earn the victory. I'm going St. Preux by Unanimous Decision. Reno: Can't pick against a Donovan fighting in Boston. Donovan via TKO. Shoman: You down wit OSP? Yeah you know me! Btw it's my birthday August 17th. Sheehan: Decision victory for OSP. Wolff: Ovince will make Cody wince as he smashes his face like a quince. In the end it will be the judges he has to convince. As this fight goes the distance. He has not down that since, UFC 159 . It will be St. Preux, who uses kung fu. Like a magician, he will steal the decision. - OSP by UD. Total: 4-1 for OSP.  • Ramsey Nijem vs. James Vick Rose: Vick making his debut against Nijem here, and this could go either way. I've never really been sold on Ramsey's toughness as an MMA fighter, and I don't know too much about Vick, having only seen him once. I think Octagon jitters a very real thing, and I think the experience factor in the UFC will be enough to propel Ramsey Nijem to a unanimous decision victory. Reno: We haven't seen Vick in quite some time. This guy has to be starving for some action. That could be a good thing or a bad thing seeing that he's facing the always dangerous Ramsey Nijem. Still, I'll take Vick to win his true UFC debut via submission. Shoman: While Nijem is more skilled in every area of the fight, I think Vick's length will be the deciding factor. Vick. Btw, I saved a bunch of money on my car insurance. Sheehan: I think Nijem has better wrestling and will win the decision. Wolff:: Vick will be quick. His jab he will flick. His legs he will kick. The end will be sick via 2nd rd TKO for the quick slick Vick. Total: 3-2 for Vick.  staredown photos via @danawhite/UFC
Original Story:
http://www.hov-mma.com/2013/08/ufc-fi...
THE BACKYARD
BEST OF MAXIM
RELATED ARTICLES
BOSTON -- When we last saw Alistair Overeem he was slumped on the ground, his body beaten, his mind scrambled, his opponent standing over him. The image of "Bigfoot" Silva being forcibly restrained by referee Herb Dean is one of the indelible moments of 2013, as much for what Silva did as for what Overeem did not do. In a matchup he was supposed to win, that he was owning...
Alistair Overeem has fallen a long way in the past year. Overeem began 2013 as the #1 contender in the Heavyweight division and today he's seen himself fall out of the top 10 in all likelihood. Travis Browne on the other hand is quickly climbing the heavy weight ranks and the 6'7″ brawler showed his ability to persevere through a rough start to the fight. Overeem had Browne...
All the major players participating in Saturday's "UFC Fight Night: Shogun vs. Sonnen" extravaganza will be hitting the podium today inside Boston's Wang Theatre. Stream Thursday's pre-fight press conference live right here on 5thRound.com starting at 1PM ET/10AM PT. In addition to UFC President Dana White (pictured), Mauricio "Shogun" Rua, Chael Sonnen, Alistair Overeem...
Travis Browne (15-1-1) scored a surprising comeback win over Alistair Overeem (36-13) at UFC Fight Night 26 on Saturday with a sick front kick to the face. Browne was getting destroyed by Overeem early in the fight, taking a number of knees to the body and punches to the head. The fight was dangerously close […]
Chael Sonnen has always been one to talk a big game and on this night, he backed it up with one of the biggest wins in his career. Sonnen earned an impressive first-round victory over former UFC light heavyweight champion Mauricio "Shogun" Rua by making him submit at the 4:47 mark with a guillotine choke in the main event of UFC Fight Night 26 at the TD Garden in Boston, MA....
– Chael Sonnen recently claimed in an interview that CM Punk would be in Boston on Saturday for UFC Fight Night 26, where Sonnen will face Shogun Rua in the main event, and then the two would head to SummerSlam together. However, he will not be there as the previously-announced SummerSlam AXXESS schedule for Saturday has Punk at an event from 6 PM though 8 PM, which is the same...
The UFC returns to action on Saturday night with their debut event on the new sports network Fox Sports 1. The event features an array of stars including Chael Sonnen, Shogun Rua, Alistair Overeem, Urijah Faber, Matt Brown and Conor McGregor to name a few.  Check back here at 4:30pm EST for live, updated results throughout the night: Main Card (8 p.m. ET) Mauricio Rua vs. Chael...
The new all-sports channel, Fox Sports 1, kicks off its live sports coverage with a stacked, 13-fight UFC card on Saturday at the TD Garden in Boston. This is only the second time the UFC has come to Boston, and they made sure to litter the card with both Boston-born fighters, as well as some of the most talented fighters in the organization. Mauricio Rua (21-7, 5-5 UFC) vs. Chael...
- Embedded below is WWE SummerSlam 2010 in 60 seconds. Team WWE vs. Nexus was the headliner for the event. - Chael Sonnen mentioned that CM Punk will be at his fight against Mauricio "Shogun" Rua this Saturday night from Boston, MA. - WWE has added TNA Knockout Christy Hemme to their Alumni section. - Darren Young has been top trending topic on Twitter today. 40 Signs...
MMA News

Delivered to your inbox

You'll also receive Yardbarker's daily Top 10, featuring the best sports stories from around the web. Customize your newsletter to get articles on your favorite sports and teams. And the best part? It's free!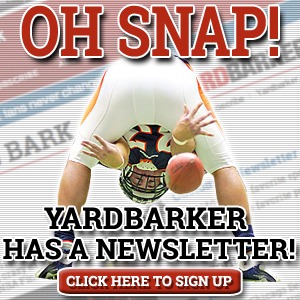 Latest Rumors
Best of Yardbarker

Today's Best Stuff

For Bloggers

Join the Yardbarker Network for more promotion, traffic, and money.

Company Info

Help

What is Yardbarker?

Yardbarker is the largest network of sports blogs and pro athlete blogs on the web. This site is the hub of the Yardbarker Network, where our editors and algorithms curate the best sports content from our network and beyond.