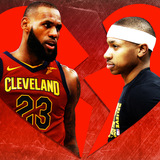 It's Valentine's Day, so you would assume the levels of love in the air would be elevated today. However, it would seem that no one told NBA players this, as the week following the league's trade deadline has been filled with the airing of grievances, most of which are of the petty variety.In Detroit, Blake Griffin refused to shake hands with his old squad following a loss, while...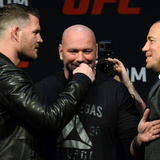 The upcoming UFC pay-per-view event in New York City should be an action-packed show for fight fans. With three title fights on the main card, this event could shake up the UFC. Middleweight champion Michael Bisping looks to defend his belt from UFC legend Georges St-Pierre's comeback to the octagon. A grudge match featuring Cody Garbrandt and T.J. Dillashaw for the men's bantamweight...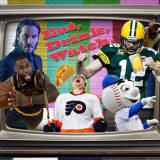 It's been a long week. You're tired. You're hungry. You're thirsty. You just want to find something to watch and unwind only to find not only do you have too many games to choose from on any given night to watch, there is an entire catalog of shows and movies you can barely keep up on. When did our weekends turn into so much work?Let's make it simple. Here is what you want to eat...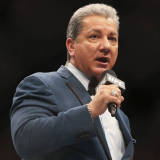 UFC ring announcer Bruce Buffer had himself a Steve Harvey moment on Saturday night. Tyron Woodley and Stephen Thompson had a close fight at UFC 205 that went the distance. Two judges scored the fight 47-47, while the third had it 48-47 in favor of Woodley. Two of the three judges scoring the fight a draw would mean the outcome is a majority draw. However, when announcing the results...
Loud-mouth featherweight superstar Conor McGregor might be getting all the headlines heading into this weekend's historic UFC 205 event, but he's not the only fighter with an opportunity to do something special. In the co-main event, Tyron Woodley will put his UFC welterweight championship on the line against karate specialist Stephen "Wonderboy" Thompson. And while I'm not going...
I couldn't believe he'd accepted the fight, and told him so, bluntly. Stephen "Wonderboy" Thompson had just won his sixth-straight fight - the best win-streak of any contender in the welterweight division - and it had come in the form of a first-round KO over noneother than former world champion Johny Hendricks. Clearly, Thompson had earned a shot at champion Robbie Lawler - who...
After winning six-straight fights, and stopping former champion Johny Hendricks out inside of one round, contender Stephen Thompson was upset to be passed-over for a welterweight title-shot in favor of Tyron Woodley. "To be honest with you, yes. It's kind of upsetting that it's happening this way," he recently told Submission Radio.Instead, next month he faces former title-challenger...
Washington Huskies head coach Lorenzo Romar complained after a buzzer-beating loss in Corvallis Wednesday that Stephen Thompson Jr. traveled on his last-second shot to sink the Huskies. Washington was leading 81-79 in the final seconds when Thompson took the ball, dribbled up the court, and launched a 3-pointer to win the game 82-81 at the buzzer. After the game, Romar said Thompson...
There wasn't much buzz entering Saturday's UFC card after heavyweight champion Fabricio Werdum and Cain Velasquez fell out of the main event with respective injuries. Good thing Stephen Thompson (pictured) came along to steal the show. Former UFC welterweight champion Johny Hendricks was more than a 2-1 odds-on favorite to beat "Wonderboy" in the show's featured attraction, but...
Stephen Thompson is on the verge of being a challenger for the UFC's welterweight title. To push past that edge, he'll have to beat former champion Johny Hendricks this Saturday in the main event of UFC Fight Night 82, in Las Vegas.The former karate and kickboxing champion has only lost once in his MMA career. Still, he's relatively new to the sport since transitioning from strickly...
MORE STORIES >>
MMA News

Delivered to your inbox

You'll also receive Yardbarker's daily Top 10, featuring the best sports stories from around the web. Customize your newsletter to get articles on your favorite sports and teams. And the best part? It's free!