Found November 10, 2012 on Fox Sports:
Alex Caceres vs Motonobu Tezuka Round 2 - An outside leg kick for Tezuka is the first bit of offense we see in round 2. He lands another while Caceres tries to utilize his spinning attacks. Caceres throws a sidekick but Tezuka grabs it and scores a takedown. Caceres has a modified half guard that he's working. Tezuka falls into the full guard but can't really do anything on the ground and Caceres is able to escape and stand up. Outside leg kick for Caceres. Caceres tries a flying knee but it appears to be mostly blocked. Tezuka grabs a leg and tries to wrestle Caceres to the ground. They end up against the cage. Caceres gets away and lands a good, clean punch to the side of Tezuka's face. Caceres with a short little jab. Tezuka is throwing some strikes of his own. Tezuka goes for yet another single leg but Caceres is able to blast him. Another flying knee from Caceres and this one gets through though it does limited damage. Score: 10-9 Caceres. Total: 19-19 even Round 1 - Caceres opens up as the aggressor trying to land some kicks to start this fight off. Outside leg kick for Tezuka lands. Tezuka goes for the single leg and Caceres tries to grab the guillotine but Tezuka is able to get things to the mat. Caceres tries for a triangle but Tezuka uses the opportunity to pass guard and get into side control. Tezuka is slow to take advantage, however, as the fight slows down dramatically. Tezuka is possibly looking for the North-South Choke but he doesn't do it fast enough as referee Marc Goddard stands them up. Tezuka goes for an ankle pick but it doesn't work. Then he tries for the single leg but Caceres does well for himself in fending it off. Tezuka tries desperately to hold on to the leg but Caceres escapes and gets a takedown of his own. Tezuka once again goes for the ankle, Caceres grabs the back but Tezuka rolls to escape. It works for a minute but Caceres grabs the back again and lands a nice short elbow. Super close round but we see it... Score: 10-9 Tezuka Yasuhiro ********** vs John Lineker Round 3 - Inside leg kick for Lineker lands followed by a big right hand that knocks ********** down again. He gets up quickly though and the fight continues. Inside leg kick for **********. Big left hook for Lineker stuns his opponent again. A beautiful 2-punch combo lands for Lineker. ********** throws a kick which is blocked. Lineker comes forward and lands a flurry of punches that once again seem to have ********** on the ropes. He can't quite finish him though and ********** is able to create enough distance to collect his thoughts. Big left for Lineker lands. He goes for the takedown but ********** is able to sprawl away from it. They end up tied up against the cage with Lineker in control. Straight left for ********** finds Lineker's chin. Lineker will not stop though as he keeps throwing an insane number of punches. The round and the fight come to a close. Score: 10-9 Lineker (which means that he is up 30-27 on our scorecard as we go to the judges.) Official result: John Lineker def. Yasuhiro ********** via unanimous decision (29-28, 30-27, 29-28) Round 2- After a few seconds of dancing Lineker connects beautifully with a spinning back kick that seems to hurt **********. After a quick recovery ********** lands a two kick combo. Lineker comes right back though and hammers ********** with a clean shot of his own. ********** goes for a headkick but he comes up dry. Lineker charges forward again with a series of punches and he lands cleanly with a few of them. ********** seems to be dazed and in danger as Lineker is having all sorts of success here. Inside leg kick for Lineker. ********** returns the favor. ********** gets poked in the left eye and the action stops for 30 seconds or so. After the timeout Lineker picks up right where he left off, pushing the action and staying in charge. ********** finds his range with a right hand. Massive left hook from Lineker. Nasty inside leg kick for Lineker which he follows with two more as the round ends. Score: 10-9 Lineker, Total: 20-18 Lineker Round 1 - Lineker opens up with a series of leg kicks that land. ********** is staying active and bouncing around the cage trying to find his distance. He lands a leg kick of his own. ********** comes forward with a strong kick to the stomach of Lineker. Lineker goes back to the leg kick and finds some success. Neither man is overly eager to commit to anything which has led to a semi-uneventful opening frame. Knee for **********. Stiff jab lands for Lineker. A very right hook for Lineker also finds its mark. Lineker keeps the heat on as he charges forward with a series of punches. None of them do much in the way of damage but he is certainly scoring points with them. ********** tries his hand at kickboxing but nothing has really worked for him thus far. Lineker lands a left hook as ********** leaps that floors his opponent but he is unable to capitalize on it. ********** finds his way back to his feet and the round ends a few seconds later. Score: 10-9 Lineker Riki Fukuda vs Tom DeBlass Round 3 - More boxing to open the final round. Fukuda lands a big right hook that startles DeBlass momentarily. Fukuda grabs him with a bearhug and muscles him to the ground for top position. Fukuda starts to work the mid-section of DeBlass. DeBlass seems to be out of gas and Fukuda is doing enough to keep the fight grounded. Fukuda goes for the pass but can't quite get it and is back in full guard. He fires a few more shots in towards the head of DeBlass. DeBlass tries to fight his way out but gets scolded for hitting the back of the head. DeBlass desperately trying to grab an armbar but cannot find it and Fukuda is relentless. More shots to the side of DeBlass. Goddard stands them up which is a questionable decision. DeBlass tries to land big shots after the stand up but Fukuda quickly ties him up again against the inside of the Octagon and lands some nice shots. The round and the fight come to a close. Score: Fukuda 10-9 (once again, giving him a dominant 30-27 win on our scorecard.) Official Result: Fukuda wins via unanimous decision (30-27, 29-28, 29-28) Round 2 - Hook for Fukuda to open the round. They tie up against the cage and exchange some knees. Fukuda is in the dominant position and works the knees very nicely. Soft outside leg kick for Fukuda. He hits a few more leg kicks as DeBlass is unable to get anything going in round 2. Inside leg kick for Fukuda. Fukuda ties him up and grabs the clinch so that he can land a few more knees. DeBlass comes back with a combo of his own hoping to score some points. Fukuda pushes forward with some crisp shots of his own. The action slows down but Fukuda seems to be in charge as he is able to keep DeBlass moving backwards. They are back up against the cage and Fukuda is able to connect with some shots to the temple. They break and box for a good minute or so. The final seconds tick away and Fukuda has another one in the bag. Score 10-9 Fukuda, Total 20-18 Fukuda Round 1 - Marc Goddard will be the ref for this opening contest. DeBlass opens with a leg kick and then follows it with another and another. Fukuda is keeping the pressure on and is able to score a double leg takedown. DeBlass gets his guard up and Fukuda is having difficulty landing shots on him. Fukuda works the body but DeBlass is utilizing strong defense off his back. DeBlass is back to his feet. The fighters exchange shots to the face but nothing lands cleanly. Outside leg kick for DeBlass. DeBlass lands a jab but catches an eyepoke at the same time and the action is halted for a few seconds. Fukuda goes for a single leg takedown but DeBlass is able to fend it off. Inside leg kick for Fukuda. Fukuda peppers DeBlass with some punches and kicks though is unable to do any real damage. Fukuda grabs a single leg takedown in the final seconds on the opening stanza. He keeps the action there for the duration and it is enough to steal him a round. Score: 10-9 Fukuda UFC Macao: Franklin vs. Le - Fight Card Main Card Rich Franklin vs Cung Le Thiago Silva vs Stanislav Nedkov Dong Hyun Kim vs Paulo Thiago Takanori Gomi vs Mac Danzig Tiequan Zhang vs Jon Tuck Takeya Mizugaki vs Jeff Hougland Prelims Alex Caceres vs Motonobu Tezuka Yasuhiro ********** vs John Lineker Riki Fukuda vs Tom DeBlass
Original Story:
http://msn.foxsports.com/ufc/story/uf...
THE BACKYARD
BEST OF MAXIM
MMA News

Delivered to your inbox

You'll also receive Yardbarker's daily Top 10, featuring the best sports stories from around the web. Customize your newsletter to get articles on your favorite sports and teams. And the best part? It's free!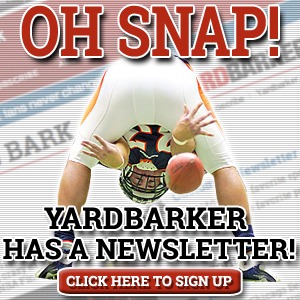 Latest Rumors
The Backyard

Today's Best Stuff

For Bloggers

Join the Yardbarker Network for more promotion, traffic, and money.

Company Info

Help

What is Yardbarker?

Yardbarker is the largest network of sports blogs and pro athlete blogs on the web. This site is the hub of the Yardbarker Network, where our editors and algorithms curate the best sports content from our network and beyond.