Found November 13, 2011 on Race Review Online:
PLAYERS:
Cain Velasquez
,
Dana White
,
Mike Goldberg
,
Joe Rogan
,
John McCarthy
,
Anderson Silva
,
Forrest Griffin
,
Demian Maia
,
Thales Leites
,
Junior Dos Santos
,
Georges St-Pierre
TEAMS:
San Jose Sharks
Last night the mainstream world bared witness to what many fans have been a part of for eighteen years, the sport of Mixed Martial Arts and the biggest promotion in the world, the UFC. UFC on FOX: Velasquez vs. Dos Santos was a huge event in terms of bringing the UFC to the next level of being a sport.
Yet of course, longtime fans of the sport have found issue with the event and how it was run. The main complaint so far is that the main event between Heavyweight Champion Cain Velasquez and number one contender Junior Dos Santos was so short running only 1:04 and FOX decided to not air one of the preliminary matches after it. The other big complaint was that there were a lot of vignettes and commercials that longtime fans felt were there to kill time before the fight. Yet what most fans have not realized was that this show was not meant solely for them.
This is the best version of K.I.S.S. that I have seen a company do in a very longtime. If you don't know what K.I.S.S. is, it stands for Keep It Simple Stupid. It's the idea that you don't over complicate the task at hand in order to get the best results. This was used to perfection by both FOX and the UFC in how they ran the show last night.
For newbies to the sport, the show was part title fight, part history lesson. For longtime friends it was a trip down memory lane as well as an homage to what we remember best about the sport that we love. At the beginning of the show, we are show clips from important events throughout the UFC's history which was then followed by vignettes about both competitors from the main event.
These clips were interspersed with analysis of the fight from Chris Menefee, Dana White, and Brock Lesnar who gave their thoughts on both fighters while also hyping upcoming PPVs. Viewers were then introduced to Mike Goldberg and Joe Rogan who had provided commentary for the whole card. Also, having "Big" John McCarthy was a perfect touch of nostalgia and made sense to have the first ref for the UFC ref one of the biggest fights in the promotion's history. All of these little nods to the past really made it a homecoming for the UFC and its fans.
As far as the fight goes, you couldn't have picked a better fight to showcase on the first prime time match for the UFC. With all of the available matches that could have been made, this was the best match that could generate hype and a new fanbase for the UFC.
Look at the other choices that could have been made. A match featuring Georges St. Pierre would have been longer for sure, but GSP has become such a polarizing fighter due to his play it safe style and lack of finished fights in recent years that it might have turned new fans away who might not have wanted to see constant jabs and grappling.
Anderson Silva could have been a good choice depending on which Anderson decided to show up at fight night. If it was the Anderson Silva who embarrassed Forrest Griffin with expert striking and technique, the fight would have been a huge success, but if the Anderson who danced around the ring while mocking his opponents like he did with Demian Maia and Thales Leites, the deal between FOX and the UFC would have instantly been dead in the water.
With Cain Velasquez and Junior Dos Santos, you have two fighters who are explosive with one punch KO power as well as having perfect or near perfect records. Yes the fight lasted just over a minute, but it was so simple that it will make new fans want more from the UFC. It was the perfect way to ease new viewers in the product provided by the UFC with the little taste that they got. So when the next UFC on FOX comes, more people will be interested in seeing what happens next. IT is then that the UFC can put more than one match on TV and have more technical fighters or grapplers.
As far as not showing any of the preliminary fights after the main event, it was a perfect idea as well. When the new fan goes to work and talks to coworkers about watching the fight and is asked if they watched the prelims, that new fan can find out how to watch those matches the next time around. This in turn increases site visits to foxsports.com where the prelims are shown as well as increase the ratings of wherever the prelims may be shown on TV like FX or Fox Deportes.
Add to the fact that neither Velasquez or Dos Santos are as strong a draw as GSP, Anderson Silva, or Brock Lesnar, this introduction that they received on this show will make them more publicly known while at the same time making them a draw for future PPVs. While Dana White has announced that the UFC lost money by not having this fight on PPV, they will be making that money back in the future by having new fans buying merchandise and PPVs. It was a calculated business move that was necessary to make in order to evolve their business.
Only time will tell how much the company will grow from this decision.
Original Story:
http://sports-at-work.com/20111113707...
THE BACKYARD
BEST OF MAXIM
RELATED ARTICLES
Now that "UFC on FOX: Velasquez vs. Dos Santos" is officially in the books, make sure to stream tonight's post-fight press conference live right here on 5thRound.com starting at approximately 10PM ET/7PM PT. In addition to UFC president Dana White (Pictured) and the card's featured fighters, the other notable athletes that won't require medical attention are also expected...
It was shocking for many to see Cain Velasquez go down so quickly. Many folks around the game were expecting a long title reign. It had to be injury that led to the quick loss, right? Velasquez was making no excuses after the fight. "Just little nagging injuries here and there. I couldn't say it was anything worse than anything else I've had ," Velasquez said in...
Junior dos Santos won the UFC heavyweight belt with a quick knockout of Cain Velasquez on the UFC's network debut on Saturday night. If you had any doubt that referee John McCarthy made the right call in stopping the fight, this picture from Tracy Lee should erase it.
War between 2 always very concerned/constipated-looking guys tomorrow. Don't miss it! For tomorrow's UFC on FOX card, I will be making the picks directly for the preliminaries (I'm fairly confident on these picks), and elaborating further on the Velasques/Dos Santos fight, which I find to be a much trickier one to predict. It's a big freaking night for the UFC...
The early TV ratings for the UFC's premier on Fox last night have been come in, and they aren't good.  TV by the Numbers reports that the UFC on Fox drew 4.64 million viewers.  Cops, the Fox show that led into the UFC's broadcast last night, drew 4.81 million viewers,  Yes, the UFC - with all its hype, promotion and buildup - got outdrawn by Cops.  Sigh.And it gets...
Sharks News

Delivered to your inbox

You'll also receive Yardbarker's daily Top 10, featuring the best sports stories from around the web. Customize your newsletter to get articles on your favorite sports and teams. And the best part? It's free!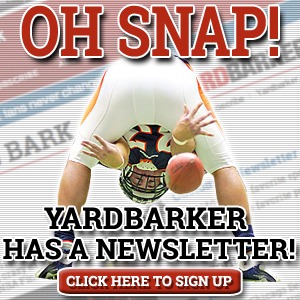 Latest Rumors
The Backyard

Today's Best Stuff

For Bloggers

Join the Yardbarker Network for more promotion, traffic, and money.

Company Info

Help

What is Yardbarker?

Yardbarker is the largest network of sports blogs and pro athlete blogs on the web. This site is the hub of the Yardbarker Network, where our editors and algorithms curate the best sports content from our network and beyond.