Found July 11, 2012 on Fox Sports:
UFC on FUEL TV: LIGHTWEIGHT MATCHUP Rafael dos Anjos vs. Anthony Njokuani Round 1 -- The gloves touch and the fight is under way. Long feeling out process and they trade off leg kicks. Solid inside leg kick from dos Anjos. Dos Anjos drops Njokuani with a left hand. Njokuani gets back up quickly, and dos Anjos lands a takedown but Njokuani cage walks up. Dos Anjos lands a double leg but Njokuani is once again back to his feet. Njokuani lands a knee to the body inside the clinch and they separate. Dos Anjos lands a heavy leg kick to the inside of Njokuani's leg. Dos Anjos is doing a great job blocking Njokuani's strikes. Dos Anjos shoots for a takedown, Njokuani blocks it and his back is against the cage. Dos Anjos lands some good knees to the body and knees of Njokuani. 10-9 Rafael dos Anjos Round 2 -- Njokuani lands a nice leg and body kick early on in the round. Njokuani is a lot more lively this round. Dos Anjos is back to the leg kicks, and they are obviously doing damage. Dos Anjos lands a nice right hook, but Njokuani retaliates with a leg kick that sends dos Anjos back a bit. Dos Anjos lands ANOTHER takedown but Njokuani is back to his feet again, almost immediately. Njokuani's back is against the cage and dos Anjos is looking for an inside trip. dos Anjos picks him up, and slowly slams him down and lands in half gaurd. Njokuani gets a butterfly in. dos Anjos gets yet another slam and he goes for a kimura from half guard but it's failed right away. Njokuani almost gets trapped in a guillotine, but he escapes. The round ends on the feet with a small exchange. 10-9 Rafael dos Anjos Round 3 -- One minute in and not one significant strike has landed; lots of movement from both fighters. Njokuani hits a body kick, but dos Anjos answers with a quick right hand. Njokuani's back is against the cage yet again, and dos Anjos is trying for another takedown. Njokuani is kia-ing with every strike and whenever dos Anjos shoots for a takedown you hear a really long "WOAAAAAH". The mixture of "KIA" and "WOOAAAAAAH" is hilarious. Dos Anjos lands another takedown into half guard. Dos Anjos has completed six of 16 takedown attempts. Little bit of action on the ground but Njokuani gets back to his feet and that's where the round ends. 10-9 Rafael dos Anjos Winner: Rafael dos Anjos by unaminous decision (30-27, 30-27, 29-28) UFC on FUEL TV: BANTAMWEIGHT MATCHUP T.J. Dillashaw vs. Vaughan Lee Round 1 --
Original Story:
http://msn.foxsports.com/ufc/story/Ma...
THE BACKYARD
BEST OF MAXIM
MMA News

Delivered to your inbox

You'll also receive Yardbarker's daily Top 10, featuring the best sports stories from around the web. Customize your newsletter to get articles on your favorite sports and teams. And the best part? It's free!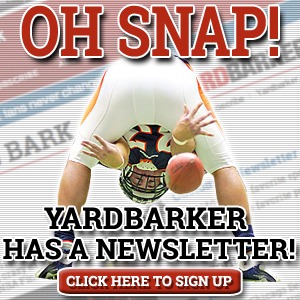 Latest Rumors
The Backyard

Today's Best Stuff

For Bloggers

Join the Yardbarker Network for more promotion, traffic, and money.

Company Info

Help

What is Yardbarker?

Yardbarker is the largest network of sports blogs and pro athlete blogs on the web. This site is the hub of the Yardbarker Network, where our editors and algorithms curate the best sports content from our network and beyond.