Found March 02, 2013 on Fox Sports:
Prelims begin at 7:40 p.m. EST online (watch above) The Main Card airs on Fuel TV at 10 p.m. ET Alex Caceres vs Kyung Ho Kang Round 2: Side kick from Caceres misses. Kang shoots forward and gets the takedown on his opponent. He has side control briefly, but is doing some limited damage in half guard. Caceres uses a slick butterfly guard to get up to his feet, but Kang is on the attack. Kang and Caceres miss hooks and Kang commits to takedown that Caceres avoids. Back to his feet, Kang goes for a toss, but Caceres lands on top. He rolls through and tries for Kang's back, but he transitions into Caceres' guard. Kang takes Caceres' back and has the choke up under the chin. Caceres gets free and is in top position on his feet. Big axe kick to the body from Caceres but Kang is able to get free. Big takedown into guard from Kang and we end the round with Kang in top position. 10-9 Kang Round 1: Superman punch from Caceres misses and Kang clinches him into a body lock. Kang finishes the takedown and is into guard. Kang stands and rains long punches on Caceres and controls him as he gets into side control. The smiling Caceres gets back to his feet. He misses another big punch and he is dumped to his back by Kang. Caceres looks for a kneebar, but Kang is free and working from half guard. Cacares gets up to his feet, but Kang takes his back as he ducks two punches. Caceres reverses the position and gets a few punches before Kang stands up and trips Caceres down to the mat. Sweep from Caceres but he lets Kang go after an omoplata attempt. Back on their feet, Kang and Caceres begin striking in earnest. Right hand misses from Kang. Double kick from Caceres. Big right from Kang that backs up Caceres as the round ends. Score: 10-9 Kang Marcelo Guimaraes vs Hyun Gyu Lim Round 2: Leg kicks and jabs from Lim early on as he re-establishes the distance. Side kick from Guimaraes pushes Lim across the cage. Big takedown is stuffed by Lim. Another takedown is stuffed and Guimaraes eats a knee for his effort. Guimaraes gives two punches to Lim as he backs away. Good four strike combo from Lim, who fits a body shot in there to soften him up. Guimaraes ducks a hook and dumps Lim to his back. Guimaraes is quickly into half guard. Lim gets back to his feet, but Guimaraes still has leg. Lim swings free and the blood is beginning to run onto the lip of Lim. Guimaraes is swinging for the fences, but Lim has no respect for his power and walks through everything he puts out there. Guimaraes ducks down and Lim throws a knee to the chin of Guimaraes and he is out cold. Official Result: Hyun Gyu Lim by KO (R2, knee, 4:00) Round 1: Leg kicks from each fighter to start. Takedown from Guimaraes is avoided by Lim. Gyu Lim with a counter right as Guimaraes comes in for another takedown. Lim thwarts a takedown attempt and pops off two hooks. Big right uppercut coming forward from Guimaraes. Jumping front kick from Guimaraes misses. Two jabs from Gyu Lim and and another takedown is avoided. Big overhand right from Guimaraes, but Gyu Lim lands a knee to the face as he comes in for a takedown. Lim continues to back into the center of the Octagon and is working the jab. Kicks from Lim, as he lands one to the body. On a flying knee attempt from Lim, Guimaraes gets a big takedown into butterfly guard to end round one. Score: 10-9 Lim Main Card Wanderlei Silva vs Brian Stann Mark Hunt vs Stefan Struve Takanori Gomi vs Diego Sanchez Yushin Okami vs Hecotr Lombard Mizuto Hirota vs Rani Yahya Dong Hyun Kim vs Siyar Bahadurzada Prelims Riki Fukuda vs Brad Tavares Takeya Mizugaki vs Bryan Caraway Cristiano Marcello vs Kazuki Tokudome Alex Caceres vs Kyung Ho Kang Marcelo Guimaraes vs Hyun Gyu Lim
Original Story:
http://msn.foxsports.com/ufc/story/uf...
THE BACKYARD
BEST OF MAXIM
RELATED ARTICLES
Wanderlei Silva (pictured) and Brian Stann promised someone was going to sleep in Saturday night's main event, and nearly everyone thought it was going to be Silva – including the Gambling Gods, who dubbed Stann a 3-to-1 odds-on favorite. Entering UFC on FUEL TV 8, Silva had lost seven of his last 10 bouts, four of which resulted in his unconscious state on the canvas. Clearly...
Two warriors took to the Octagon last night (March 2, 2013) as Pride legend Wanderlei Silva returned to Japan to take on former WEC light heavyweight champion Brian Stann at 205 pounds in the main event of UFC on Fuel TV 8. It was a bout between two of the most ferocious and powerful stand-up strikers on the UFC roster, and it delivered in one of the wildest two-round fights in UFC...
After a night of freebie MMA action, UFC President Dana White awarded Brian Stann and Mark Hunt each an additional $50,000 for their performances Saturday at "UFC on FUEL TV: Silva vs. Stann." Wanderlei Silva (pictured) double-dipped and took home two bonus checks. After witnessing a fairly unforgettable card, Silva and Stann put on the most thrilling performances of the evening...
All the fighters slated to participate in tomorrow night's "UFC on FUEL TV: Silva vs. Stann" event will be tipping the scale today inside Saitama Super Arena in Saitama, Japan. The first athlete is scheduled to weigh-in at approximately 11PM ET/8PM PT. Please click HERE if you would like to stream today's weight competition. Middleweight Brian Stann (pictured) makes a one...
• Preliminary Card (Facebook - 7:30 PM ET) Welterweight Bout: Hyun Gyu Lim (10-3-1) vs. Marcelo Guimaraes (8-0-1) Bantamweight Bout: Alex Caceres (8-5) vs. Kyung Ho Kang (11-6) Lightweight Bout: Cristiano Marcello (13-4) vs. Kazuki Tokudome (11-3-1)  Bantamweight Bout: Bryan Caraway (17-5) vs. Takeya Mizugaki (16-7-2) Middleweight Bout: Riki Fukuda (19-6) vs. Brad Tavares...
In the latest episode of the show, Scott Johnson of Kamikaze Overdrive MMA gives his predictions for the upcoming UFC on FUEL TV 8 card. This episode of the show covers predictions for the 6 fights on the UFC on Fuel TV 8: Silva vs Stann main card. Also below the video you can see the [...]
"I want to send a message to Wanderlei Silva. Our great champion. Our eternal great champion. I am a huge fan. I wish you all the best in your next fight. Go in there, as always do with your warrior style. Like a beast. Give your best. For sure you will win. Big hug Wandeco!"
It looked good on paper. Never judge a book by its cover. Insert another predictable idiom here. After Hyun Gyu Lim made his presence felt it turned out to be a pretty disappointing night in terms of violence. 8 straight decisions ;ater it was up to the big boys to close things out with a bang. Saying they did just fine. would be an understatement. This was one of the exciting closes...
MMA News

Delivered to your inbox

You'll also receive Yardbarker's daily Top 10, featuring the best sports stories from around the web. Customize your newsletter to get articles on your favorite sports and teams. And the best part? It's free!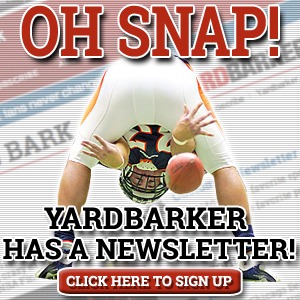 Latest Rumors
The Backyard

Today's Best Stuff

For Bloggers

Join the Yardbarker Network for more promotion, traffic, and money.

Company Info

Help

What is Yardbarker?

Yardbarker is the largest network of sports blogs and pro athlete blogs on the web. This site is the hub of the Yardbarker Network, where our editors and algorithms curate the best sports content from our network and beyond.