Found May 09, 2013 on The Roosevelts:
Jon Jones is considered by many to be the best pound-for-pound fighter on planet Earth.  He recently defended his title for the fifth time, tying Tito Ortiz on the list of most successful title defenses in the Light Heavyweight division (5). His record shows one loss, but that came as a result of an illegal elbow thrown after he knocked his opponent out. Aside from that blemish on his record, he has dominated the Light Heavyweight division with absolute ease with an 18-1 record.  During his latest fight against Chael Sonnen, he won with a first round knockout in a display of physical dominance.  Here are the reasons why he is the best. Reach One of Jon Jones' advantages as a fighter is his reach.  He stands at 6'4" and has an 84.5-inch reach, which dwarfs the average reach of fighters in his weight class by (on average) 10 inches.  This gives him a distinct striking advantage, as he can pick his opponents off without any real fear of getting into their range.  When you combine his reach with his devastating muay Thai, you're left with the most dangerous striker alive. However, his reach doesn't only help him with his stand up game.  It also makes his jiu-jitsu even more deadly by giving him the ability to sink chokes and submissions unobtainable by his shorter-armed counter parts.  Simply put: whether you want to stand and trade with Jones or attempt to roll with him, you will have trouble. Athleticism Another advantage that genetics have allowed Jones is his pure athleticism.  He comes from a family of athletes, with two brothers in the NFL – and the genes for that athleticism did not skip him.  America's best athletes are pushed into football as children and subsequently end up in the NFL.  Jon Jones is the rare case of a fighter with NFL athleticism, along with high-end training in wrestling, muay Thai, and jiu-jitsu. You don't need to see him run a 40-yard dash or do the broad jump to understand his athleticism.  Purely through the eye test, he passes as one of Americans top athletes.  When he is pitted against another fighter, it appears that he is matched up against a pre-pubescent boy.  He simply imposes his will on any man that stands in front of him in the octagon.  After he knocked out Chael Sonnen in the first round in UFC 159, Sonnen said, "I thought I could keep up with him.  I was very surprised at his power and his size." Jones has toppled some the best fighters that the UFC has to offer and made it look easy.  The fights don't just look unchallenging – they actually are. Unorthodox If fighting against Jones isn't difficult enough, he also has a very unorthodox way of fighting.  In a fight against Quinton 'Rampage' Jackson, he actually came out crawling on all four limbs, grabbing at Rampage's ankles.  Jones won that fight via rear naked choke and was the first person in the UFC to finish Rampage Jackson. Jones' unorthodox fighting style makes him very difficult for fighters to attack him, while also making it difficult for them to defend Jones' attacks.  His opponents are unable to predict his striking.  This unpredictability makes it easier for Jones to land solid shots and makes it difficult for his opponents to ever be comfortable in the octagon. Takedown defense Jon Jones has no recorded sweeps in the UFC, but that's because he's never needed to do any sweeps.  In fact, Jon Jones has never been taken down in the UFC.  Despite fighting excellent wrestlers, he has never been put on his back and it doesn't look like he is going to be.  It is nearly impossible not to be taken down in the UFC, but Jon Jones has succeeded in this where everyone else has failed.  If you ever find yourself thrown in the octagon with Jones, then try striking.  He's only avoided 67% of strikes thrown his way, as opposed the 100% of takedowns attempted on him. Intimidation Probably one of Jones' best tools is intimidation.  It is easy to be intimidated by a guy that has laid waste to fighters such as Ryan Bader, Rashad Evans, Rampage Jackson, Lyoto Machida, and Mauricio Rua.  Many of the fighters that fight Jones are already psychologically beaten before they enter the octagon. If you're not scared of Jones, then you still have to deal with the physical monster that is Jonny 'Bones' Jones.  Sonnen wasn't afraid, but maybe he should have been.  He got thrown around like a rag doll against Jones.  However, being confident is likely your only realistic tool that can help you beat Jones.  Those who think they can't win, definitely cannot. Conclusion Jones' has all of the physical and psychological advantages of fighting.  Without really touching on his mental knowledge of the fight game, we already listed plenty of reasons why Jones is the best.  However, it was really said best by Chael Sonnen prior to his April 27th bout with Jones when he stated: "As great as Jon is, I don't think that he understands how good he is.  For him to pay tribute to Mike Tyson and Muhammad Ali earlier was a very nice thing for him to do.  The reality is Jon Jones could beat up Mike Tyson and Muhammad Ali in the same day."
Original Story:
http://www.rsvlts.com/2013/05/09/jon-...
THE BACKYARD
BEST OF MAXIM
RELATED ARTICLES
UFC light heavyweight champion Jon Jones has inked another major sponsor in Gatorade.  The young champion was the MMA first fighter to get a deal with Nike and is now has signed with the biggest sports drink company in the world.  We will pass along any details regarding the deal as soon as we get them. Jon Jones Nike commercial Jon Jones has his own Nike shoe
Jon Jones is 6'4″ 205 pounds and Floyd Mayweather is 5'8″ 147 pounds, so the logistics of a boxing match wouldn't work.  It would be like Mayweather fighting in the heavyweight division. From my experience boxers wouldn't do well in MMA and MMA fighters wouldn't do well in boxing. They are both fighting sports, but totally different when you really think about it....
As Robert Littal of Blacksportsonline pointed, the extreme size difference between Floyd Mayweather and Jon Jones would make it so a boxing bout between the two would make no sense. But, Jones apparently feels despite that, he would be competitive against Mayweather in the ring. Even though he is a MMA fighter and not a [...]
This falls around the average for UFC champion Jon Jones and if these numbers hold up it will be the second highest buy of the year, behind GSP vs Nick Diaz.  Most people viewed this as a lopsided fight to begin with and when the fight actually happened these people were proven correct.  That being said the fight still sold well and it can be contributed to numerous factors. ...
The super fight of all super fights needs to happen, I would have to take Jones by elbows to the skull. GSP's Book Best Sellers List Weidman Responds To Silva's No Show
Early estimates for the UFC 159 Jones vs. Sonnen buyrate are in and whether it is a success or not depends on your criteria. The good news is that the pay per view was the second biggest of the year. The bad news is that it should have done more.
Jon Jones and Floyd Mayweather Jr. are among the best pound-for-pound fighters in their respective sports. Jones might be the best MMA fighter in the world — Anderson Silva and Georges St-Pierre could also make arguments for the top pound-for-pound spot. In boxing, the Klitschko brothers and Canelo Alvarez are top pound-for-pound fighters, but few would dispute the undefeated Mayweather...
It wasn't until I recently rewatched Anderson Silva vs. Demian Maia that I realized Anderson has been asking for GSP for over three years now. Think about that. Anderson will probably end up fighting Jon Jones as well, for better or worse, but you have to hand it to him: he's willing to fight. That's why we all love Ando so much. Now, I'm not saying GSP or Bones don't want...
(Brad Penner-USA TODAY Sports) For those disgusted at the UFC's matchmaking decision to give Chael Sonnen a shot at Jon Jones's light heavyweight title, this news is going to be quite unwelcoming - UFC 158 put up some solid pay-per-view sales numbers.  Dave Meltzer reports the event is the second-highest selling of 2013 for the company, with estimated sales in the...
Hard not to love Cowboy Cerrone.  He is seen here taking the time to snap a pic with a fan.  We will see Cerrone inside the Octagon next at UFC 160 when he takes on KJ Noons. Leonard Garcia released by UFC Jon Jones has a stare down with the naked cowboy
MMA News

Delivered to your inbox

You'll also receive Yardbarker's daily Top 10, featuring the best sports stories from around the web. Customize your newsletter to get articles on your favorite sports and teams. And the best part? It's free!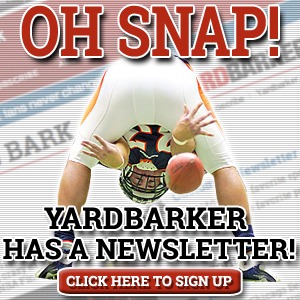 Latest Rumors
The Backyard

Today's Best Stuff

For Bloggers

Join the Yardbarker Network for more promotion, traffic, and money.

Company Info

Help

What is Yardbarker?

Yardbarker is the largest network of sports blogs and pro athlete blogs on the web. This site is the hub of the Yardbarker Network, where our editors and algorithms curate the best sports content from our network and beyond.