Found November 14, 2012 on hov-mma:
Either people are too swift to forget, or the UFC Primetime series is once again doing its job, but for whatever reason, there are a lot of folks who think GSP is going to lose this Saturday night.  I understand, I too once bought into the pre fight hype shows, I believed based on a television "Primetime" event that a fighter had a chance and would shock the world.  Well, after Floyd Mayweather drubbed Shane Mosely, I vowed never again.  If you put your money down on Condit, you'll suffer the same buyer's remorse.  Here's why.
Carlos Condit is a brilliant fighter, and a likeable good human being.  He's got all the tools to be one of the best in the world.  In fact, he is one of the finest in the world.  He's conquered some of the best in the world now during his five fight winning streak.  He's beat Jake Ellenberger, Rory MacDonald, Dan Hardy, Dong Hyun Kim and of course Nick Diaz.  That's an astounding string of victories.  The only hiccup in his plan to advance from interim to undisputed champion is he is fighting THE best in the world. 
Georges St. Pierre is the best Welterweight in the history of mixed martial arts.  He's behind only Anderson Silva in my estimation in being the best fighter in the history of Mixed Martial Arts.  People take GSP for granted.  He had fallen into the trappings of not being a fan favorite because he doesn't go all out to finish fights.  He'd won four consecutive fights via dominant unanimous decision, and for some fans, that's not good enough.  It's important however to not mistake not finishing, for not being dominant.  GSP hasn't been in trouble in a fight since his 2007 loss to Matt Serra.  He hasn't needed to weather a storm, escape a submission, recover from being knocked down, or dig deep to win the last round to solidify a victory.  He has by and large destroyed the best fighters at 170 with a relative ease.    
You don't think he's dominant?  Ask Josh Koscheck how that fight went for him and his surgically repaired eye.  Ask Thiago Alves how he felt post-fight.  Oh, and track down Jon Fitch and get his take on how it was fighting GSP.  He has a pin point jab, effortless takedowns and defense that keeps him free from peril.  He's simply the most effective fighter in the game.   
There are outside factors to consider here.  Georges St. Pierre is coming off of an extended layoff and a very serious knee injury.  It will have been eighteen months between visits to the Octagon.  He will have to deal with that.  He has a surgically repaired knee that could play games with his mind.  He's been training on it for months, and knows his knee is ok.  That said, until you step back on the field, or in this case, the cage, you don't know how it's going to feel.  He will have to deal with that. 
He's been doing some astonishing training with the Canadian Olympic track and field team. He's looked explosive and his knee seems more than ready.  He's as psychologically tough a fighter as there is in MMA, so I would expect he's not going to doubt his abilities or suffer from a lack of confidence.  The most important facet of this whole thing is he's fighting at home.  He will be in Montreal, and the crowd energy will serve to amp him up. 
Condit is very dangerous on his feet.  He's an explosive striker who can hurt you at any given time.  So were Thiago Alves and Dan Hardy.  GSP has an innate ability to stay out of danger.  He will jab, throw some kicks, and take Condit down at will.  I believe he will win all five rounds, en route to once again being the Undisputed World Champion.    Anderson Silva is scheduled to be on hand, but has said he will not make any post fight speech or enter the ring should GSP win.  I do believe that an Anderson Silva superfight would be outstanding, but not with GSP.  Allow Silva to go up to Light Heavyweight and face Jon Jones.  We already have an amazing fight to make at Welterweight should GSP get past Condit.  Good versus Evil…GSP versus Nick Diaz.  That fight would do massive business and would be a remarkable clash of wills and styles. 
The time for pre-fight speculation is nearly over.  Articles like this one will give way to recaps, and assessments.  "I thought so" will turn into "I told you so" as people accept the outcome.  I am a fan of both GSP and Carlos Condit.  I think they are both what is great about the UFC and professional sports.  That said, on November 17th, they will meet and only one of them can leave Montreal with the world title.  GSP will be that man.  *  Photo by: Graham Hughes /THE CANADIAN PRESS
Original Story:
http://www.hov-mma.com/2012/11/will-r...
THE BACKYARD
BEST OF MAXIM
RELATED ARTICLES
The fighter walked out on stage, absorbed the applause, bowed slightly and then sat down, looking every bit like the politician's son that he is: Sharp black suit, black shirt with the top button undone, black leather shoes and a bearded gaze that could slay many a lady. For Carlos Condit, the interim UFC welterweight titleholder who on Saturday night at UFC 154 will try to...
Carlos Condit Vitals 6'2" 170 lbs (Welterweight) 76" reach, Orthodox April 26, 1984 Record 28-5 (UFC: 5-1) Current Streak 5 straight wins Training Brown Belt in Brazilian Jiu-Jitsu   Championships Held WEC Welterweight Champion: 2007-2008 (three successful title defenses) UFC Interim Welterweight Champion: 2012...
***This post is sponsored by the UFC*** UFC 154 is taking place on Saturday at Bell Centre in Quebec, and it's being headlined by Canada's favorite fighter: Georges St-Pierre. GSP will be facing Carlos Condit for the UFC welterweight title. It's a good card and the main event is a big one, so we'll share with you the top five reasons why you should watch. 1. Will this lead...
The third and final episode airs Friday November 16th following TUF on FX. Check your local listings. UFC Primetime UFC 154: St. Pierre vs. Condit
By Marcos Villegas It seems Greg Jackson has learned his lesson on what he should do when fighters he has trained get matched up against each other, this Saturday UFC interim welterweight champion Carlos Condit will face UFC welterweight champion Georges St-Pierre at UFC 154. Both fighters have trained under Greg Jackson, with the trainer [...]
All the major players participating in Saturday's "UFC 154: St-Pierre vs. Condit" extravaganza will be hitting the podium today inside New City Gas in Montreal. Stream Wednesday's pre-fight press conference live right here on 5thRound.com starting at 1PM ET/10AM PT. Today's festivities are free and open to the public. A welterweight title unification bout between champion...
Mixed martial arts continues to gain steam in terms of popularity, but there are still those who are generally skeptical of the sport. If you're interested in some intense action, however, look no further than Saturday's UFC 154, as it could be the event that wins over borderline fans. The main event of Saturday's UFC card at Montreal's Bell Centre features 170-pound welterweight...
Given that the welterweight title unification bout between champ Georges St-Pierre (Pictured) and interim champion Carlos Condit has hoarded most of the UFC 154 spotlight, and understandably so, there is another critical 170-pound shootout showcased in Saturday's show. While the three-part "UFC 154 Primetime" series on FX has focused solely on GSP vs. Condit, FUEL TV's debut...
Georges St-Pierre will return to the octagon, where he will face interim welterweight champion Carlos Condit at UFC 154 on Saturday in Montreal. GSP has been out of action for 11 months after undergoing surgery to reconstruct a ruptured ACL. From a medical perspective, GSP's knee may end up being the first flicker in the aura of one of the greatest champions of all time. Not...
UFC fans are foaming at the bit to see the return of Georges St-Pierre this weekend as he takes on Carlos Condit for UFC 154 (November 17th, 10 PM EST). Why is that? It's because this match... [[ Read More ]]
MMA News

Delivered to your inbox

You'll also receive Yardbarker's daily Top 10, featuring the best sports stories from around the web. Customize your newsletter to get articles on your favorite sports and teams. And the best part? It's free!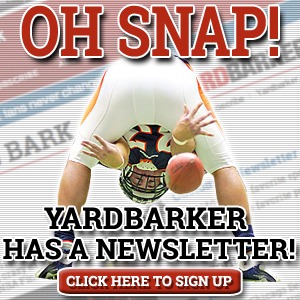 Latest Rumors
Best of Yardbarker

Today's Best Stuff

For Bloggers

Join the Yardbarker Network for more promotion, traffic, and money.

Company Info

Help

What is Yardbarker?

Yardbarker is the largest network of sports blogs and pro athlete blogs on the web. This site is the hub of the Yardbarker Network, where our editors and algorithms curate the best sports content from our network and beyond.