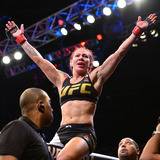 Two fighters got into a fight at the UFC Athlete Retreat on Sunday in Las Vegas, according to multiple reports.Cris Cyborg and Angela Magana got into an altercation, according to MMA reporter Ariel Helwani. Helwani says Cyborg punched Magana. Chris Taylor provides more information about the fight, saying Cyborg knocked out one of Magana's teeth. He also says the altercation occurred...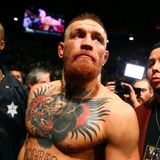 2016 was the year of Conor McGregor. Over the course of 12 months, he revolutionized the fight business. His spectacular knockout victory over José Aldo in 2015 earned him a title shot at lightweight in early 2016, but an injury to the then-champion Rafael dos Anjos triggered a series of events that would push McGregor's stardom to the next level.Nate Diaz showed up to face McGregor...
For 15 years, Mike Goldberg was the voice of the UFC. The longtime announcer teamed with Joe Rogan to call UFC fight cards, but that ended during the transition as the new ownership took over the MMA company.During an interview on "The MMA Hour" on Monday with Ariel Helwani, Goldberg finally talked about his release."It was a shock. It was a shock," Goldberg said of his reaction...
Just hours after baring his soul on the 333rd episode of his weekly show on MMAFighting.com, it was announced that 6-time World MMA Awards journalist of the year winner Ariel Helwani's "lifetime" UFC ban has been lifted. Here's the statement that the UFC released to the public: Following a conversation with the editorial team at SB Nation, UFC will not prevent MMAFighting.com from...
Ariel Helwani poured out his heart and shared a lot of personal information during Monday's edition of "The MMA Hour" — his weekly show. At one point he even referenced an event that got "physical" in 2014. Though Helwani declined to go into specifics about the incident, MMA insider Front Row Brian elaborated on Twitter. He said the allusion by Helwani was to an actual assault on...
The UFC's habit of bullying reporters and controlling the news took a new twist on Saturday night when MMA reporter Ariel Helwani says he was kicked out of UFC 199 and banned for life. Helwani tweeted the news of his removal from the show in Inglewood, Calif. at a little after 10 p.m. PT Saturday night just before the main event at UFC 199. The veteran MMA reporter had broken news...
MORE STORIES >>
MMA News

Delivered to your inbox

You'll also receive Yardbarker's daily Top 10, featuring the best sports stories from around the web. Customize your newsletter to get articles on your favorite sports and teams. And the best part? It's free!