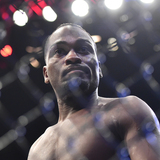 Would you also like to face Michael Bisping? Well get in line, bub. Now we don't know where the line to fight Bisping begins, but we do know it would get a little longer on Tuesday. And Derek Brunson is the latest to throw his name in the hat. In fact, he goes much further than that, posting a photo on Twitter of a signed fight contract. And it comes with a message."You're no easy...
Hornets big man and huge MMA fan Dwight Howard takes on the Whisper Challenge: UFC Edition with fighter Derek Brunson.
(ALSO SEE: Sean Shelby's Shoes: What's next for Ronaldo Souza and UFC on FOX 27's other winning fighters?) Derek Brunson fell short in his home state Saturday when he lost the UFC on FOX 27 headliner, which took place at Spectrum Center in Charlotte, N.C. Brunson (18-6 MMA, 9-4 UFC) suffered a first-round knockout loss to Ronaldo Souza (25-5 MMA, 8-2 UFC) in the FOX-televised rematch...
"UFC on FOX 27: Jacare vs. Brunson 2" takes place Saturday inside Spectrum Center in Charlotte, North Carolina. UFC Fight Pass streams the night's first two preliminary bouts live starting at 4PM ET/1PM PT. Fox Sports 1 airs the remaining six prelims at 5PM ET/2PM PT. FOX broadcasts the main card beginning at 8PM ET/5PM PT. A middleweight rematch between Derek Brunson and Jacare...
CHARLOTTE, N.C. – Technically, Saturday's headliner between Ronaldo Souza and Derek Brunson is a rematch. But at the same time, it's hard to think of them as the same men who met in 2012. Brunson (18-5 MMA, 9-3 UFC), himself, doesn't really see UFC on FOX 27's main event as a rematch. Speaking to MMAjunkie, the middleweight talked about just how "green" he was when he was knocked...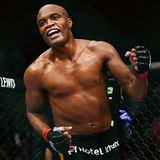 BROOKLYN — Following the toughest stretch of his professional fight career, Anderson Silva returned to the win column at UFC 208 with a unanimous decision victory over Derek Brunson.It was hard to imagine that Silva had gone winless for nearly five years as he stepped into the Octagon on Saturday night but those are exactly the odds he faced while taking on the No. 8 ranked middleweight...
Anderson "The Spider" Silva hasn't won a UFC bout since 2012, but he's looking to change that at UFC 208 next month. Silva will once again fight on short notice, and has been added to the UFC 208 card, to fight Derek Brunson. He did the same thing last time he was in The Octagon, at UFC 200, and got wrecked by Daniel Cormier. He'll hope that he doesn't repeat that feat again, otherwise...
Poor, Roan Carneiro. He got a first-hand taste of the new and improved Derek Brunson (pictured) Sunday at UFC Fight Night 82, and I would expect he won't be asking for seconds. The beginning of the end for Carneiro was when he missed madly on a right hook and lost his balance. Brunson quickly pounced and him and gave him the business on the ground. After countless punches to the...
Derek Brunson has been begging for a top 10 fight but with no one ahead of him in the rankings available he made the most of his opportunity against Roan Carneiro on Sunday night with a dominant first round finish for his fourth win in a row.Brunson has definitely rocketed to the top of the prospects list in the middleweight division, especially with his last three wins, which all...
MORE STORIES >>
MMA News

Delivered to your inbox

You'll also receive Yardbarker's daily Top 10, featuring the best sports stories from around the web. Customize your newsletter to get articles on your favorite sports and teams. And the best part? It's free!