The UFC is looking to end 2017 on a high note at UFC 219, after a year filled with bumps and bruises. The sports biggest star, Conor McGregor, stayed away from the octagon all year. Former champion Jon Jones looked to avenge the stripping of his title, only to once again test positive for performance enhancing drugs. It seemed as if the UFC couldn't catch a break. Even former bantamweight...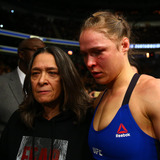 Ronda Rousey's last fight came in December 2016 and that may very well be the last one of her mixed martial arts career.Rousey began her career in 2011 and won her first 12 fights as a professional before suffering a defeat to Holly Holm in 2015. During that time, she captured the UFC Women's Bantamweight title and became a worldwide star.Rousey followed the loss to Holm with another...
Holly Holm resurrected her career in a big way at UFC in Singapore on Saturday. Holm achieved just her first win since defeating Ronda Rousey back in 2015, and continued on the rollercoaster that has been her MMA career. The knockout artist defeated Beth Correia in the exact fashion you'd think on Saturday — with a sick knockout, and it's worth watching. The fight featured a slow...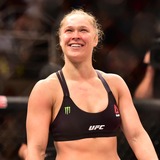 We haven't heard much regarding the future of Ronda Rousey since her loss to Amanda Nunes on Dec. 30, but she has made one recent move.Rousey has begun working with a new nutrition specialist, according to an Instagram post by strength coach/nutrition specialist Dan Garner.Here's the post he published on Tuesday to announce the move: "Wanted to give a good welcoming post to Ronda...
Her long blonde hair was braided and pulled back into a bun that had become messy from the clench work during the fight. She had significant swelling over her left eye, and a gash above her eyebrow that blood steadily flowed from throughout the fight. Despite putting up a tough fight, the judges didn't feel Holly Holm did enough to claim the title, and the decision left fight fans...
How do you describe the aura of invincibility to someone? It's not an easy task. It's not exclusively the ability to win and dominate opponents. Plenty of champions win easily and don't carry the aura. UFC Flyweight Champion Demetrious Johnson doesn't have it. Neither does any other current champion. They aren't mean enough. They aren't mad enough. You have to come off as wanting...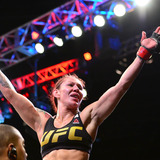 Cris "Cyborg" Justino is happy that the UFC finally created a featherweight division for women as she's wanted for years, but she's upset with them for not giving her the first crack at the title. News emerged on Tuesday that the UFC will hold its inaugural women's featherweight title fight on Feb. 11 at UFC 208 in Brooklyn. The two women to fight will be Holly Holm and Germaine...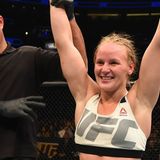 Seventh-ranked women's bantamweight Valentina Shevchenko put on her best Octagon performance to-date Saturday night, scoring a unanimous decision over former champion Holly Holm in the main event of UFC Fight Night from Chicago.The scores were 49-46, all around, for Shevchenko, who improved to 13-2 overall with the win.Holm gained momentum early in the first round when she dropped...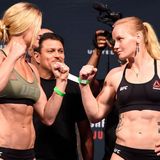 Holly Holm tries to get back into the win column when she takes on seventh-ranked women's bantamweight Valentina Shevchenko in the main event of another exciting UFC Fight Night from Chicago.Holm is eager to get back into the UFC title conversation but will have her hands full with veteran striker Shevchenko, a former Muay Thai champion, who will surely challenge "The Preacher's...
Luke-a-likes is back with UFC fighter Holly Holm and comedian Amy Schumer.
MORE STORIES >>
MMA News

Delivered to your inbox

You'll also receive Yardbarker's daily Top 10, featuring the best sports stories from around the web. Customize your newsletter to get articles on your favorite sports and teams. And the best part? It's free!