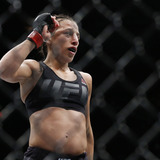 UFC 211 is finally upon us, and despite the lack of transcendent super-star talent on the docket, it may very well be the best card the UFC puts on display this year. Here are the five reasons why. Your Favorite Fighter's Favorite Fighter(s) Are you looking for a new favorite fighter to watch? One who is vicious on her feet and is always looking for the finish? Then Joanna Jędrzejczyk...
UFC women's strawweight champion Joanna Jedrzejczyk is set to defend her title against Jessica Andrade at UFC 211 in Dallas. this weekend. The bout will pit two fighters who have been at their absolute best in their fights leading up to this one. On UFC 211: Inside the Octagon, hosts Dan Hardy and John Gooden break down each fighters strengths and weaknesses, and provide an excellent...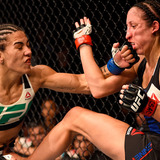 Jessica Andrade is looking for a fight.The No. 5 ranked strawweight contender was supposed to compete at UFC 207 last week in Las Vegas, but two different opponents were unable to take the bout so Andrade was left in the lurch with no fight and no paycheck.Since her fight was cancelled it was revealed that Andrade was actually offered a chance to face strawweight champion Joanna...
The Ultimate Fighting Championship was forced to make a last-minute change to the UFC 207 fight card on Wednesday, after failing to find a late replacement to face off against No. 5-ranked strawweight contender Jessica Andrade. According to MMAjunkie.com, Andrade had been in Las Vegas since Monday in hopes of finding a new opponent, but after failing to find an opponent who makes...
When you watch an MMA event you expect to see a few ass-kickings from time to time. It's what we tune in for. However, at the same time, you hope that the fights are competitive. Sometimes there is a fight that makes you wonder why in the world it as scheduled because one fighter dominated the other so bad.The Jessica Andrade-Jessica Penne fight was one of those fights: ANDRADE SMASH...
It looks like the move down to strawweight was the right career path for Jessica Andrade after she punished former title contender Jessica Penne to earn a second round TKO in her debut at 115 pounds.Andrade started her UFC career as a bantamweight and while she found some success in the weight class, the Brazilian was always undersized while competing at 135 pounds.So cutting down...
MORE STORIES >>
MMA News

Delivered to your inbox

You'll also receive Yardbarker's daily Top 10, featuring the best sports stories from around the web. Customize your newsletter to get articles on your favorite sports and teams. And the best part? It's free!