AUSTIN, Texas – James Vick wants a matchup with one of the UFC's top lightweights because he doesn't think anyone ranked below him will agree to a fight. Vick (13-1 MMA, 9-1 UFC) picked up his ninth victory in 10 UFC appearances on Sunday when he defeated Francisco Trinaldo (22-6 MMA, 12-5 UFC) by unanimous decision at UFC Fight Night 126, which took place at Frank Erwin Center...
Social media has become a significant part of the sporting landscape. But few, if any, professional sports match the level of interaction and personal access provided by MMA. In an individual competition in which nearly every athlete is chasing the same goal of financial success and championship glory, it's important for fighters to provide insight into their lives in order to connect...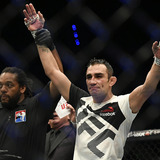 Tony Ferguson made it very clear that he wants a shot at Conor McGregor after submitting Kevin Lee at UFC 216 on Saturday night.Ferguson used a great triangle choke to take care of Lee in the third round, and he now has his eyes on the prize regarding his next fight.After taking care of Lee, Ferguson made it known that he's ready to take on McGregor, and it seemed very obvious that...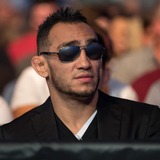 The UFC has begun the slow climb out of the abyss that was UFC 215, and it begins with UFC 216. Despite the start to this card, there are three solid fights to enjoy. Here are my predictions. Fabricio Werdum vs. Derrick LewisWerdum has been one of the most polished heavyweights in the history of the UFC. He has been at the top of the game for years and tested throughout his career...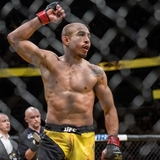 In this episode of the MMA Roasted Podcast, MMA fighters Jason Miller, Bubba Jenkins, and Heather Jo Clark join Adam in the studio to break down the recent UFC 211 fight card. MMA legend Frankie Edgar calls in to discuss his recent win over Yair Rodriguez, and Kevin Lee calls to talk about his upcoming fight. 
Adam is on the road! In this episode of the MMA Roasted Podcast, Kevin Lee calls in to discuss his recent victory as well as his future in the UFC. 
In this episode of the MMA Roasted Podcast, BJJ legend Renato Laranja stops by to help break down the upcoming Bellator fights. Adam, CB, and Gabe discuss the fight between Yair Rodriguez and BJ Penn, and UFC fighter Kevin Lee calls in. 
LAS VEGAS — Kevin Lee snapped top-prospect Jake Matthews' two-fight win streak and created his own with a first-round TKO victory Friday. "The Motown Phenom" got in Aussie Matthews' face from the get-go and used excellent wrestling to get into position to finish the fight.Not that Matthews would go or stay down easily. He worked well to defend and counter Lee's takedowns, though...
From what I gathered reading comments on a Reddit page, it sounds like Kevin Lee talked a lot of smack about a lot of people leading up to his fight with Leonard Santos. If that is indeed the case then the youngster deserved to get his behind handed to him--which he did.Well done Mr. Santos. Well done indeed. Read more »
Lightweight Sage Northcutt has spent most of his 19 years preparing to be a star. When he hit the big stage Oct. 3 in Houston at UFC 192 in his promotional debut, he proved that he was ready for the bright lights and pressure, scoring a first round TKO victory. He's been celebrated roundly since then, but fellow UFC lightweight Kevin Lee isn't a fan of the future poster boy. "I just...
MORE STORIES >>
MMA News

Delivered to your inbox

You'll also receive Yardbarker's daily Top 10, featuring the best sports stories from around the web. Customize your newsletter to get articles on your favorite sports and teams. And the best part? It's free!