Rizin FF has set its 2018 schedule, and the first event of the year features some big-show vets. In the headliner of the season opener, Rizin FF 9, former UFC flyweight contenders Kyoji Horiguchi (23-2) and Ian McCall (13-6-1) face off in a 134-pound bout. Rizin FF 9 takes place May 6 at Marine Messe Fukuoka in Fukuoka, Japan, and the card streams in North America on rizinff.com...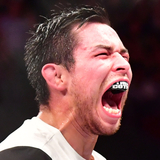 UFC flyweight contender Ray Borg isn't the first fighter to say they have the secret formula to dethrone current champion Demetrious Johnson.Johnson has been virtually untouchable since winning the flyweight championship in 2012 and with one more win in April he'll tie Anderson Silva for the most title defenses in UFC history with 10.As impressive as Johnson has been throughout his...
With the beginning of the 2016 Rio Olympics just a little over a month away, it could be fun to take a hypothetical look at who could possibly win gold in an Olympic mixed martial arts event. Seeing as how many of the techniques utilized in MMA are already Olympic events, Olympic MMA might not be as much of a pipe dream as one would expect. Tournament style MMA has been pulled off...
In this week's Monday Matchmaker, we take a look at some potential matchups for the big winners from UFC Fight Night: Barnett vs. Nelson, including Josh Barnett after his win over Roy Nelson, Uriah Hall after his highlight-reel knockout of Gegard Mousasi, as well as Japanese natives Kyoji Horiguchi and Takeya Horiguchi. 
Kyoji Horiguchi didn't feel any kind of title fight hangover as he put on a picture perfect performance to out strike Chico Camus for three rounds to win a shutout unanimous decision in his home country of Japan on Saturday night. Horiguchi lost a lopsided fight to flyweight champion Demetrious Johnson in his last trip to the Octagon, but he showed no ill effects of that defeat as...
MORE STORIES >>
MMA News

Delivered to your inbox

You'll also receive Yardbarker's daily Top 10, featuring the best sports stories from around the web. Customize your newsletter to get articles on your favorite sports and teams. And the best part? It's free!