There are perks that come with being a champ — name recognition and traveling first class. That's what Rose Namajunas has enjoyed since capturing the UFC women's strawweight title last November at UFC 217 in Madison Square Garden. Namajunas, 25, was a big underdog when she took on longtime unbeaten champion Joanna Jedrzejczyk of Poland....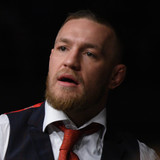 Dana White isn't stripping Conor McGregor of the UFC lightweight title just yet. But there's a catch.At UFC 223 on April 7 in Brooklyn, Khabib Nurmagomedov will face off against Tony Ferguson. And their prize, according to White? The "undisputed" lightweight championship. But if he's not stripping McGregor of his crown, how can that be?"Conor McGregor is not just one of the biggest...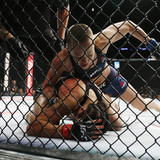 At UFC 217 back on Nov. 4, Rose Namajunas upset then-current strawweight champion Joanna Jedrzejczyk. But at UFC 223 on April 7, they may finally have their rematch. Of course, that's not the only big news ahead of UFC 223. On Thursday, UFC president Dana White would confirm Tony Ferguson versus Khabib Nurmagomedov. But at this time, we don't know if it's for the interim lightweight...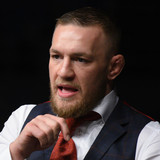 Was UFC 217 the best fight card the organization has ever put on? Most will say that's a definitive yes. It would feature three championship fights on the top of the card, and all three champions would go down in defeat.The night also proved that sometimes when you talk too much, it can come back to bite you. Three such talkers got bitten at UFC 217.The main event, of course, featured...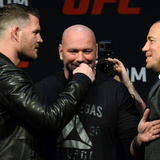 The upcoming UFC pay-per-view event in New York City should be an action-packed show for fight fans. With three title fights on the main card, this event could shake up the UFC. Middleweight champion Michael Bisping looks to defend his belt from UFC legend Georges St-Pierre's comeback to the octagon. A grudge match featuring Cody Garbrandt and T.J. Dillashaw for the men's bantamweight...
After winning her third-straight fight since losing a strawweight title bout, Rose Namajunas seems on the fast-track to fighting for the UFC belt, again, soon. "Thug Rose" pulled out a razor-close decision win over fellow contender Tecia Torres Saturday in Tampa, but afterwards said that she'll need a long rest before fighting anyone, again."Right now, I'm in no rush," she said....
Rose Namajunas may be knocking opponents out as an adult, but as a kid she was killing folks with cuteness.The strawweight contender posted this photo to Instagram on Friday, showing off her skills as a children's clothing model.Namajunas has won her last two fights inside the Octagon by submission, including a dominant performance against Paige VanZant at UFC Fight Night in Vegas...
Being an MMA fighter means being tough and rugged in the cage. UFC strawweight Rose Namajunas isn't afraid to make that persona part of her outward appearance as well.As "Thug" Rose performed her open workout for the masses at the MGM Grand in Las Vegas, there was nothing about her that screamed quintessential woman, from the calluses on her hands to her shaved head.As she develops...
Fighting, like most things, is mental endeavor as much as a physical one. Long before UFC warriors lock up with one another in the Octagon, they must first daily fight psychological battles with themselves. Different fighters have different psychological approaches to competing, and they are all fascinating to explore. Elias Cepeda's Fight Psyche series looks to unpack some of that...
MORE STORIES >>
MMA News

Delivered to your inbox

You'll also receive Yardbarker's daily Top 10, featuring the best sports stories from around the web. Customize your newsletter to get articles on your favorite sports and teams. And the best part? It's free!