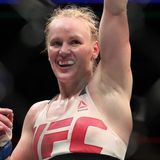 Valentina Shevchenko is best known as a striker but she showed off a slick submission game with a second round armbar to finish Julianna Pena in the main event at FOX UFC Fight Night in Denver.Official result: Valentina Shevchenko def. Julianna Pena by submission (armbar) at 4:29, Round 2 More to come…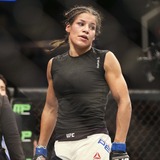 UFC's women know how to make the most out of their trash talk, as Julianna Pena demonstrated in a rant against former top dog Ronda Rousey. The star fighter threw some haymakers in Rousey's direction, saying, "No one cares about [her] and her fat arms anymore," via TMZ Sports. "She's like the emperor in no clothes," Pena added … "She's broken a little bit." Pena was responding...
As Julianna Pena approaches her UFC 200 showdown with Cat Zingano, she's not only looking for her fourth win in a row inside the Octagon but she's targeting a showdown with champion Miesha Tate after she's finished.Pena currently sits at No. 5 in the women's bantamweight rankings and she believes a victory over a former title contender like Zingano should be the catalyst to earn...
On Thursday, it was announcned Cat Zingano (pictured) will end her 14-month hiatus against Julianna Pena at UFC 200. The historic event goes down July 9 inisde T-Mobile Arena in Las Vegas, Nevada. Zingano hasn't been seen since getting submitted to then-bantamweight champion Ronda Rousey in just 14 seconds at UFC 184 in February 2015, her first professional defeat in 10 outings...
The UFC has cleared bantamweight Julianna Pena (pictured) to wreak havoc in their cage after wreaking havoc outside of it. An intoxicated Penna was arrested in December for allegedly assaulting two bounces at Zola bar in Spokane, Washington after trying to reenter the facility to clean up after her and teammate Joshua Gow got into a brawl with unnamed civilians. Pena was arrested...
UFC women's bantamweight Julianna Pena is eligible to return to action following the conclusion of her recent court case on alleged assault charges that stemmed from an arrest in late 2015.According to UFC officials, Pena came to a resolution with prosecutors in Spokane County, Washington while an independent investigation was done by Las Vegas law firm Campbell and Williams into...
Julianna Pena was arrested on two assault charges outside a bar in Spokane, Washington early on Sunday morning and new details about the incident have now emerged. According to the police report, Pena and her team-mate Josh Gow had been caught up in a brawl involving up to 20 people on the street which left […]
UFC women's bantamweight fighter Julianna Pena is in trouble with the law after she was allegedly involved in a bar fight. Pena was arrested for assault outside a bar in Spokane, Washington on Sunday morning. Pena was arrested at 2:53 AM on Sunday, and her bond was set at $2,000, which can be seen here:  The UFC issued the following statement on the matter: 'We are aware of the...
Ultimate Fighter Season 18 winner Julianna Pena was arrested on Sunday morning after a fight outside a bar in Spokane, Washington where she lives and trains. According to a police report Pena was charged with two counts of assault after being arrested at 2.20am on Sunday morning. One other person was also arrested at the […]
TUF 18 winner Julilanna Pena got another win under her belt in the main card opener at UFC 192, defeating Jessica Eye by unanimous decision. Round One: Eye with an early kick and then they exchange aggressively in the pocket with Eye getting the better of that. Pena slips to the mat, but no harm done and she gets back up. Pena pulls guard and Eye stays down there with her for...
MORE STORIES >>
MMA News

Delivered to your inbox

You'll also receive Yardbarker's daily Top 10, featuring the best sports stories from around the web. Customize your newsletter to get articles on your favorite sports and teams. And the best part? It's free!