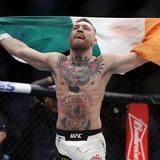 In the never-ending tug of war between boxing and mixed martial arts, Conor McGregor is beginning to pull for the wrong side. The UFC superstar is finally looking to make his way back into the Octagon. Well, sorta.McGregor, the former concurrent UFC featherweight and lightweight champion, is looking for a rematch with Floyd Mayweather. But this time, on his mat. After a relatively...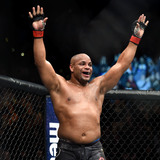 Get ready, UFC fans. You're about to get another clash of champions.Heavyweight champion Stipe Miocic is going to defend his title at UFC 226 on July 7. But here's the catch: it's against UFC light heavyweight champion, Daniel Cormier. But that's not all. These two title-holders, of course, will star as coaches during The Ultimate Fighter 27. Excited yet?Both Miocic and Cormier have...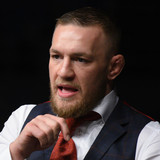 Was UFC 217 the best fight card the organization has ever put on? Most will say that's a definitive yes. It would feature three championship fights on the top of the card, and all three champions would go down in defeat.The night also proved that sometimes when you talk too much, it can come back to bite you. Three such talkers got bitten at UFC 217.The main event, of course, featured...
TJ Dillashaw knocked out Cody Garbrandt in the second round of their fight at UFC 217 on Saturday in New York to claim the UFC Bantamweight Championship, and then he quickly set his eyes on another fighter.Dillashaw called out Demetrious "Mighty Mouse" Johnson, who is the UFC Flyweight champion. Mighty Mouse won the inaugural UFC Flyweight Championship in 2012 and has successfully...
Many of the greatest athletes in sports history will attribute their success in no small part to the incredible relationship they've shared with one particular coach that has influenced them during their career.Mike Tyson called his trainer Cus D'Amato a 'mentor, a friend and general'.  Michael Jordan described Dean Smith as a 'second father' and said that no person outside of his...
Bantamweight champion T.J. Dillashaw is leaving Team Alpha Male to join Elevation Fight Team in Colorado, but he wants to make it clear that he's not betraying the fighters he's worked with since he first entered the sport six years ago. Dillashaw told his teammates as of Monday that he would be moving to Colorado full time to begin working with Elevation and coaches such as Leister...
Money talks, so UFC bantamweight champion TJ Dillashaw (pictured) walked.Dillashaw shocked the MMA world Tuesday when it was reported he was leaving Team Alpha Male, the MMA squad that nurtured him for six years which resulted in a UFC title, to create a brand new Elevation Fight Team at the MusclePharm facility in Colorado.Why would Dillashaw leave an established team with a stable...
When TJ Dillashaw announced that he was leaving Team Alpha Male in Sacremento to join Elevation Fight Team in Colorado many people concluded that the rift between Urijah Faber and Duane Ludwig had forced the decision, but the bantamweight champion has claimed there was a different motivation for his move. "I had to put up a lot of money to do a fight camp", Dillashaw said in an interview...
UFC bantamweight champion TJ Dillashaw was able to bring gold to Team Alpha Male, but now he will be leaving the camp where he began his career for a new venture. On Tuesday, reports surfaced that Dillashaw would be leaving the Urijah Faber led camp in Sacramento for a new gym in Colorado. Globo was first to report the news. For those wondering whether Dillashaw will continue to...
The only UFC champion Team Alpha Male has ever produced is gone. Reining UFC bantamweight champ TJ Dillashaw (pictured) is leaving the famed Sacramento-based MMA team to start his own squad at the MusclePharm facility in Colorado.Combate first reported Dillashaw's plans, which was subsequently confirmed by multiple outlets.Dillashaw reportedly informed Team Alpha Male leader Urijah...
MORE STORIES >>
MMA News

Delivered to your inbox

You'll also receive Yardbarker's daily Top 10, featuring the best sports stories from around the web. Customize your newsletter to get articles on your favorite sports and teams. And the best part? It's free!