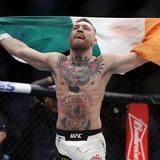 In the never-ending tug of war between boxing and mixed martial arts, Conor McGregor is beginning to pull for the wrong side. The UFC superstar is finally looking to make his way back into the Octagon. Well, sorta.McGregor, the former concurrent UFC featherweight and lightweight champion, is looking for a rematch with Floyd Mayweather. But this time, on his mat. After a relatively...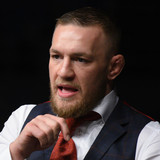 Was UFC 217 the best fight card the organization has ever put on? Most will say that's a definitive yes. It would feature three championship fights on the top of the card, and all three champions would go down in defeat.The night also proved that sometimes when you talk too much, it can come back to bite you. Three such talkers got bitten at UFC 217.The main event, of course, featured...
TJ Dillashaw knocked out Cody Garbrandt in the second round of their fight at UFC 217 on Saturday in New York to claim the UFC Bantamweight Championship, and then he quickly set his eyes on another fighter.Dillashaw called out Demetrious "Mighty Mouse" Johnson, who is the UFC Flyweight champion. Mighty Mouse won the inaugural UFC Flyweight Championship in 2012 and has successfully...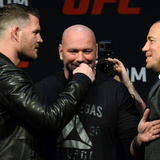 The upcoming UFC pay-per-view event in New York City should be an action-packed show for fight fans. With three title fights on the main card, this event could shake up the UFC. Middleweight champion Michael Bisping looks to defend his belt from UFC legend Georges St-Pierre's comeback to the octagon. A grudge match featuring Cody Garbrandt and T.J. Dillashaw for the men's bantamweight...
Cody Garbrandt didn't just beat Dominick Cruz at UFC 207 on Friday night — he put on a show. Garbrandt beat Cruz to win the UFC bantamweight title at T-Mobile Arena in Las Vegas. The 25-year-old Team Alpha Male fighter was just miles ahead of Cruz in the octagon. Check out the way he broke out some dance moves during the fight after ducking multiple punches. THE DISRESPECT. #UFC207...
A last minute opponent change wasn't going to stop Cody Garbrandt from fighting close to home on Sunday night and he put on a show with a nasty first round knockout over newcomer Augusto Mendes.Garbrandt hails from just outside Cleveland, Ohio but spent the early part of his fight career competing in Pittsburgh so he had a huge local contingency coming out to see him this week.Unfortunately...
I'll never understand why some guys in UFC fights back pedal away from the action so much. It rarely seems to do them much good. They can't get away from the other guy--the Octagon is only so big. They knew what they were signing up for so why don't they hold their ground and fight?It sure didn't work for Augusto Mendes Sunday night against Cody Garbrandt. Cody caught up with him...
There are more than a few people who believe Cody Garbrandt could be the future at 135 pounds including one of his coaches, who happens to think the Ohio native has all the makings of a UFC champion.Brandon Gibson, who is one of the head striking coaches at Jackson-Winkeljohn in New Mexico, met Garbrandt in passing a couple of years ago and the friendship eventually transitioned...
After John Lineker pulled out due to illness, Cody Garbrandt will now fight Brazilian jiu-jitsu ace Augusto Mendes at UFC Fight Night 83 on Sunday evening in Pittsburgh. Mendes is not only be coming in on just a few days notice, but will also be making his UFC debut. However, the 32 year-old is no […]
UFC Fight Night 83 in Pittsburgh is shaping up to be like many other cards we've seen in the past, consisting of quite a few changes happening last minute. Most recently, John Lineker announced yesterday that he would be pulling out of his bout against Cody Garbrandt set for this upcoming Sunday. Lineker is suffering from Dengue Fever, which is a tropical disease caused by a mosquito...
MORE STORIES >>
MMA News

Delivered to your inbox

You'll also receive Yardbarker's daily Top 10, featuring the best sports stories from around the web. Customize your newsletter to get articles on your favorite sports and teams. And the best part? It's free!