After watching what took place at UFC 211, we can never question Yair Rodriguez's toughness. With him squaring off against the veteran Frankie Edgar, many thought this would be Rodriguez's breakout fight. But it was anything but that. Rodriguez spent two rounds getting beaten to a pulp, taking many punches in the process. It was so bad that a doctor had to step in and call the fight...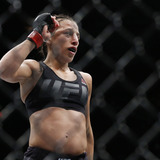 UFC 211 is finally upon us, and despite the lack of transcendent super-star talent on the docket, it may very well be the best card the UFC puts on display this year. Here are the five reasons why. Your Favorite Fighter's Favorite Fighter(s) Are you looking for a new favorite fighter to watch? One who is vicious on her feet and is always looking for the finish? Then Joanna Jędrzejczyk...
Late Sunday night, Yair "El Pantera" Rodriguez, put on a masterclass in taekwondo as he dismantled UFC legend BJ Penn with an obscene amount of kicks to the head. This fight marks Yair's sixth straight win in the octagon and should be the first win in a huge year for him. Going into this fight, Yair seemed like an exciting young prospect who still needed to face some high level level...
B.J. Penn returned to The Octagon for the first time in almost three years on Sunday night, and he probably shouldn't have. Penn squared up against the young, promising Yair Rodriguez at UFC Fight Night, and the 24-year-old showed his youth and ran circles around the poor veteran. To be honest, Penn was lucky to even survive the first round. He was able to do that, but not by much...
No one takes more high-flying risks as a matter of course during a fight than UFC featherweight contender Yair Rodriguez. He admits that people have been trying to tell him to be more orthodox for his entire career."It's just the Yair Rodriguez style. I cannot do another style because it's just the way that I fight," he told MMA Junkie after earning a knockout victory over Andre...
It was another action packed weekend in the world of combat sports and below you'll find the three fighters who stood above the rest in our Weekend in Violence 3 Stars feature for the weekend ending on April 24th, the 16th week of 2016. 1st Star – Yair Rodriguez This one was easy. It became clear early on in his PPV opener with Andre "Touchy" Fili that Yair Rodriguez, the young...
"Ultimate Fighter: Latin America" winner Yair Rodriguez defeated Andre Fili in spectacular fashion Saturday night at UFC 197.The rising featherweight uncorked a vicious jump kick midway through the second round that landed flush on the chin of Fili. The Team Alpha Male fighter dropped to the canvas like a ton of bricks and the referee stepped in to stop the fight before Rodriguez...
Yair Rodriguez started UFC 197 with a bang after landing a spectacular jumping switch kick that flattened Andre Fili midway through the second round in a showdown between two promising featherweight prospects.Rodriguez has been one of the most talked about names in the division after winning his season of "The Ultimate Fighter: Latin America" and it seems even more attention will...
Yair Rodriguez is coming off a win over Daniel Hooker at UFC 192. However, he had some consequences to go along with that win. Rodriguez severely injured his right foot during the first round of his fight. Rodriguez has recently provided an update on his foot. "My foot is feeling good," Rodriguez said to MMA Junkie. "I've been working on it every day since my injury. I think it's...
Yair Rodriguez is a cool customer. When we spoke with the TUF Latin America winner he insisted that he hasn't felt an up-tick in pressure since debuting in the UFC. Take, for instance, his last fight - a main card thriller in June against top prospect Charles Rosa. Rodriguez squeaked out a split decision win at UFC 188 in Mexico City after an impressive performance. If the young...
MORE STORIES >>
MMA News

Delivered to your inbox

You'll also receive Yardbarker's daily Top 10, featuring the best sports stories from around the web. Customize your newsletter to get articles on your favorite sports and teams. And the best part? It's free!