Found May 06, 2013 on Fox Sports:
Has the NASCAR Sprint Cup Generation 6 car evened the playing field? Before the season began, everyone attempted to be armchair crew chiefs and predict how the new cars would perform. But entering Daytona Speedweeks, no one really had a clue. Now, after the first 10 races on the schedule on a variety of racetracks, the season is starting to take shape. While the same five organizations continue to have drivers top the speed charts and contend for wins, other drivers and teams have had the opportunity to shine with the new Gen-6 car. At Talladega Superspeedway on Sunday, David Ragan came from 10th place with two laps remaining in the race and blew by the fastest cars in the field. The Gen-6 car offered Front Row Motorsports the chance to re-evaluate its inventory. Since team owner Bob Jenkins was forced to change his fleet of cars, he could improve the systems along the way. The result? FRM's first career win. "Bob and our team made an investment this offseason to go through our chassis, upgrade some of our suspension components. Stuff that other teams do on a weekly basis we got to do at the end of the year," Ragan said. "I look at some of our qualifying stats, some of our running positions at some of the non-restrictor-plate tracks this season, and we're a few spots better and more competitive this year than we were last. "Absolutely, the Gen-6 car has not only provided for some outstanding races, but it has helped the Front Row Motorsports', the Tommy Baldwin Racings, the smaller teams of Sprint Cup racing be more competitive." Ragan's crew chief, Jay Guy, doesn't expect to be running alongside the Hendrick Motorsports, Joe Gibbs Racing and Roush Fenway Racing cars in every race. However, he believes with all the teams "starting in the same playing field right now" the Gen 6 has become "a great equalizer." "It's a great car," Guy added. "It looks great. So far, the results on the racetrack have been, to me, a little bit surprising, but NASCAR did a great job with the Gen-6 car, and we've made our cars a little bit better. "We're certainly not contending for wins on a weekly basis or even top 10s, but it's enabled us to be a little bit better than what we were in years past, and we look forward to going to Darlington." So does Furniture Row Racing. Two years ago, the single-car operation broke through at Darlington Raceway with its first company win. On Sunday, FRR was running in the top five before a late-race wreck collected driver Kurt Busch. Similar to Front Row's engine alliance with Roush Yates, Furniture Row has the benefit of top-of-the-line engines through Earnhardt-Childress. However, Front Row builds its own chassis while Furniture Row's chassis come from Richard Childress Racing. Still, both organizations put the finishing touches on their cars. For Busch, it has paid off with two top-five finishes and three top 10s. Team owner James Finch and his Phoenix Racing team were also forced to reassess their stable of cars, which became obsolete in the Gen-6 era. Finch receives his engines and chassis from Hendrick Motorsports and has been historically stout at restrictor-plate tracks. This year, Regan Smith posted top-10 finishes at Daytona and Talladega. Smith's season-best sixth-place finish on Sunday elevated Finch to an uncharacteristic 14th place in team owner points. Another breakout team to watch is the No. 43 Richard Petty Motorsports group with driver Aric Almirola. On Sunday, Almirola scored his fourth consecutive top-10 finish and vaulted four positions in the points standings to seventh. Like the aforementioned teams -- Phoenix and Furniture Row Racing -- which benefit from technical alliances with more established organizations, RPM has a direct pipeline with Roush Fenway Racing. Almirola was forced to acclimate to three different crew chiefs in 2012, but the third -- Todd Parrott -- was a charm. The two were paired for the last 10 races of the season, and in the final four averaged a 10.5 finish. Parrott's ingenuity and Almirola's ambition have helped this team emerge. NASCAR vice president of competition Robin Pemberton says that any time the sanctioning body "resets" the parameters "there's opportunity for somebody to do a better job than others to get out there." Pemberton also notes the impact of the laser-inspection platform, which has erased many of the gray areas where teams with a greater depth of engineering could explore and stretch the limits in the past. "Some of the feedback that we got and continue to get is the laser-inspection platform has actually helped a lot of the teams where they wouldn't have to go into so much of a gray area with the risk of not being able to compete," Pemberton said. "So it's helped -- that part of it may have helped some of it. But we have gotten some good positive feedback from a lot of the organizations that has made life, as complicated as it looks, has made life a lot simpler for them." And that's a good thing, especially for companies whose budgets are just a fraction of what the powerhouse organizations have to invest in their teams. And while Front Row Motorsports or Phoenix Racing may not become household names any time soon, sharing the success across the Sprint Cup Series will only make NASCAR stronger as a whole. So it's not surprising that Pemberton doesn't anticipate any changes to the car in the near future. "We're in a fairly good spot," Pemberton said. "The teams -- one of the things we've learned over the years is if you keep moving the targets, people have a tendency to . . . it's harder for them to keep chasing that. "We feel like the playing field is fairly level. It looks like everybody has an equal opportunity to compete, and we don't feel like the teams are done developing their own packages for this car. And as long as the input is -- it's still pretty rock solid as far as being positive, they've got plenty to work with -- we feel like there's no reason to move the target on them right now."
Original Story:
http://msn.foxsports.com/nascar/story...
THE BACKYARD
BEST OF MAXIM
RELATED ARTICLES
David Ragan captured his second career victory on Sunday in the Aaron's 499 from Talladega Superspeedway but not everyone was happy. Brad Keselowski took to twitter after the race to accuse Ragan of lining up in the wrong spot on the final restart of the race. Keselowski sent out the following tweet "mad as hell about that finish. We were suppose to line up 10th when the 34 switched...
mad as hell about that finish. We were suppose to line up 10th when the 34 switched lanes entering 3 before green. That lane won. BS~~ Brad Keselowski on Twitter, following Sunday's race.Brad Keselowski claims, that race winner David Ragan either lined up wrong on the final restart or changed lanes before the restart.I'm happy as hell a small team won. Doesn't change...
Jerry Markland/Getty Images It was one of the wildest and craziest races in NASCAR history at the 2.66-mile Talladega Superspeedway on Sunday as David Ragan was able to pull the upset. Ragan got a huge push from his Front Row Motorsports teammate, David Gililand, to win the Aaron's 499 that ended seven hours after it began. Sunday afternoon's victory is Ragan's second Sprint...
May 7, 2013, Effingham, S.C. – Representatives of McCall Farms Inc. today announced Peanut Patch is sponsoring NASCAR Sprint Cup Series Driver David Ragan, fresh off his win at Talladega Superspeedway, in the Bojangles' Southern 500 on Saturday, May 11 at Darlington Raceway in Darlington, S.C. This will be the second consecutive year the boiled peanuts brand is backing Ragan...
David Ragan won the Aaron's 499 from Talladega Superspeedway with a last lap pass aided by his Front Row Racing teammate David Gilliland. Rain threatened the race weekend from the start forcing the starting lineup to be determined by speeds in practice, allowing Edwards to start on the pole. credit: @163MTEAM Martin Truex Jr. would lead the first lap of the race by Matt Kenseth...
Photo- Getty Images We waited through rain, wrecks, and a nail-biting green-white-checker finish to witness an incredible victory by the underdog, David Ragan. No one was talking about Ragan until the last lap when he emerged at the front of the field with drafting help from his teammate, David Gilliland. Both the David's shot to the lead and blocked everyone else to make sure...
DAVID RAGAN – No. 34 Farm Rich Ford Fusion Photo- Getty Images VICTORY LANE INTERVIEW – "I'm kind of a low-key guy, but, man, I don't know. First off, I've got to thank the Lord. Without him nothing is possible. I've got to thank my teammates David Gilliland and Josh Wise. If it wasn't for that final push from David Gilliland, I don't know what to say. This is a...
Welcome to the May 8, 2013 edition of Start 'N' Park Blog's Stock Watch. Each week we'll take a look at who's rising, falling, and treading water in the world of NASCAR. This stretches all division and all aspects of NASCAR, including drivers, owners, crew members, media and fans. Finding their way onto this week's watch includes NASCAR's caution policy, Kurt Busch...
The 'Davids' lined up on the Goliaths at Talladega Superspeedway on Sunday -- and won. With an assist from his Front Row Racing teammate David Gilliland, David Ragan snookered three of the top restrictor-plate specialists in NASCAR -- Matt Kenseth, Jimmie Johnson and Carl Edwards -- and took home the checkered flag in a wild, crashed-filled, weather-delayed NASCAR Sprint...
David Ragan won the Aaron's 499 from Talladega Superspeedway but Jimmie Johnson continues to lead the series' points. With the win Ragan moved up to 26th in the Sprint Cup standings. RK DRIVER POINTS BEHIND MONEY WINS POLES TOP 5 TOP 10 1 Jimmie Johnson 383 — $2,968,528 2 1 5 7 2 Carl Edwards 342 -41 $1,825,854 1 0 5 6 3 Dale Earnhardt Jr. 324 -59 $2,164,209 0 0 3...
NASCAR News

Delivered to your inbox

You'll also receive Yardbarker's daily Top 10, featuring the best sports stories from around the web. Customize your newsletter to get articles on your favorite sports and teams. And the best part? It's free!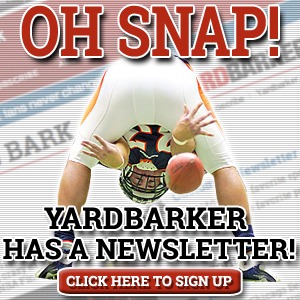 Latest Rumors
The Backyard

Today's Best Stuff

For Bloggers

Join the Yardbarker Network for more promotion, traffic, and money.

Company Info

Help

What is Yardbarker?

Yardbarker is the largest network of sports blogs and pro athlete blogs on the web. This site is the hub of the Yardbarker Network, where our editors and algorithms curate the best sports content from our network and beyond.