Found August 27, 2013 on Fox Sports:
Gene Haas, the founder and co-owner of Stewart-Haas Racing, did something unusual during Tuesday's press conference to announce Kurt Busch as the team's fourth driver for 2014: He spoke with a level of candor rarely heard at NASCAR events these days. And he made it abundantly clear that he was calling the shots for the team, at least at the moment. Haas admitted that his partner and co-owner, Tony Stewart, was opposed to expanding to four cars next year, and with good reason: Stewart has begun a long rehab period to repair two bone breaks suffered in his right leg in an Aug. 5 sprint car crash. And on top of that, this year's expansion at SHR -- adding a third car for Danica Patrick -- hasn't exactly worked out swimmingly. That didn't deter Haas one bit. "I don't think Tony was exactly enthralled with what I did," Haas said of the signing of Busch. Then, laughing, Haas added, "But I think he saw it my way, you know. Either that or get out of the building." It may well have been a joke on Haas' part, but judging from some of the nervous looks on the faces of SHR personnel gathered at the team's headquarters in Kannapolis, N.C., not everyone was laughing. Since starting the old Haas CNC Racing in 2002, which became Stewart-Haas Racing in 2009, Haas generally has kept a very low profile. In the SHR years, Stewart has always been the public face of the team. Whether it's because Stewart is out injured, or Haas has decided to assert himself, it became very obvious Tuesday that hiring Busch and dropping Ryan Newman was Haas' decision. Haas said he has talked to Busch in years past but the discussions began to heat up after the two chatted at a Chevrolet dinner during the Brickyard 400 weekend in Indianapolis. Eight days after the Brickyard race, Stewart broke his leg, and has been out of action since. So Haas stepped up and brokered the deal to sign Busch. "I wanted to go forward with that," Haas said. "Tony broke his leg. I didn't have really a chance to talk to Tony about it at all since he wasn't really talking to anybody. So I kind of did this on my own, probably overstepped my authority a tick there. I'm not used to having too many authorities to work with. I've been pretty much on my own. I did realize that Tony might be a little bit upset about it. He was. He was a little upset." SHR's competition director, Greg Zipadelli, said Stewart was not opposed to a fourth car or hiring Busch, but he wanted to wait another year. "Tony was very much in favor of the fourth team," said Zipadelli. "What Tony was against was us trying to get it done for next year. Just so you don't read anything more into it. ... It's an opportunity of a lifetime for a race team to have a caliber of a driver like this. I know he's very excited about it now. But it's a little overwhelming when you're first hit with it." By then, the deal was on the table. "When I finally did talk to him (Stewart), he was saying, 'Maybe we should wait a little while,'" said Haas. "I think he actually said, 'You need to wait a while.' I kind of made an offer to Kurt here, 'I don't know if he's going to take it or not, and if he takes it, I'm not backing down.' That's where we were." Haas' machine-tool company, Haas Automation, will be Busch's full-time sponsor next season. And Haas said that stepping up as a sponsor was one of the reasons he chose not to re-sign Ryan Newman for next year, and instead hire Busch. "I just simply wanted a change and an opportunity to do something different," said Haas. "I don't think this says anything negative about Ryan. He's been a great driver, done a great job. After five years I just feel that I want to take hold of an opportunity that was presented to me. It gives me a chance to, you know, be a sponsor and direct things the way I wanted to direct them." As for the complicated dynamics of being a 50-50 partner with Stewart, Haas admitted things could be changing. "I think the most interesting thing was the fact that Kurt Busch and Haas Automation coming together was really done by me," Haas said. "I guess that is different than what you've seen in the past. In that respect, yes, there's going to be new dynamics. My main goal here is to win races. I think Tony's main goal is not only to win races but to run a successful business. I'm more interested in seeing the winning part of it. Maybe Tony is going to be more the businessman now."
Original Story:
http://msn.foxsports.com/nascar/story...
THE BACKYARD
BEST OF MAXIM
RELATED ARTICLES
Bristol Motor Speedway mixed up the Sprint Car Series standings and has made the race for the Chase an interesting one in the next two weeks. While Dale Earnhart, Jr., solidified his position in the top 10 points, a couple former Cup champions struggled.  Brad Keselowski and Kurt Busch both had major problems.  Keselowski got tangled in a multi-car wreck with 52 laps remaining...
Gene Haas wanted to build a dream team, with an opportunity to see his name in Victory Lane. He wasn't going to let Tony Stewart stand in his way of making that happen. Haas admitted Tuesday he went rogue in courting Kurt Busch for a non-existent fourth team at Stewart-Haas Racing while Stewart was incapacitated with a broken leg earlier this month. When he finally brought his...
Kurt Busch has signed a multi-year deal to drive for Stewart-Haas Racing. Busch, 35, told FOX Sports on Monday, "It's inked." Busch, the 2004 Sprint Cup champion, has 24 career Cup wins and currently drives for Furniture Row Racing. He is 12th in the Sprint Cup points standings. "This is the situation that every driver wants to be in," Busch said. &quot...
Multiple reports have confirmed that Stewart-Haas Racing has reached a multi-year deal to have Kurt Busch join the organization next season. Rumors started to spread over the last few weeks that Busch was offered a spot on the team. Now, the details have been sketched out and Busch is heading[...]
Kurt Busch has signed with Stewart-Haas Racing for 2014 and beyond. "I'm going to Stewart Haas," Busch told ESPN.com Monday morning. "I've signed my deal." SHR will formally announce the signing Monday 
It was made official on Tuesday that Kurt Busch would be joining Stewart-Haas Racing for the 2014 Sprint Cup Series and beyond. Busch was introduced by team co-owner Gene Haas and team competition director Greg Zipadelli. During the press conference there was a lot of interesting revelations and observations. Right[...]
Indianapolis, IN- The rumors that Kurt Busch would head to Stewart/Haas Racing are now officially true. Busch and SHR agreed to a multi-year deal beginning in 2014 for Busch to join the now four car team. The 2004 Sprint Cup Series champion will join co-owner Tony Stewart, Danica Patrick and Kevin Harvick in 2014 and beyond. The move though is somewhat a slap in the face to current...
On Tuesday, Stewart-Haas Racing will officially announce Kurt Busch will be its fourth driver in 2014. And it's possible the 35-year-old Las Vegas native has never been happier. "This is the situation that every driver wants to be in," Busch told FOX Sports on Monday. "To have an owner like Gene Haas calling and asking you to come and race how you know how to...
Stewart Haas Racing made it official today in hiring Kurt Busch to drive for them next year. Earnhardt Gnassi Racing though on Friday is going to name who will be the 2014 driver of the #42 car. Martin Truex Jr. is going to be racing with a cast at Atlanta as he got injuried at the Bristol race.
Well, it's been a whirlwind few days here for Kurt Busch and his future. He got the call from Gene Haas and Tuesday the announcement was made that Kurt will be leaving the Furniture Row team and joining Stewart-Haas Racing at the end of the year. If you listened to the press conference, it's interesting because it had a different spin than most people realize. Gene Haas...
Now that the announcement was made earlier this week that Kurt Busch will be joining Stewart-Haas Racing in 2014, the question on a lot of fans' minds is whether Ryan Newman will now take Kurt's seat. It offers an interesting dynamic here. We know that Richard Childress was courting Ryan as a possible fourth team for his organization. You already know that Furniture Row...
NASCAR News

Delivered to your inbox

You'll also receive Yardbarker's daily Top 10, featuring the best sports stories from around the web. Customize your newsletter to get articles on your favorite sports and teams. And the best part? It's free!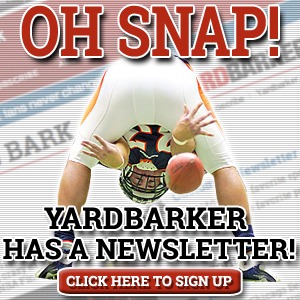 Latest Rumors
The Backyard

Today's Best Stuff

For Bloggers

Join the Yardbarker Network for more promotion, traffic, and money.

Company Info

Help

What is Yardbarker?

Yardbarker is the largest network of sports blogs and pro athlete blogs on the web. This site is the hub of the Yardbarker Network, where our editors and algorithms curate the best sports content from our network and beyond.