Found April 26, 2013 on Fox Sports:
For Denny Hamlin, Joey Logano is still a pain in the ... well, back. And if suffering from chronic back pain wasn't difficult enough for Hamlin, who aggravated discs in his back and fractured a vertebra in a wreck with Logano in the NASCAR Sprint Cup race at Auto Club Speedway on March 24, watching this weekend's activities at his hometown track from the No. 11 FedEx pit box will be just another disappointment. But this rivalry is far from over. In a moment of boredom last Sunday, when Logano crashed 102 laps into the race at Kansas City, @DennyHamlin tweeted: "I know Joey felt bad but he doesn't have to keep falling in the points on my account J #seeyasoon". "I'm probably just overly bitter and have every right to be because I'm on the sidelines," Hamlin said. "I can be bitter. As far as the tweeting stuff and back and forth, I'm more just poking fun because, trust me, I need some form of entertainment." Logano can think of Hamlin's absence this weekend as a gift. A half-mile track such as Richmond International Raceway provides the perfect stage to exact revenge. Considering that Hamlin's crash with Logano at Auto Club has sidelined him for the last five weeks while his compression fracture heals, the frustration has had plenty of time to fester. "As a driver, he's got to know that, when I come back, he won't get any breaks from me -- at all," Hamlin said. "I'm going to do whatever I can to make his job very, very hard. I don't have to take him out to do that. I can do that in different ways. "It's just a self-policing sport, and, obviously, hearing him say some of the things that he said ... he made a lot of people mad in that situation. What got me probably the most upset was when we went back, and SPEED showed coverage of him flicking off all my crew members as he's driving down pit road after the race. So obviously there's no remorse. He was just remorseful when he found out I got hurt." Other than texting after the incident and a Twitter exchange, there has not been any communication between the former Joe Gibbs Racing teammates. "It was literally one text sentence from him and one small reply back from me," Hamlin said. "That was the last of it. "Honestly, I'm not in a physical state right now to want to see him face to face, because if it got bad, I'd want to be healthy enough." Hamlin had hoped to return to action this weekend. After further review of his scans from Tuesday, his doctors did not feel comfortable allowing him to return to racing. Hamlin described the concern as "some kind of in-plate is not healing the way that they wanted it and that's what they wanted in order to clear me." "Really, that was their determining factor and, obviously, my injury is very, very hard because there is no exact science to the risk," Hamlin said. "They don't -- no one knows what the risk will be if I race this week or if I race two weeks from now. Bone healing is completely subjective. It takes bone healing a year most times to be 100 percent, so how do you quantify how much more risk is there this week versus two weeks down the road or three weeks down the road or two months down the road? "So that's the tough part of it -- everyone is erring on the cautious side because no one ultimately wants to be responsible and have their name on the line of clearing a driver and then he goes out and gets hurt." Hamlin realizes that the medical professionals are simply trying to protect him from himself. That doesn't lessen his desire to return to competition, but Hamlin realizes he "must get healthy." "I hate being a problematic driver," Hamlin said. "It seems like every couple of years I have an injury that's prevented me from running here or there or practicing here or there. I want to get healthy." With each week, Hamlin's hopes of qualifying for the Chase for the Sprint Cup are diminishing. That's a tough reality for a 32-year-old driver to accept - particularly since Hamlin has qualified for every Chase since he started racing full time in 2006. If Hamlin, who is 26th in the points standings, had returned this weekend, he felt the team was capable of battling back to 14th. That expectation might be too steep now even for the No. 11 Joe Gibbs Racing team with 18 races remaining before the Chase. Hamlin has been cleared to compete next week at Talladega Superspeedway, where he is expected to start the race - and earn the driver points - then have a relief driver step in at a safe juncture in the race. Of course, given the dangerous nature of competing at the 2.6-mile track, Logano can expect a reprieve at Talladega as well. Unlike most stick-and-ball sports where a player can avenge a brewing feud with an aggressive move at any point, stock car drivers react behind the wheel of 3,300-pound cars. A competitor simply can't use his vehicle as a weapon. "It's a hard line to really find, and especially as athletes, we're nearly barbarians in our outlook and the way we think and the sense of when we felt we've gotten done wrong," Hamlin said. "The reaction is, 'Get that guy back.' But, ultimately, in our sport, I guess you could say it's a lot like football, things like that, when your risk for injury is a little bit more." But regardless of a sport, the last instigator in any rivalry has to expect that he's got one coming. While Hamlin hasn't shied away from the prospect of retaliation where Logano is concerned, he's well aware of the possible ramifications. "I think people have gotten spoiled with all the NASCAR developments and thinking that these cars are just bulletproof," Hamlin said. "We've seen some tremendous wrecks that guys just walk out, and it's fine. So I think people take for granted that everything is just going to be fine -- there is no consequence. But, obviously, there is a chance. "I hit that wall just in the right angle, with no SAFER barrier and everything. Things can happen, so, trust me, from now on I will think of that before retaliating against someone, the risk about it. I think I'll have a new appreciation. "Whether those 42 other guys will, I don't know. I doubt it. But it's just sports. One guy hits a hard foul, the other guy goes back. You hit my batter, and I'm going to hit yours. That's how it is. That's how sports plays out. All you have to battle back with is your race car, which is tough for the race teams and sometimes the driver."
Original Story:
http://msn.foxsports.com/nascar/story...
THE BACKYARD
BEST OF MAXIM
RELATED ARTICLES
(Rainier Ehrhardt/NASCAR via Getty Images) After Denny Hamlin hurt his back in a last-lap wreck with Joey Logano at Auto Club Speedway, he vowed he would be back in a race car by Richmond, while his team of doctors said it would be more like Darlington. Determined, Hamlin had his team and those around him convinced he would be ready for Richmond, a full three weeks ahead of schedule...
Denny Hamlin wishes he didn't need medical clearance to race. The 32-year-old NASCAR star drove himself to Richmond International Raceway on Thursday, but was begrudgingly preparing for another weekend watching someone else drive his familiar No. 11 Toyota. At his hometown track, that was doubly disappointing because the weekend kicked off with two races on Thursday night,...
Denny Hamlin will not return to action at Richmond International Raceway on Sunday. Hamlin has been out of action since a last lap crash at Fontana involving former teammate Joey Logano. After missing the last three races Hamlin has sunk to 26th in the driver standings. On Wednesday night he let fans know that he would not return to action at Richmond via twitter. "Unfortunately...
Denny Hamlin wishes he didn't need medical clearance to race. The 32-year-old NASCAR star drove himself to Richmond International Raceway on Thursday, but was begrudgingly preparing for another weekend watching someone else drive his familiar No. 11 Toyota. At his hometown track, that was doubly disappointing because the weekend kicked off with two races on Thursday night,...
Denny Hamlin hasn't been cleared to race at his home track in Richmond as he had hoped. Hamlin sustained a compression fracture of a vertebra in his lower back in a last-lap accident at California on March 24. Doctors said he'd miss at least five races, but Hamlin hoped to return early to race at Richmond, where he's a two-time winner. But Hamlin wasn't cleared...
By: Toby Christie – Follow on Twitter @Tobalical Denny Hamlin wanted to start the race at Richmond — his home track — that he was holding out hope that his body would heal faster than the time frame set by Dr. Jerry Petty. Hamlin held out hope until late Wednesday, when the hopes of competing Saturday vanished. Hamlin tweeted the following: "Unfortunately I won't be racing...
Joe Gibbs Racing announced Wednesday that Denny Hamlin will be out for this weekend's Toyota Owners 400 from the Richmond International Raceway. Hamlin had stated he was 50/50 about a return at his home track, but doctors did not give him the go ahead. He will look to return next weekend at Talladega. The full Joe Gibbs Racing statement: Following a medical evaluation on his...
Kyle Busch is turning Denny Hamlin's Short Track Showdown into his personal showcase. Busch, a teammate of Hamlin's with Joe Gibbs Racing, grabbed the lead before the 5-minute pit stops that came after 46 laps Thursday night, then pulled away when the race went back to green, easily holding off David Ragan for the victory. It was his third win in the six years of the event...
A TOUGH WEEKEND: Joey Logano and the No. 22 Shell-Pennzoil team couldn't get out of Kansas fast enough. The 22-year-old driver entered Kansas ranked ninth in the point standings. However, following a NASCAR-issued penalty and a disappointing 39th-place finish after being involved in an accident with the No. 18 car of Kyle Busch just 100 laps into the race, Logano now finds himself...
NASCAR News

Delivered to your inbox

You'll also receive Yardbarker's daily Top 10, featuring the best sports stories from around the web. Customize your newsletter to get articles on your favorite sports and teams. And the best part? It's free!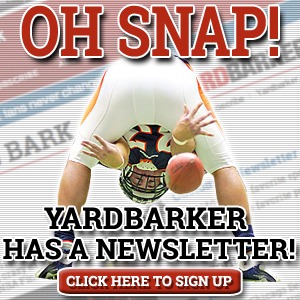 Latest Rumors
The Backyard

Today's Best Stuff

For Bloggers

Join the Yardbarker Network for more promotion, traffic, and money.

Company Info

Help

What is Yardbarker?

Yardbarker is the largest network of sports blogs and pro athlete blogs on the web. This site is the hub of the Yardbarker Network, where our editors and algorithms curate the best sports content from our network and beyond.