Found October 28, 2012 on Start 'N' Park Blog:
Jimmie Johnson, driver of the #48 Lowe's Chevrolet, won the pole for Sunday's TUMS Fast Relief 500 from the Martinsville Speedway. After qualifying ended he spoke to the media about the pole win and his outlook for the race. Below is the transcript from that meeting. YOU'VE GOT A LOT OF THOSE CLOCKS OVER THERE JUST TALK ABOUT STARTING UP FRONT OBVIOUSLY A GREAT PLACE TO BE WITH ALL THE CHAOS THAT COULD HAPPEN BEHIND YOU: "Yeah it is I mean the thing that I'm really happy about is my qualifying average here the last two or three attempts that we have had if not maybe four or five attempts has been pretty low or pretty high I guess I've been low in the field.  I haven't been able to really get the speed out of the car on one lap for qualifying.  Today we noticed when we switched into qualifying trim that we were in the upper percentile of the fast guys which was nice then fine-tuned from there and adjusted the car and had a lot of speed in q-trim which was nice to have because track position is important and then that pit road is so important.  We have been lucky in years past to get away with I think in the spring I qualified 22nd and we still fortunately got a decent pit stall where guys around us we were ahead of all day long and I can get in the pit right and get pointed out.  You take a lot more risk starting back there on the track and on pit road.  Very pleased about the effort, very fast race car and we will hopefully be competitive come Sunday which I feel really good about too." THE GUY YOU ARE CHASING HAS DONE WELL RECENTLY AT TURNING BAD QUALIFYING DAYS INTO GOOD FINISHES OR ACCEPTABLE FINISHES ANYWAY THIS PLACE PROBABLY HARDER TO DO THAT FROM BACK IN THE PACK DOES THAT MAKE YOU FEEL BETTER ABOUT YOUR CHANCES OF CATCHING HIM SUNDAY OR DOES IT MATTER? "My crew chief lives by qualifying, lives and dies by it in most cases.  I don't seem to get as worried about it, certainly want to start up front it makes things so much easier, but I started 22nd here in the spring and ended up racing for the win and had a great shot for it.  I don't want to count them out.  I think it would be foolish for me to sit here and think that they're going to be in harm's way back there and not be able to race their way through.  Brad (Keselowski) is doing a great job and learning and becoming faster every track he goes to.  Then with strategy here if there is an opportunity Paul (Wolfe) is not going to let that opportunity slide by.  I'm not counting them out they are going to have a tough time on pit road with that pick.  Initial track position is going to be a problem, but I as a competitor have to expect the most out of these guys I'm racing for the championship with.  We see it regardless of sport.  When it gets playoff time things happen.  I don't want to put my guard down.  Certainly, very happy about today's performance and where we have ended up and we are ahead of our competitors, but it is playoff time and everybody brings their best stuff." OBVIOUSLY YOU WANT TO QUALIFY AS WELL AS YOU CAN AND YOU GUYS WORK ON THAT EVERY WEEK, BUT BEING THAT YOU HADN'T BEEN QUALIFYING AS WELL AS YOU THOUGHT THE TEAM WAS CAPABLE HAVE YOU GUYS FOCUSED ON THAT ANYMORE THAN YOU NORMALLY WOULD DURING THE COURSE OF THE SEASON? "Well I think some schedules help us out.  The 1.5-mile qualifying has been really good.  Short-track stuff has been fair.  Martinsville has been poor, and there is nowhere to test to prepare for this track.  You can go to Little Rock, but it's so rough and the shape is different enough that you can't go there and be happy with your car and run it the set-up is pretty different.  We just hit it today.  From a car stand point, from my stand point in driving the race track we just got it right today and that is what is so tough about this track.  In some way it's an easy place to stay on top of because it doesn't change, but at the same time a few thousandths of a second can drop you five, eight spots in the qualifying results.  So getting the perfect lap in when it counts is really tough to do." HOW DIFFERENT WILL IT BE SUNDAY GOING FROM A QUALIFYING SET-UP TO RACE SET-UP? "Race set-up is different, then the rhythm of driving the car and how you use the brakes, the importance of drive off the priorities kind of shift around.  Right now in qualifying trim you just drive the car as hard as you can and try to get the car secure underneath you where you can charge the braking zone hard, not lock a tire, let the brake loose and fly through the center and then mat it off.  When you get into race trim you can't run the brakes that hard so you need to be efficient through the center of the corner and then at the same time if you are turning the car too much with the back and with the throttle you will beat your tires up off the corner.  It's really a tough compromise.  I've always rested well on Saturday nights even with poor qualifying efforts knowing that the race rhythm and pace is so different and it suits me far better than qualifying here." WITH BRAD (KESELOWSKI) STARTING 32ND IN THAT SORT OF SITUATION WHAT WOULD YOU DO?  HOW CAN YOU POSSIBLY TURN THAT INTO SOMETHING DECENT AND GET TO THE FRONT GIVEN THE FACT THAT GUYS THAT START THAT DEEP RARELY FINISH WELL? "The tough position there is once you get single file and get about 10 laps into the show the leaders are to the 43rd- place car.  You have got to go.  Everybody around you has that same mentality too so it can be pretty cut throat back there.  The priority is to get going.  You have got to get up into the 20's and get a buffer of cars between you and the leader so that things can kind of spread out and get into a rhythm."   YOU SAID YOUR CREW CHIEF LIVES AND DIES BY QUALIFYING, BUT SITTING THERE ON PIT ROAD WITH YOU IN THE CAR THE LOOK ON YOUR FACE YOU LOOKED LIKE YOU WERE LIVING AND DYING BY THAT LAP.  IS THERE ANYMORE INTENSITY THAT YOU FELT OUT THERE TODAY THAN YOU HAVE IN MOST QUALIFYING RUNS? "Once it was over I mean I know how important pit road pick is and I wanted that first stall.  After qualifying as poorly as I did here in the spring my mind I focused on these two laps pretty heavily and wanted to make sure I did my job.  Then on a lighter note which was probably the majority of the reason why I stayed in the car and I'm going to star this by saying I'm not superstitious.  How many times have we watch a driver being interviewed after they set the fastest time and they get knocked off?  I'm like I'm just not letting anything in the cosmic world affect me.  I'm staying in the car.  I'm not doing any interviews.  I'm going to wait until it's over because it always happens.  You get out; you talk on a mic (microphone) 'Oh sorry you've just been knocked down to second'.  I wasn't going to have that today (laughs)." SINCE YOU WILL BE THE LEADER STARTING THE RACE, IS THERE GOING TO BE ANY PARTICULAR EMPHASIS ON YOUR PART TO TRY TO GET BRAD KESELOWSKI LAPPED AS SOON AS POSSIBLE BEFORE HE CAN PLAY ANY STRATEGY? WILL YOU BE FOCUSED ON THAT OR WILL YOU JUST BE RUNNING YOUR RACE THE WHOLE TIME? "I haven't had time to think about it from that angle. Of course if you can get any Chaser a lap down, and then put them in the situation where they're not the Lucky Dog, would be fantastic. So that will definitely be a priority but I'm not going to do anything stupid, lap 5, that would affect the outcome of the race to try to make that happen. But if we can, I'll definitely be smiling in the race car if that is the situation. But they looked pretty good in race trim today, so I wouldn't expect them to be waiting for us by any means." IF YOU'RE GOING TO MAKE A TWO-TIRE STOP HERE AT MARTINSVILLE, WHAT WOULD YOU TAKE….LEFTS OR RIGHTS? "In ASA (laughing) they used to both rears. I saw that happen a couple of times. Mike Miller won doing that at Nashville one year. I would assume rights. It just depends. I'd have to look at tire wear. The way the tire wear this morning was, you'd probably want rights, but the track's on the green side, so we'll have to see as things go on. But if you don't have many laps, you'd probably take rights. And then I think if you get too far, you're going to want four. The tire falloff is pretty good." IF YOU CAN LAP KESELOWSKI FAIRLY EARLY, WILL THAT JUST SUCK THE LIFE OUT OF THAT TEAM? HAS IT EVER HAPPENED TO YOU LIKE THAT WHERE YOU GOT LAPPED IN A RACE AND IT BASICALLY RUINED YOUR WHOLE OUTLOOK? OR, IS 500 LAPS TOO MANY TO GIVE UP AFTER ONE? "It really depends on the track. If you're at a plate track and you go down a lap, it's tough to get a lap back. You get cautions, but running in the back you might be in it or the cautions don't come until the end of the race, and plate racing is probably one of the hardest ways to get a lap back. Road courses are in a similar mindset. But on a short track, you can get a lot of cautions. So, if you go down a lap and you position yourself correctly, you can take the wave by, you can fight for Lucky Dog; especially early in a race at Martinsville, you're going to get a chance to get your lap back. So, one isn't the death sentence by any means. One with a lot of damage to your car like if you're torn-up and in something, you start evaluating things from that point. But if you had a straight race car and you're one lap down early at Martinsville, I think you're going to have some opportunities."
Original Story:
http://startnparkblog.com/?p=13542&ut...
THE BACKYARD
BEST OF MAXIM
RELATED ARTICLES
Brad Keselowski is no longer leading the Sprint Cup points standings, but he remains confident in his Penske Racing team. "Don't count us out," he said Sunday. Keselowski's transformation at the Cup level since crew chief Paul Wolfe took control of the team in 2011 has been remarkable. Lest we forget, Keselowski finished 25th his rookie season. Once Wolfe came...
Brad Keselowski talks like racing continues to be business as usual. The 28-year-old is leading the standings in NASCAR'S Chase for the Sprint Cup, and while his margin over five-time champion Jimmie Johnson is only seven points, and perennial contender Denny Hamlin is only 20 points behind, Keselowski quickly dismisses talk that being chased in the chase means pressure. Keselowski...
After seven races in the 2012 Chase for the Championship, including victories at Chicagoland and Dover, Brad Keselowski and the #2 Miller Lite Dodge team are ranked second in the NASCAR Sprint Cup Series driver and owner point standings. They trail Jimmie Johnson and the No. 48 team by just two points. Keselowski is coming off a sixth-place finish in the Tums Fast Relief 500 last...
Brad Keselowski differed from those who talked about the aerodynamic problems of the 2013 Sprint Cup cars. Keselowski was given a chance on Tuesday and Wednesday to test the 2013 Ford Fusion at Phoenix. Keselowski's chance to drive the car was the first tire test at a one-mile flat track. "I thought it was a great test," Keselowski told the NASCAR Wire Service. "I had heard...
Jimmie Johnson dominated, as expected, at Martinsville Speedway, and Brad Keselowski didn't flinch. This championship duel might go down to the wire after all. Johnson, a five-time series champion, raced to his seventh career victory on NASCAR's trickiest oval Sunday, and the triumph helped him erase a seven-point deficit and supplant Keselowski as the points leader with...
Brad Keselowski trails Jimmie Johnson by two points with Texas looming…
After capturing his seventh career win at Martinsville Speedway, Jimmie Johnson is one big step closer to his sixth Sprint Cup championship. Johnson's victory Sunday at the famed paperclip erased a seven-point deficit in the Chase standings, knocking Brad Keselowski from his perch as points leader with three races remaining. Johnson, who captured his fourth victory of the year...
Jimmie Johnson held off Kyle Busch on a restart with five laps to go Sunday and won for the seventh time in his career at Martinsville Speedway. The five-time series champion moved into the lead in the championship standings, two points over Brad Keselowski with three races remaining. Keselowski started 32nd, methodically worked his way forward, and took a late gamble to grab the...
MARTINSVILLE, VA – Ryan Blaney finished eighth at Martinsville Speedway in the No. 29 Draw-Tite RAM on Saturday afternoon. The Brad Keselowski Racing (BKR) driver had an impressive debut in his first race at Martinsville. Blaney qualified in the 11th position on Saturday morning pacing the 0.526 mile oval in 19.842 seconds or 95.434 M.P.H. to begin the Kroger 200. Lap 18 brought...
Past Martinsville Success An Opportunity For Johnson For Jimmie Johnson, Sunday's Tums Fast Relief 500 represents a huge opportunity – the opportunity to return to the lead of the Chase for the NASCAR Sprint Cup™ and take a major step toward a sixth series championship. With the postseason winding down – just four races remain – the pressure is on Johnson to use his clear...
NASCAR News

Delivered to your inbox

You'll also receive Yardbarker's daily Top 10, featuring the best sports stories from around the web. Customize your newsletter to get articles on your favorite sports and teams. And the best part? It's free!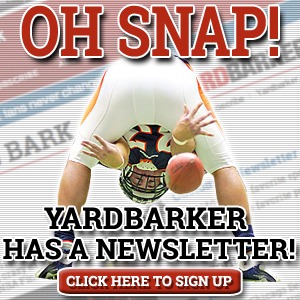 Latest Rumors
Best of Yardbarker

Today's Best Stuff

For Bloggers

Join the Yardbarker Network for more promotion, traffic, and money.

Company Info

Help

What is Yardbarker?

Yardbarker is the largest network of sports blogs and pro athlete blogs on the web. This site is the hub of the Yardbarker Network, where our editors and algorithms curate the best sports content from our network and beyond.