Found June 14, 2013 on Fox Sports:
Dale Earnhardt Jr. hopes no one steps on his cape this Sunday. After qualifying 12th in the Man of Steel Chevy on Friday, Earnhardt, the defending winner of the Quicken Loans 400, wants to keep his winning streak rolling at Michigan International Speedway. "I think the car does look good," Earnhardt said. "Hopefully, it's as fast as it looks good. That is going to be more important to be able to repeat and get the win this weekend. We feel pretty good coming in to this race. "We had a great run last week that sort of hopefully got us back in the right direction. We talked about it last week after the race, but we kind of had some misses here lately and not many hits. As far as showing up to the race track and being competitive and getting the job done putting together a full weekend, we haven't been able to do that." That wasn't the case when the season started. Earnhardt finished second in the season opener at Daytona, then delivered five consecutive top-10 results and left Auto Club Speedway with the points lead. After finishes outside of the top 20 at Martinsville and Texas, Earnhardt has not posted a finish worse than 17th with the exception of Charlotte where, his engine failed after 256 of 400 laps. "We started the season off so promising, the best that I had ever started a season," Earnhardt said. "It just seemed like things were going so perfectly, and it's the way it is in this sport. You will think you have everything going in the right direction and then odds and fate and everything else get in the way." Since Earnhardt was paired with crew chief Steve Letarte three years ago, the duo has qualified for the Chase each season and made tremendous progress. But Earnhardt admits the stark absence of wins bothers him. "We want to win more races," Earnhardt said. "We want to win numerous races and multiple races in a season. We want that to be the status quo. We want that to be the norm. We want that to be what is expected. When we first started working together, we were trying to figure out how to get a 15th-place combination into the top 10, and we were happy when we did. "Now when we run in the top 10, it's just another weekend, and what do we have to do to win? That is how we feel. I think that the perception from you guys [in the media] is similar to how we feel. We are like a lot of teams trying to find that extra step. It's difficult to win in this sport. It's really competitive." Still, NASCAR's Most Popular Driver remains optimistic. Given his early success with the Generation 6 car and a group of favorable tracks on the horizon, Earnhardt believes the No. 88 Hendrick Motorsports team can be competitive wherever it runs. "We are just hoping for another good weekend," Earnhardt said. "We would love to get a win. If we can get a good run and put two in a row together and give us more momentum, give us more confidence. This is a great race track. Enjoy coming here, always enjoyed racing on this track." LOCKED OUT Carl Edwards won the Sprint Cup pole -- his first of the season -- but he arrived for qualifying at Michigan International Speedway with less than 10 minutes to spare. Edwards, who was scheduled to be the sixth driver on the track for qualifying, went for a run at a local high school not far from the track -- but locked his keys in the car. "As soon as I shut the door on the rental car I realized I locked the keys in it," Edwards said. "So I realized I had about an hour and 20 minutes to get back to the track before qualifying." Edwards turned down an $80 offer to have his car towed and opted to break into the car the old fashion way -- "with a crow bar and some coat hangers". Edwards posted the top lap of 202.452 mph. He says the incident erased any pre-qualifying stress. "It was a little adventure," Edwards added. "Jimmy [crew chief Fennig] says I should go running more often. If he had known how close I was to not making it back, I don't think he would say that." SOCIALIZING After his first day in the No. 47 JTG/Daugherty Toyota, AJ Allmendinger qualified 32nd. Later he tweeted @AJDinger: "Lots learned first practice with the @NASCAR47 team. Have some work to do to keep making it better but have a direction." NUMBERS GAME 3 -- of the last five races, Kurt Busch has started on the front row of a Sprint Cup Race. 11 -- Top 10 starts for Kasey Kahne, who qualified third on Friday. 12 -- Career Sprint Cup poles for Carl Edwards, his first in 18 attempts at Michigan. SAY WHAT? Last week @DanicaPatrick tweeted: "I am committed to being lazy and staying in my pajamas as long as possible today ... going good so far." On Friday, Patrick acknowledged, "I made it until about 6:30 that night."
Original Story:
http://msn.foxsports.com/nascar/story...
THE BACKYARD
BEST OF MAXIM
RELATED ARTICLES
Dale Earnhardt Jr. was leading the Quicken Loans 400 on Sunday when he started losing power with his car on Lap 128 of the NASCAR Sprint Cup race. It appears that a sour engine became the kryptonite for the No. 88 Man of Steel Chevrolet. "You put together a real nice race," crew chief Steve Letarte said. "Sorry it didn't make it all the way." Said Earnhardt...
Defending NASCAR Sprint Cup Series champion Brad Keselowski says Penske Racing and Roush Fenway Racing are reluctant to share information on their Ford cars this season because Hendrick Motorsports and Joe Gibbs Racing steal information. "What keeps it from going too far is the fact Hendrick and Gibbs have this nasty little 
Dale Earnhardt Jr. is always a threat to win on both restrictor plate tracks at Daytona and Talladega. But recently, he's actually becoming a bigger threat at winning on the 2-mile Michigan International Speedway oval. Since Earnhardt joined Hendrick Motorsports in 2008, he's won twice. Both victories happened to be the June race in Michigan. Last year, Earnhardt ended his career...
NASCAR heads to the 2 mile track of Michigan International Speedway this weekend for the Alliance Truck Parts [...]
Whenever the Sprint Cup series comes to Michigan, Dale Earnhardt Jr. is the center of attention. He won at Michigan International Speedway last June after 143 races without a victory. His most recent win before that was also at Michigan in 2008, so the Sprint Cup's twice-yearly visits to the Irish Hills always present an opportunity for Earnhardt and his No. 88 Chevrolet. Earnhardt...
In honor of Jason Leffler, Denny Hamlin's No. 11 Toyota has changed its paint scheme for Sunday's race at Michigan to the one used when Leffler drove the car in 2005. The paint scheme was Hamlin's idea and was 
Last June when the Sprint Cup Series was at Michigan, a long winless streak was broken. Junior Nation rejoiced as Dale Earnhardt Jr. pulled into victory lane to celebrate his first Cup win since 2008. It was a day that Earnhardt Jr. and his fans won't soon forget, but they are also hoping they can get to victory lane again sometime soon. Earnhardt Jr. showed his strength on the...
Sunday was a rough day for Hendrick Motorsports. Jimmie Johnson and Dale Earnhardt Jr. had promising rides derailed by car problems, and Hendrick teammate Jeff Gordon's shot at winning at Michigan International Speedway ended less than 10 laps in because of a crash. Throw in a cut tire that left Kasey Kahne 38th, and none of the racing giant's four entries cracked the top...
POINTS LEADER - Riding a wave of 10 consecutive top-10 finishes, Regan Smith and the No. 7 TaxSlayer.com team hold a 23-point lead over Sam Hornish Jr. in the Nationwide Series Championship battle. Smith is averaging a finish of 6.2 over the 10-race span. MEET REGAN SMITH AND BRAD SWEET AT JR NATION MERCH HAULER - Fans are invited to meet Regan Smith and Brad Sweet for an autograph...
NASCAR News

Delivered to your inbox

You'll also receive Yardbarker's daily Top 10, featuring the best sports stories from around the web. Customize your newsletter to get articles on your favorite sports and teams. And the best part? It's free!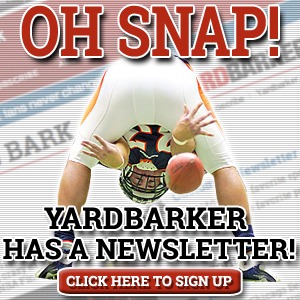 Latest Rumors
The Backyard

Today's Best Stuff

For Bloggers

Join the Yardbarker Network for more promotion, traffic, and money.

Company Info

Help

What is Yardbarker?

Yardbarker is the largest network of sports blogs and pro athlete blogs on the web. This site is the hub of the Yardbarker Network, where our editors and algorithms curate the best sports content from our network and beyond.