Found August 25, 2013 on Fox Sports:
Matt Kenseth had old tires, a sputtering gas tank and Kasey Kahne in his rearview mirror in the closing laps of a race for the third time this season. The result was the same as it was in Las Vegas, same as it was in Kansas. Kenseth won again. He held off Kahne on Saturday night at Bristol Motor Speedway - the third time this season the two have gone 1-2 - to reclaim some of the momentum that had escaped Kenseth of late. A strong start to the season had given Kenseth three wins in his first 11 races with Joe Gibbs Racing, and win number four came six weeks later. But he'd been in a slump of sorts heading into Bristol, with four finishes in the last six weeks of 15th or worse. The strong start followed by a mini-slump has made the year feel very choppy for Kenseth, who now has a Sprint Cup Series best five victories. ''I think if you look at the beginning of the season, I think it was better than I ever could have dreamed of,'' Kenseth said. ''We were qualifying up front every week, we were leading tons of laps in position to win races. Sitting here in August, it feels like the year has been two years long with all the different things we've had happen to our race team. ''The last month and a half, two months has been, I hate to say reality check because I hope this is reality all the time, but we've struggled just a little bit more, haven't quite had the speed. It's been a little bit more of a struggle.'' It didn't seem like a struggle Saturday night as Kenseth led a race-high 149 laps then held off Kahne over a white-knuckled push to the checkered flag. Kahne first chased down Juan Pablo Montoya for second place, passing him with 17 laps to go before setting his sights on Kenseth. Although Kahne, winner of the spring race at Bristol, has two wins on the season, his place in the 12-driver Chase for the Sprint Cup championship field isn't a lock and a win Saturday night would have cemented his berth. So he stalked Kenseth, who inadvertently wrecked him at Watkins Glen earlier this month to send Kahne over the edge. It was the fourth time this season a JGR driver had wrecked Kahne - Kyle Busch was the villain three previous times - and Kahne posted on Twitter he was headed to JGR headquarters to speak to whomever would come outside. Now with a chance to right all those wrongs in front of him, he stalked Kenseth for at least a dozen laps around Bristol. Whatever happened was out of Kenseth's control. ''It was all about the windshield. I never even looked back,'' he said. ''The thing is, you can't race any different. If someone decides to run into the back of you or whatever, it's going to happen. There wasn't really anything I could do differently to guard against anything or change my line or take his away because there was only one lane where my car ran good, so I just really had to look out the windshield and try to hit the marks the best I could. ''There wasn't a lot of extra room there, it was an intense race. Kasey has got a great reputation. He's a really hard racer, really talented, and he's also a really fair racer, as well. I was expecting it to be about like it was, but I really thought he was going to pass me. I thought he had a good enough car to get around me there and we had just enough to hang on.'' In the end, Kahne raced by the book, did nothing dirty and wound up second. He wasn't very happy with himself, either. ''I was trying to get there,'' said Kahne. ''I would have wrecked probably both of us. It would have just been a wreck. I just tried to pass him as clean as I could, and race him as hard as I could. I thought I had him at one point. I had a good run. I tried to slide across him, but he just kept position. We were rubbing all the way down turn four. I just didn't clear him. I just didn't get it done and I'm upset with myself for not figuring out how to win because I clearly had a better car at the end of the race.'' It was Kenseth who got the win, plus the bonus points for Chase seeding, and as it stands now he'd be the top seed over five-time champion Jimmie Johnson when the Chase begins Sept. 15 at Chicago. Even if Kahne had pulled out the win, Kenseth still would have felt pretty good about his championship chances based on his Bristol performance. ''I'm not always a huge believer in momentum as far as just looking at paper and looking at finishes, but I am a believer in momentum as far as performance,'' he said. ''I think this weekend was huge for us. Even if we would have ran second and got beat at the end, I think it would have been a very encouraging weekend. It would have been a shot in our arm, like man, we had all our speed back. We led some laps. The next 12 weeks are the most important 12 weeks of the season.''
Original Story:
http://msn.foxsports.com/nascar/story...
THE BACKYARD
BEST OF MAXIM
RELATED ARTICLES
Matt Kenseth found his way back to Victory Lane Saturday night after a great race at Bristol Motor Speedway. Obviously anytime you have a driver and a team that has won five races so far in 24 events in our regular season there is no way you cannot pick them as being the favorite for winning the championship. To be fair, however, you can't ignore the fact that Matt has had a...
I think it is safe to say that we have seen a role-reversal of sorts over the last few weeks when you look at the #20 car and the #48 car. Matt Kenseth easily had the hot hands early in the year bringing home four wins and then he cooled off. Jimmie Johnson also put four wins on the board and if these last two weeks are any indication, he's definitely cooled off. Two weeks ago...
Matt Kenseth held off Kasey Kahne for 12 nerve-racking laps to hang on and win Saturday night at Bristol Motor Speedway.
Kasey Kahne had his chance Saturday night to get revenge on Joe Gibbs Racing, but he refused to not race clean, trying every which way to pass Matt Kenseth without wrecking him. Kahne was fed up with all of JGR after Kenseth made contact with his No. 5 Chevrolet earlier this month, 
getty images Matt Kenseth won the Irwin Tools Night Race at Bristol Motor Speedway. Denny Hamlin began the race on the pole, while his teammate Kyle Busch started at the back of the field after damaging his car in qualifying. Busch would begin to work his way though the field but got loose on lap 105 and damaged his rear end. He also damaged Joey Logano. Kurt Busch would lead early...
Matt Kenseth outlasted the competition and captured his fifth victory of 2013 by winning Saturday night's IRWIN Tools Night Race from the Bristol Motor Speedway. The Joe Gibbs Racing Toyota driver overcame a pit road penalty, a dominate Carl Edwards, and a hard charging Kasey Kahne in the last 10[...]
Bristol, TN- Kasey Kahne vowed to take his revenge on any of the Joe Gibbs Racing drivers after getting wrecked near the end of the Watkins Glen race two weeks ago. Just weeks ago, he was wrecked by Matt Kenseth near the end of the Cheez-It 355 at the Glen and took to Twitter with his displeasures. He had his chance Saturday night in the closing stages of the Irwin Tools Night Race...
For all the times that Kasey Kahne has complained about Joe Gibbs Racing drivers taking advantage of his No. 5 team, when push came to shove on Saturday night at Bristol Motor Speedway, the Hendrick Motorsports driver was reluctant to do either.
Denny Hamlin picked off the poll as Kyle Busch going for the sweep had to start in the back as he wrecked he wrecked his car in qualifying. Denny Hamlin started out leading the race as Kyle Busch was only slowly moving up through the field.  Kurt Busch though did get hot and took the race lead on lap 23 as lapped traffic helped him out.  The first caution finally came out on...
Here is the entry list for Saturday night's Great Clips/Grit Chips 300 from Atlanta. There are 42 entries for 40 spots, so 2 drivers will miss the show.  Among the highlights of the list: Kasey Kahne is back in the #5 Great Clips Chevrolet, Trevor Bayne has Cargill on his[...]
NASCAR News

Delivered to your inbox

You'll also receive Yardbarker's daily Top 10, featuring the best sports stories from around the web. Customize your newsletter to get articles on your favorite sports and teams. And the best part? It's free!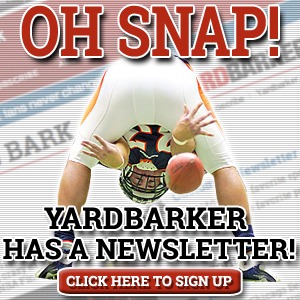 Latest Rumors
The Backyard

Today's Best Stuff

For Bloggers

Join the Yardbarker Network for more promotion, traffic, and money.

Company Info

Help

What is Yardbarker?

Yardbarker is the largest network of sports blogs and pro athlete blogs on the web. This site is the hub of the Yardbarker Network, where our editors and algorithms curate the best sports content from our network and beyond.