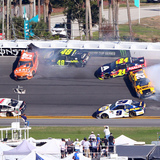 It sure looked like the first stage at the Daytona 500 was going to end without incident. Right up until the end of it, anyway. As drivers jostled for position, the first wreck of the Great American Race ended up taking out multiple cars.Jimmie Johnson, Daniel Suarez, William Byron and Erik Jones were all involved in the wreck as Kurt Busch captured the opening stage. This crash...
By David Morgan, NASCAR Editor After the field for the Daytona 500 was set with Thursday night's Can-Am Duels, the 40 cars that will contest the Great American Race took to the track for two practice sessions on Friday, with Daniel Suarez laying down the fastest times in both sessions. Suarez led a Toyota trio at the top of the board in the first practice session, with a lap of 45...
Daniel Suarez posted a top speed of 203.179 mph.
The first full-time Mexican driver in the NASCAR Cup series reflects on lessons learned in his rookie year as he gears up for the Daytona 500
Toyota cars post the fastest three laps in the session.
By Luis Torres, Staff Writer Restrictor plate racing requires teamwork. Whether it's a driver's teammate or partnering with a driver who runs the same manufacturer. For Joe Gibbs Racing driver Daniel Suarez, not only he was the lone Gibbs driver, he ran the first Can-Am Duel without another Toyota driver in the field. Despite an alliance disadvantage, Suarez overcame a Lap 9 spin...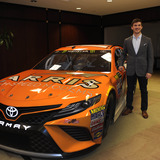 If Drake was to ever become a bandwagon fan in NASCAR, he'd be taking warm-up laps in a Camry. What a time to be alive for Toyota racing.2016 was a groundbreaking year for Toyota in many respects. They hope to take that momentum and carry it into 2017. In a sport where Ford and Chevrolet has dominated the scene for more than 30 years, Toyota secured its first-ever NASCAR Sprint Cup...
Daniel Suarez put together a strong rookie campaign last year, which left many believing that he'd be a driver to watch this season. Those words have held true as he currently leads the series standings and came close to winning for the third straight week in a row. On Saturday in the TreatMyClot.com 300, Suarez ran in the runner-up spot, trying to save fuel while trying to catch...
For the third straight race this season, Daniel Suarez had a top-10 finish as he would finish second to Joe Gibbs Racing teammate Kyle Busch. It looked as though one point Suarez would be able to close on his teammate on the restart, however, that was not the case as Busch was able to spread the gap back out as the laps round down. "Honestly, I just felt like it took me too much...
MORE STORIES >>
NASCAR News

Delivered to your inbox

You'll also receive Yardbarker's daily Top 10, featuring the best sports stories from around the web. Customize your newsletter to get articles on your favorite sports and teams. And the best part? It's free!