Found June 28, 2013 on Start 'N' Park Blog:
PLAYERS:
Brad Keselowski
,
Elliott Sadler
,
Matt Crafton
,
Brian Vickers
,
Kyle Busch
,
Carl Long
,
Regan Smith
,
Justin Allgaier
,
Austin Dillon
,
Kyle Larson
,
Nelson Piquet
,
Carroll Shelby
,
Trevor Bayne
,
Brad Sweet
,
Parker Kligerman
,
Michael Annett
,
Mike Bliss
,
Reed Sorenson
,
Eric McClure
,
Ken Butler
,
Jeremy Clements
,
Bryan Silas
,
Jamie Dick
,
Cole Whitt
,
Joe Nemechek
,
Blake Koch
,
Morgan Shepherd
,
Landon Cassill
,
Josh Wise
,
Derrike Cope
TEAMS:
Cincinnati Bengals
SPARTA, Ky. — When you win a rain-shortened race, you can't do a burnout — but Brad Keselowski certainly tried. After being declared the winner of Friday night's Feed the Children 300 NASCAR Nationwide Series race at Kentucky Speedway, 30 laps short of the scheduled finish, Keselowski did donuts on the frontstretch, minus the usual smoke because of the wet, slippery asphalt. The win was by no means a fluke, because as the race progressed, Keselowski's car identified itself as the clear class of the field. He took the lead for good on Lap 156, seven laps before NASCAR called the final caution for rain. The victory was Keselowski's second of the season and the 22nd of his career. "I didn't want it to end this way, but we had a great car," Keselowski said. "This is the type of car you get like once a year — if you're lucky. In driving this car I felt like Jimmie Johnson. This is a rocket." Elliott Sadler finished second, followed by Matt Crafton, who was making his Nationwide debut. Brian Vickers ran fourth, with Kyle Busch finishing fifth. A caution on Lap 141 for Carl Long's spin in Turn 4 gave the lead-lap cars a chance to pit for enough fuel to finish the race, but varying tire strategies scrambled the field for a restart on Lap 146. Crafton, who took fuel only, led the field to green but quickly yielded to Sadler, who took right-side tires only on pit road. Eleven laps into the run, Keselowski, on four fresh tires, passed Sadler for the top spot. By then he had already put significant distance between his No. 22 Ford and the No. 54 Toyota of Busch, who lost 10 positions on pit road after sliding through his pit stall under the caution. On Lap 163, NASCAR threw the fifth caution of the race when a brief rain shower hit the track. After seven laps under caution, the rain intensified, and NASCAR ordered the cars to pit road and red-flagged the race after Lap 170 — 30 laps short of the scheduled finish — at 9:44 p.m. "I don't want to win a rain race — I want to race!" Keselowski asserted under the stoppage. Keselowski didn't get his wish, but he got the win. Notes: Series points leader Regan Smith had suspension issues and lost 18 laps in the garage during repairs. That gave Smith's closest pursuers in the standings (Justin Allgaier, Sam Hornish Jr. and Vickers) a chance to narrow the gap Sadler, Vickers, polesitter Austin Dillon and Kyle Larson, the top finishing NNS regulars, qualified for the Nationwide Dash 4 Cash, which starts next week at Daytona. By Reid Spencer | NASCAR Wire Services Fin St # Driver Sponsor Car Laps Money Status Led Pts 1 19 22 Brad Keselowski Discount Tire Ford 170 $83,975 Running 59 0 2 6 11 Elliott Sadler OneMain Financial Toyota 170 $61,400 Running 9 43 3 8 33 Matt Crafton Menards / Rheem Chevrolet 170 $49,150 Running 8 0 4 11 20 Brian Vickers Dollar General Toyota 170 $34,150 Running 0 40 5 5 54 Kyle Busch Monster Energy Toyota 170 $27,500 Running 74 0 6 1 3 Austin Dillon AdvoCare Chevrolet 170 $30,775 Running 18 39 7 21 32 Kyle Larson Clear Men Shampoo Chevrolet 170 $26,175 Running 0 37 8 18 30 Nelson Piquet Jr Worx Chevrolet 170 $23,975 Running 0 36 9 3 12 Sam Hornish Jr Penske Truck Rental Ford 170 $22,950 Running 1 36 10 10 99 Alex Bowman St. Jude Children's Research Hospital Toyota 170 $23,275 Running 0 34 11 17 98 Kevin Swindell Carroll Shelby Engines Ford 170 $16,200 Running 1 34 12 4 6 Trevor Bayne Cargill / HelpaHero.com Ford 170 $21,350 Running 0 32 13 7 31 Justin Allgaier Brandt Chevrolet 170 $20,800 Running 0 31 14 16 5 Brad Sweet Great Clips Chevrolet 170 $20,250 Running 0 30 15 2 60 Travis Pastrana Roush Fenway Racing Ford 170 $21,200 Running 0 29 16 12 77 Parker Kligerman Camp Horsin Around Toyota 170 $19,800 Running 0 28 17 15 2 Brian Scott Shore Lodge Chevrolet 169 $19,675 Running 0 27 18 13 43 Michael Annett Pilot Travel Centers Ford 169 $19,525 Running 0 26 19 24 19 Mike Bliss TriStar Motorsports Toyota 169 $19,400 Running 0 25 20 20 70 Johanna Long Foretravel-WishForOurHeroes.org Chevrolet 168 $19,775 Running 0 24 21 27 1 Mike Wallace Drive Sober or Get Pulled Over Chevrolet 168 $19,325 Running 0 23 22 28 40 Reed Sorenson E-Swisher.com Chevrolet 168 $19,025 Running 0 22 23 39 14 Eric McClure Hefty / Reynolds Toyota 167 $18,875 Running 0 21 24 29 24 Ken Butler 5 Star Toyota 167 $18,725 Running 0 20 25 38 51 Jeremy Clements US Petroleum Consultants Chevrolet 166 $19,075 Running 0 19 26 33 79 Bryan Silas Bell Trucks America, Inc.-Koma Unwind Ford 166 $18,475 Running 0 0 27 23 55 Jamie Dick VIVA Auto Group Chevrolet 165 $18,350 Running 0 17 28 35 74 Carl Long TBA Chevrolet 164 $18,225 Running 0 16 29 34 23 Harrison Rhodes Rick Ware Racing Ford 164 $18,075 Running 0 15 30 14 7 Regan Smith Hellmann's Centennial Chevrolet 153 $18,250 Running 0 14 31 9 44 Cole Whitt TriStar Motorsports Toyota 107 $17,825 Transmission 0 13 32 32 52 Joey Gase Donate Life Chevrolet 90 $11,700 Engine 0 12 33 22 87 Joe Nemechek TBA Toyota 52 $17,590 Engine 0 11 34 30 0 Blake Koch DriveMW.com Toyota 16 $11,480 Brakes 0 10 35 40 89 Morgan Shepherd Victory In Jesus Chevrolet 15 $11,359 Handling 0 9 36 25 4 Landon Cassill TBA Chevrolet 14 $16,555 Engine 0 8 37 31 46 J.J. Yeley Curtis Key Plumbing Chevrolet 10 $10,520 Transmission 0 0 38 36 42 Josh Wise Curtis Key Plumbing Chevrolet 7 $10,486 Vibration 0 6 39 37 73 Derrike Cope Maxelence Chevrolet 3 $10,350 Rear Gear 0 5 40 26 10 Jeff Green TriStar Motorsports Toyota 3 $10,250 Vibration 0 4
Original Story:
http://startnparkblog.com/?p=28769&ut...
THE BACKYARD
BEST OF MAXIM
RELATED ARTICLES
SPARTA, Ky. Brad Keselowski will tell you he likes the track at the Kentucky Speedway. Hell tell you that he feels comfortable on the 1 mile tri-oval in no small part because of his experience at the facility. But ask Keselowski what it is exactly about the track he likes and, well, thats where the 29-year-old defending NASCAR Sprint Cup champion draws the line. I cant tell...
SPARTA, Kentucky — Three of NASCAR's top series are at Kentucky Speedway in Sparta, Kentucky this weekend. Starting with the Trucks on Thursday, racing the UNOH250, the Nationwide series on Friday racing the Feed the Children 300, and ending on Saturday with the Sprint Cup cars with the Quaker State 400. Below you will find this weekends race schedule, including practice and...
• Keselowski and the No. 22 Discount Tire Ford Mustang team began the race from the 19th position following the Friday afternoon qualifying session. • Despite starting deep in the field, Keselowski immediately began to show that his Ford Mustang had plenty of speed to contend for the win as he methodically made his way toward the front of the field. • Following hard, side-by...
Brad Keselowski, #19 Reese Towpower Ford Brad Keselowski, driver of the No. 19 Reese Towpower Ford F-150, will make his second start this season in the NASCAR Camping World Truck Series (NCWTS) this Thursday night. Keselowski will pilot the No. 19 BKR Ford F-150 in his fourth career NCWTS start at Kentucky Speedway. Last year, Keselowski, started 17th in the UNOH 225 and brought...
Source: Kevin C. Cox/Getty Images North America Brad Keselowski found himself clinging to ninth in the NASCAR Sprint Cup Series point standings entering the race weekend at Kentucky Speedway. Last season Keselowski won at Kentucky but things were dramatically different on Sunday. After qualifying eighth for the Quaker State 400 the 2012 series champion found himself in trouble on...
There is no denying that reigning NASCAR Sprint Cup Series champion Brad Keselowski is fast on the track. After all, you don't win a Cup championship by being the tortoise of the group. But can you believe that with 10 races remaining in the regular season, the champ still hasn't won a race? It's amazing that as consistent as he and the No. 2 Penske Racing team were...
Ford Racing drivers Brad Keselowski and Greg Biffle were involved in a big crash on lap 48 of the Sprint Cup Series race from the Kentucky Speedway. Below are quotes from both drivers on the accident. BRAD KESELOWSKI, No. 2 Miller Lite Ford Fusion (INVOLVED IN ACCIDENT ON LAP 48) WHAT IS YOUR TAKE ON WHAT HAPPENED? "It is a wreck. Wrecks happen. It takes a chain of events to get...
It's been an up and down season for defending NASCAR Sprint Cup Series champion Brad Keselowski. After starting the year off with two fourth place finishes followed by two third place finishes he continued his hot streak on with seven top 10′s in the first eight races of the season. That's where Keselowski's luck ended. In the eight races since, Keselowski has only one finish...
BRAD KESELOWSKI, NO. 2 MILLER LITE FORD PUTTING THE BLUE DEUCE ON TOP IN THE BLUEGRASS STATE: Keselowski enters this weekend's Quaker State 400 as the defending race winner. He led three times for a total of 68 laps at Kentucky last season en route to his seventh career NASCAR Sprint Cup Series (NSCS) victory. STATISTICALLY SPEAKING: In the two NSCS races at Kentucky Speedway,...
Source: Robert Laberge/Getty Images Brad Keselowski won the Feed the Children 300 at Kentucky Speedway on Friday night after rain forced the end of the race on lap 170 of 200. Austin Dillon began the race on the pole but soon gave way to Kyle Busch. Brad Keselowski and Elliott Sadler would also see time at the front of the field. Championship leader Regan Smith had problems with...
SPARTA, KY- Pole Winner Dale Earnhardt Jr. and both Quaker State 400 winners Kyle Busch and Brad Keselowski were the top three favorites for today's 267-lap NASCAR Sprint Cup Series race at the 1.5-mile Kentucky Speedway. Unfortunately, all three were involved in early incidents with Keselowski being done for the day in a fiery crash in Turn 2 on Lap 47. The inaugural race and...
SPARTA, Ky — Kurt Busch made contact with Brad Keselowski Sunday at Kentucky Speedway. Several drivers were involved in the wreck, including Greg Biffle, Travis Kvapil and Dave Blaney. The race was postponed on Saturday night due to rain. Keselowski won Friday nights Nationwide series race at Kentucky and was the June race winner at the track in 2012.
Bengals News

Delivered to your inbox

You'll also receive Yardbarker's daily Top 10, featuring the best sports stories from around the web. Customize your newsletter to get articles on your favorite sports and teams. And the best part? It's free!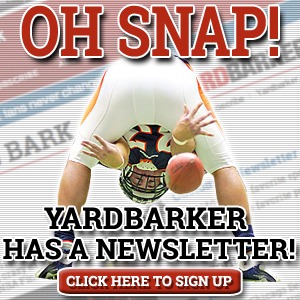 Latest Rumors
The Backyard

Today's Best Stuff

For Bloggers

Join the Yardbarker Network for more promotion, traffic, and money.

Company Info

Help

What is Yardbarker?

Yardbarker is the largest network of sports blogs and pro athlete blogs on the web. This site is the hub of the Yardbarker Network, where our editors and algorithms curate the best sports content from our network and beyond.