Found June 01, 2013 on Fox Sports:
Kurt Busch topped the speed chart in Happy Hour on Saturday with a lap of 153.224 mph. Now, if only the Furniture Row Racing team can help its championship driver convert that speed into a win on Sunday. Certainly, the tools exist. Unofficially, some -- including the driver -- consider the No. 78 Chevrolet the fourth Richard Childress Racing car. And although FRR team owner Barney Visser vehemently disagrees, his crew chief Todd Berrier, who held the same role at RCR, believes that the single-car, Denver-based operation wouldn't be up to consistently running in the top 15 without an assist in the form of motors, chassis or data from one of NASCAR's powerhouse operations. "We couldn't do it without having the simulation and everything else that RCR provides," Berrier said. "RCR's stuff allows us to have a baseline to grow on and to change and maneuver around. "A single-car team couldn't just come in this garage and be aligned with a RCR, a MWR or a Gibbs or someone like that from a simulation standpoint, just from a parts and pieces standpoint. That's the biggest thing, having tools to use that would work." Still, a lot of the credit can be traced back to the driver. Unfortunately, Busch has received more attention over the years for his petulant behavior rather than his raw talent. In the advent of the Generation 6 car, however, the racer's ability has been more apparent than ever. The new Sprint Cup car has evened the playing field and allowed Furniture Row to capitalize particularly with a driver such as Busch behind the wheel. "Starting with the new car, everything is different, and there's a lot of room to move right now and do things different than what you'd be doing if you were six years into a car," Berrier said. "With Kurt knowing what he needs, the feel he's looking for and being able to convey that, it's allowing us to change rather quickly when we need to change something to fit him better in the car. "He has really good feedback. That allows us to listen to what he says, and the car is new enough to us that you're not so set in your ways or set in your concepts that you're trying something new just about every week to kind of establish what your baseline would be for this car. It's a matter of him being able to adjust and give us the feedback with this new car is what's helping us the most." Busch's experience has been equally valuable to RCR. Kevin Harvick, RCR's alpha driver and last week's winner in the Coca-Cola 600, can attest to that. It's been a while since Harvick has benefited from the feedback of a championship-caliber driver. "Listening to Kurt Busch in the meetings is something that adds to our team," said Harvick, who has won two of the last four races. "Not taking anything away from Todd, all the guys working on the car. But the way that Kurt drives -- hard -- he has good feedback. "To me, that's been the thing that really has helped the 78 car become relevant for RCR and myself, is you can go over and talk to him and look at his data, and it's real and it's fast. It has really helped what we've been doing." Busch said the relationship is mutual. And having the testing data from the RCR camp has been a boon for the single-car team. "Just having that teammate situation and it legitimately is that we are the fourth car," Busch said. "It has been good to work with them and have the information go down both sides of the interstate, so to speak. It was great to see them win. "We've had two really good runs at Richmond and Charlotte, and we didn't capitalize and they did. It's great to see a teammate capitalize at the end of the day and bring home the trophy to Richard Childress Racing." Even before the new car, the results with Busch in the FRR car were immediate. After joining the team for the final six races of the 2012 season, he posted top-10 finishes in his last three starts. But his best result with the organization occurred in last Sunday's race, when Busch finished third -- and that was after the battery cable came loose on the No. 78 Chevy. While Busch is 18th in the Sprint Cup point standings, it's easy to wonder what his results would be if he hadn't suffered through multiple part failures and pit-road miscues. With 14 races remaining before the Chase for the Sprint Cup, Busch's consistency will be the difference between being a contender or a pretender when the playoffs start in September. "The next few races will be tough for us," said Busch, who starts 13th on Sunday. "Where we struggled was the tracks with fresh asphalt like Kansas and Vegas, and that's what we have with Pocono and Michigan coming up after Dover. ... "Basically, you can walk the garage and see where we've been running, and we just need to get our points with consistent finishes." ADVOCATING FOR SAFETY Denny Hamlin, who will start from the pole for Sunday's Fed Ex 400 benefitting Autism Speaks, is lucky to be racing at all this season. After slamming into an unprotected area of the retaining wall at Auto Club Speedway, Hamlin fractured his vertebra and was sidelined for the next five weeks. Jeff Gordon understands Hamlin's pain. He wasn't quite sure what hit him -- or, in this case, what he hit last Sunday -- until he reviewed the racing video and realized that the section of wall the No. 24 plowed into at Charlotte Motor Speedway was sans SAFER barrier. Considering that two of NASCAR's most popular drivers have both fallen victim to contact with concrete this season, could it be time for the racers to lobby together for mandatory SAFER barriers? "It's dumb to think that someone from Nebraska (the Midwest Roadside Safety Facility at the University of Nebraska, developer of the SAFER barriers) is smarter than the racers, the track owners and the people from NASCAR," Hamlin said. "But they can't tell us where we're going to hit. "We hit in spots -- and I don't care what statistics say and where we're going to hit -- if you have something that's going to make our sport safer, spend the money. It's dumb to think that we're out here racing in tracks that cost 500 dollars a foot (for SAFER barriers). Just do it. Take the hit. There's a lot of people making a lot of money when we go to a racetrack every single weekend. Somebody needs to give us a little bit safer environment to race in." Certainly, a safer environment would offer Hamlin an extra boost of confidence with the challenge that lies ahead. Hamlin is 24th in the point standings after missing four events and currently 97 points out of the Chase. The key to continuing his streak in the postseason will be "capitalizing on our money tracks." "Our only play is being aggressive," Hamlin said. "To come here and try to get a good points day is irrelevant, because if we don't win, then we're really not accomplishing much. ... We're going to need to win races, so we're going to do everything we can to try to get that. "I'll be as aggressive as I can, so I'm treating this as more of an offensive race than a defensive one for sure." So far, Hamlin has finished second and fourth, respectively, at Darlington and Charlotte -- the two races he's competed in from start to finish. He credits part of the team's success to the caliber of equipment at Joe Gibbs Racing and his improved relationship with crew chief Darian Grubb -- a consequence of time spent on the pit box studying races during his recovery. "Our cars are really good, that's some of it," Hamlin said. "My communication with Darian when I was out has a lot to do with how we communicate now that I'm back in. I think everything is a little more clear than it was before." Although Dover hasn't been one of his best tracks -- Hamlin has posted just two top-fives in 14 starts -- starting from the pole and having the first pit stall should certainly help the cause. "The important thing for us is that we're going to have to keep our track position, 'cause historically, I've not been very good at passing here," he said. "So, from the lead, I won't have to pass. That's my goal -- not to leave there." NUMBERS GAME 3 -- Consecutive Nationwide Series wins at Dover by Joey Logano, his first for team owner Roger Penske. 112 -- Laps of practice run by Brad Keselowski on Saturday, more than any other driver. 199 -- Nationwide Series wins for Ford Racing. SAY WHAT? Kyle Busch led the 5-hour ENERGY 200 three times for a total of 59 laps, but a two-tire pit stop by Logano's crew on the final service offered the No. 22 Hertz Ford the track position to win the race. "It feels good, especially this year when he has been winning everything," Logano said. "To finally beat that 54 car -- that was the team I worked with for the last seven years or so since my Nationwide debut really -- to beat them means a lot to me. ... They had a strong car again today, but my man Jeremy (Bullins, crew chief) made the right call for us."
Original Story:
http://msn.foxsports.com/nascar/story...
THE BACKYARD
BEST OF MAXIM
RELATED ARTICLES
Kyle Busch pulled away in the final laps to win the NASCAR Truck Series race Friday at Dover International Speedway. Busch won in the series for the second straight race following his victory at Charlotte Motor Speedway. Matt Crafton was second and Ryan Blaney third. Chase Elliott and Brendan Gaughan rounded out the top five. At 19 years old, Darrell Wallace became the youngest...
Although he currently sits 18th in points, Kurt Busch is finally on the comeback trail. The driver who abruptly left Penske Racing after the 2011 is getting back to running how he normally should. You could say 2012 was a year for Busch to find himself and 2013 is a year where Kurt proves he still has a lot left in his tank. Working diligently with the crew at Furniture Row Racing...
DOVER, Del – Kurt Busch was a caution away from having a legitimate shot at winning Sunday's FedEx 400 Sprint Cup Series race at Dover International Speedway. But the yellow flag didn't wave at the opportune time for the Furniture Row Racing driver, who ended the 400-lap, 400-mile race in 12th place. After coming down pit road for fresh tires and fuel on Lap 283, Busch did...
MOORESVILLE, N.C. – Coming off another successful weekend, winning their sixth NASCAR Nationwide Series (NNS) event of the season, the No. 54 Monster Energy team and Kyle Busch now turn their attention to the appropriately named "Monster Mile" that is Dover International Speedway. This weekend the 28-year-old will attempt to break his three-way tie with Todd Bodine and Carl...
With another week in the books, here are this week's Start 'N' Park Blog Pick 'Em Challenge results. Brandon and Brittany opened up the weekend by picking the winner of the race, Kyle Busch. Saturday you were either for Kyle Busch or against Kyle Busch. With four pickers taking Busch they cleaned up when he finished two spots higher than Sam Hornish, Jr., whom Brittany picked...
Kyle Busch (fourth) was the highest finishing Camry driver in Sunday's NASCAR Sprint Cup Series (NSCS) race at Dover International Speedway. Camry drivers Clint Bowyer (sixth) and Mark Martin (ninth) also recorded top-10 finishes in the 400 mile race. Hamlin started from the pole and led 41 laps (of 400) on the one-mile concrete oval before having mechanical issues and finished...
Kurt Busch led the way with a lap of 23.495 seconds in the final practice for the FedEx 400 benefiting Autism Speaks from Dover. Rounding out the top five was Matt Kenseth, Juan Pablo Montoya, Jimmie Johnson, and Jeff Gordon. Pos # Driver Team Time Behind 1 78 Kurt Busch Furniture Row/Sealy Chevrolet 23.495 Leader 2 20 Matt Kenseth Dollar General Toyota 23.518 -0.023...
Tundra driver Kyle Busch captured the checkered flag in Friday night's NASCAR Camping World Truck Series (NCWTS) race at Dover International Speedway. Tundra drivers have now won six consecutive NCWTS races at Dover — Scott Speed (2008), Brian Scott (2009), Aric Almirola (2010), Kyle Busch (2011), Todd Bodine (2012) and Busch (2013). Busch led 50 laps (of 200) en route to his...
DOVER, Del. — Pulling away from runner-up Matt Crafton during a four-lap run to the finish, Kyle Busch won Friday's Lucas Oil 200 NASCAR Camping World Truck Series race at Dover International Speedway. Busch sped away after a restart on Lap 197 of 200, as Crafton and third-place finisher Ryan Blaney battled for the second spot. The victory was owner/driver Busch's second of...
CHECKING IN FROM CHARLOTTE: Camry driver Denny Hamlin finished fourth in Sunday's NASCAR Sprint Cup Series (NSCS) 600-mile race at Charlotte Motor Speedway. Clint Bowyer (eighth) and Martin Truex Jr. (ninth) also earned top-10 finishes. In the season's longest race, Camry drivers led 183 laps (of 400), including pole-sitter Hamlin (six laps), Matt Kenseth (112) and Kyle Busch...
Darrell Wallace, Jr. won the pole for Friday's Lucas Oil 200 from Dover with a time of 22.986 seconds. Chase Elliott, Jeb Burton, Ryan Blaney, and Kyle Busch round out the top five starting positions. With only 36 entries, no drivers missed the show. The event will be live on SPEED at 5 PM EST. Pos # Driver Team Time 1 54 Darrell Wallace Jr. Camping World/Good Sam Toyota...
• Darrell Wallace, Jr. earned his first-career NASCAR Camping World Truck Series (NCWTS) Keystone 21 Means 21 Pole Award on Friday, May 31, at Dover (Del.) International Speedway becoming the youngest pole sitter in series history at the age of 19. • Making his first NCWTS start at the famed one-mile track, Wallace and his No. 54 Camping World/Good Sam Toyota Tundra led the field...
NASCAR News

Delivered to your inbox

You'll also receive Yardbarker's daily Top 10, featuring the best sports stories from around the web. Customize your newsletter to get articles on your favorite sports and teams. And the best part? It's free!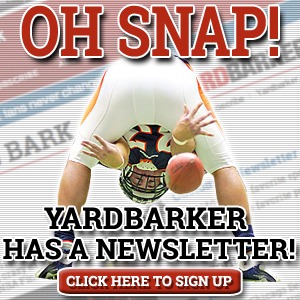 Latest Rumors
The Backyard

Today's Best Stuff

For Bloggers

Join the Yardbarker Network for more promotion, traffic, and money.

Company Info

Help

What is Yardbarker?

Yardbarker is the largest network of sports blogs and pro athlete blogs on the web. This site is the hub of the Yardbarker Network, where our editors and algorithms curate the best sports content from our network and beyond.