Found June 18, 2012 on Fox Sports:
We've talked all year about how Dale Earnhardt Jr. and the entire No. 88 team have been the perfect model of consistency. In my eyes, their win Sunday at Michigan International Speedway didn't have to happen to solidify how serious he and the team are about their championship aspirations. That said, winning the NASCAR Sprint Cup race Sunday took it to a whole new level. Earnhardt Jr. and his team have simply had an incredible season so far. After Sunday, they have one win, 12 top-10 finishes, six top-five finishes and Dale Jr. sits only four points out of first place. Now with only 11 races until the 2012 Chase for the Sprint Cup field is set, Earnhardt Jr. has to be relieved. Prior to Sunday, it had been four long years since he last won a NASCAR Sprint Cup points race. Sunday's win will go a long way in silencing the naysayers and the Junior critics. He and his team have been consistent and now they are showing they are legitimate contenders. In the last two races, Dale Jr. has led 131 laps. Last year he led a total of 52 laps in the entire 36-race schedule. It's been well-documented that it had been four years and two days since Dale Jr. last won. Actually if you do the math, it had been 1,463 days since he won. After winning that race in 2008, he basically fell off the map for the rest of the season. I don't see that happening this time. The team is too consistent and just too good right now to let that happen. I, like a lot of others, feel the win Sunday at Michigan might be the springboard for a lot more wins before the season is over. Earnhardt Jr. and his Hendrick Motorsports team are running incredibly well and we just might see an outbreak of wins. I think the key in all this is crew chief Steve Letarte. He has been a part of championships and also the key in a lot of wins by Jeff Gordon. I think he can keep himself, the race team and most importantly his driver, Dale Jr., grounded and not let them slack off. This weekend is going to be a huge test for them. Dale Jr. has made it known for years that he doesn't like road-course racing and struggles with that type of driving. Sonoma has never been one of his stronger places to race, obviously. Now that doesn't mean he and his team can't go out there Sunday and get a solid race and top finish under their belt and move on. We saw Sunday how, when things weren't good, they didn't panic and just focused on making the car better. It's those little signs that show me they are where they need to be. They know they can't sit still and have to keep moving forward. They know very well the Jimmie Johnsons, Tony Stewarts and Matt Kenseths of the Cup world are not sitting still, so they can't either. Earnhardt Jr. and his team have it all going their way right now. They are leading laps. They now have won their first race of the year. They are finishing in the top five or, when that isn't possible, they are still pulling out top-10 finishes. That type of performance will win you a championship. Dale Earnhardt Jr. is in the best frame of mind I have seen him in years. The biggest thing he has going for him is what every driver needs - confidence. He has confidence again in himself. He believes in his race team and those guys and gals believe in him. They are just the real deal right now. Obviously this was a very popular win for Junior Nation and for our sport. When the most popular driver in maybe all of motorsports breaks a four-year dry spell and celebrates in Victory Lane, well it is just pretty big. I am very thrilled for Steve Letarte. He ended a 115-race winless streak himself. He is an awesome person. He is the perfect person who supports his team and his driver. He has done something that others weren't able to do and that's get NASCAR's most favorite son back to Victory Lane.
Original Story:
http://msn.foxsports.com/nascar/story...
THE BACKYARD
BEST OF MAXIM
RELATED ARTICLES
So the drought is over for Dale Earnhardt Jr. and the No. 88 team. That really is awesome for them, Hendrick Motorsports and, quite honestly, our sport in general. What we can't lose sight of is that he is an experienced driver, one who has been in championship battles before and won two Nationwide championships. Dale Jr. has been around long enough that he understands what...
Well folks, the 143 race winless streak is over. There is joy in Junior Nation and trust me, there is joy in NASCAR. With Dale Earnhardt Jr. finally getting back to Victory Lane after a long four-year drought, all is right with the world. That win last Sunday honestly has moved the needle on NASCAR exposure and interest like nothing we've seen since Trevor Bayne upset the racing...
Dale Earnhardt Jr. raced to his first Sprint Cup victory in four years, ending a 143-race winless streak Sunday at Michigan International Speedway. Earnhardt's win came almost exactly four years to the day after his last trip to Victory Lane in a Cup race. That also was in Michigan on June 15, 2008. He led for 36 laps last weekend at Pocono but made a late stop for gas instead...
TIME TO GET NASTY
Danica Patrick's crew chief, Tony Eury Jr., says Danica is not getting enough respect on the track and needs to earn it by not letting other drivers push her around.
Turns out the victory party for Dale Earnhardt Jr. wasn't much of a party at all. Earnhardt snapped a 143-race winless streak at Michigan International Speedway, then celebrated at home in North Carolina with friends and family. He says they played music and stood around talking about the Sunday race late into the night. It wasn't the wild party people expected for NASCAR...
Tony Stewart, sarcastic after someione else wins a NASCAR race? Say it ain't so? Riling up Junior Nation? Doubt it.After Dale Earnhardt Jr. broke his four year winless streak, Tony Stewart was a little miffed to be anwering questions about the #88's win. "No different to anybody else that does it. It's not a national holiday, guys. This morning, they were celebrating...
The winless streak over, Dale Earnhardt Jr. looks for more…
Dale Earnhardt Jr.'s victory celebration is long over and now it's time to look ahead. Members of the Backseat Drivers Fan Council were asked to...
  It's finally happened, folks. Junior Nation is in a state of ecstasy and NASCAR officials are thrilled to see their most popular driver back in Victory Lane for the first time in four years. Of course, plenty of things happened over the weekend, which saw dozens of drivers post record-shattering qualifying runs. But seriously, all you really need to know is this: Dale Earnhardt...
NASCAR News

Delivered to your inbox

You'll also receive Yardbarker's daily Top 10, featuring the best sports stories from around the web. Customize your newsletter to get articles on your favorite sports and teams. And the best part? It's free!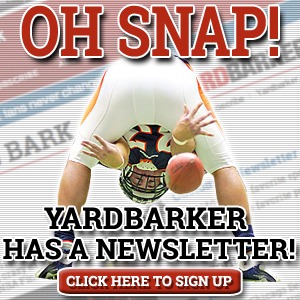 Latest Rumors
The Backyard

Today's Best Stuff

For Bloggers

Join the Yardbarker Network for more promotion, traffic, and money.

Company Info

Help

What is Yardbarker?

Yardbarker is the largest network of sports blogs and pro athlete blogs on the web. This site is the hub of the Yardbarker Network, where our editors and algorithms curate the best sports content from our network and beyond.