Found March 11, 2013 on Fox Sports:
NASCAR teams are always looking for an advantage. And with parity of the race cars - even in the advent of the Generation 6 model -- being at an all-time high among the top organizations, finding an edge over the competition is critical. In Sunday's Kobalt Tools 400, NASCAR recorded 22 lead changes at the start/finish line - the most since 2007, the last race at Las Vegas Motor Speedway before the Car of Tomorrow was introduced. According to loop data stats - which measures cumulative data electronically using 10 loops around each track - the number of green-flag passes Sunday was 2,342 compared to 1,301 in 2012. Changes for the lead around the track occurred 31 times - more than double last year's number (15). Still, on the track during long green runs, there were drivers in the pack craving clean air to make their cars function more effectively for passing. If the team hasn't qualified up front to begin the race, the driver can rely on three areas to improve position once he or she passes less competitive cars. 1. Entering and exiting pit road: Crew chiefs strategically select pit boxes around timing lines in order for their drivers to manipulate the speed limits on pit road. Drivers can use each segment as their individual drag strips to get maximum speed until they have to slow down before crossing into the next segment. But even the best racers have a tendency to miscalculate, as was the case with Kyle Busch on Lap 46. Busch was running sixth when NASCAR busted him for speeding. The No. 18 Toyota was forced to restart 19th, but he salvaged a fourth-place by taking advantage of the next two points. 2. Pit stops: Strategy comes into play when calculating time spent in the pits. On the final pit stop, eventual race winner Matt Kenseth and third-place Brad Keselowski's teams opted not to take tires. The time saved resulted in the two cars restarting first and second on Lap 231. In relation to the pit crews, these men deserve more attention these days than they receive in the race equation. The top pit crews each week not only enable their cars to exit pit road in the shortest amount of time, but offer their drivers a sense of security. The top-five teams with the shortest amount of time spent on pit road on Sunday finished among the top seven in the race. Kyle Busch, who derives great confidence from his men, was 16th on the pit-road time sheet after serving his speeding penalty. 3. Restarts: It's often said that restarts breed restarts due to the wild nature of competitors digging for position. Since NASCAR instituted "double-file shoot-out style" restarts at Pocono Raceway in the June race four years ago, the action appears to ramp up more each season. On Sunday, some of the best gamesmanship occurred on the restarts at LVMS. This is another area where Busch excels - as was evident on Lap 166, when he dove down on the white line from third around Kasey Kahne to take the lead from Jimmie Johnson, who had the outside lane. According to Keselowski, the air was easier to "control" on the outside. "You go back to those last restarts, and I felt like if we could have possibly got the outside and had control of the air, we would have been able to win the race," Keselowski said. "But obviously we didn't earn that from the perspective of coming off of pit road, and Matt did, and he did a great job of using that to his advantage, and it's essentially what got him out in the lead and won the race." Kasey Kahne discovered that first-hand after he was mired in traffic for the restart on Lap 231 after Tony Stewart blocked him in his pit stall on Lap 226. Kahne, who had by far the fastest car Sunday, had led 114 laps prior to restarting sixth with 36 circuits remaining. Although he worked his way up to second, Kahne couldn't pass Kenseth for the win. "I thought restarts last year meant a lot, and if you didn't get a good restart you'd lose those spots and it would take 40 laps before you could get back by that guy," Kahne said. "I thought similar today everybody was trying to push a little bit, slow up, get a bump on the straightaway. Matt about crashed doing that, he spun his tires or tried to wait for Carl (Edwards) a little bit (on Lap 231). "But he had him completely sideways and in front of us. I think it's big, to try to get through (Turns) 1 and 2 as quick as you can and get position on another car is key. If you can do that and get one or two spots, you're making it a lot easier on yourself for the next 40, 50 laps of that race run." Certainly the last two restarts on Sunday had fans on their feet watching the drivers jockeying for real estate. And given the importance of track position and the quest for clean air, it is understandable why restarts have become even more critical to the racing equation. Keselowski says ultimately "what's important to understand is that the cars run off of air." As teams continue to develop the Gen-6 car it will become even more significant to competition. "Even though you can't see it, the majority of what these cars are operating on is air, where that's air to cool the engine, air to go inside the engine and combine with fuel or air just so I can breathe or air for the car to operate from the perspective of generating grip," Keselowski said. "And you have to think of a race car in three dimensions where it makes how it affects the air is X, Y and Z, and you have drag, which we all talk about on the speedways and we have downforce and side force. "As it pertains to restarts and you get two cars next to each other which creates this giant bubble which effectively takes the air off of one of the cars. That means that the two cars that are up front are really stealing each other's air back and forth and making it really hard to race, and that's not necessarily a bad thing, but that puts everyone in a precarious position and really puts you, where the restarts become so important. "But ... the actual restart itself is as important if not more important as ever as the sport continues to evolve into using aerodynamics to make the cars perform."
Original Story:
http://msn.foxsports.com/nascar/story...
THE BACKYARD
BEST OF MAXIM
RELATED ARTICLES
The Kobalt Tools 400 will take place at Las Vegas Motor Speedway on Sunday. A field of 43 cars will take the green flag in the second race of the NASCAR Sprint Cup Series season. The race is 267 laps, 400 miles around the 1.5 mile Las Vegas tra CLICK TO READ MORE!
Several drivers battled through adversity to post solid finishes in the NASCAR Sprint Cup Kobalt Tools 400 on Sunday at Las Vegas Motor Speedway. Kyle Busch was a contender in the early stages of the race before he was assessed a speeding penalty on Lap 46. The setback fired the driver up after his pass-through penalty when he restarted 19th and worked his way up to 12th by the...
LAS VEGAS – Kasey Kahne, No. 5 Farmers Insurance Chevrolet SS, led 114 of the 267 laps that made up the Kobalt Tools 400 at Las Vegas Motor Speedway today, but was not able to make it back to the point after restarting seventh on the final restart. Kahne came home second and posted his fifth top-ten finish in ten races at Las Vegas. It was his first top-ten finish of 2013 and he...
MOORESVILLE, N.C. – JR Motorsports general manager Kelley Earnhardt Miller announced today a change in NASCAR Nationwide Series schedules for Dale Earnhardt Jr. and Kasey Kahne. Earnhardt Jr. was previously scheduled to race in the May 4th race at Talladega Superspeedway as part of his four-race Nationwide Series slate in 2013. Now he will compete in the Sept. 14th race at Chicagoland...
Matt Kenseth won on his 41st birthday for his new Joe Gibbs Racing team, barely holding off Kasey Kahne for his third victory at Las Vegas Motor Speedway on Sunday. Kenseth earned his 25th career victory in just his third start in the JGR Toyota after leaving Roush Fenway in the offseason. He took the lead away from Kahne out of a late restart and fended off Kahne's Chevrolet...
Three NASCAR Sprint Cup drivers will appear on this Sunday's episode of The Cleveland Show. Here is a quick look at the episode according to NASCAR. When Donna runs for the school board, she tries to keep an embarrassing Cleveland out of her campaign. But her efforts blow up in her face when Cleveland keeps her out all night drinking and she recruits NASCAR drivers (Kasey Kahne...
Photo Credit: Todd Warshaw/Getty Images By: Toby Christie – Follow on Twitter @Tobalical Heading into the third race of the season, many of NASCAR's biggest names were in serious trouble in the Sprint Cup Series point standings. Matt Kenseth, Kasey Kahne and numerous others were mired back in the mid 20s and 30s in the rankings, and with one week left until qualifying was set...
The Food City 500 at Bristol Motor Speedway (0.533-mile oval, Bristol, Tenn.) No. 2 Miller Lite Ford Fusion driven by Brad Keselowski | No. 22 Shell-Pennzoil Ford Fusion driven by Joey Logano Sunday, March 17, 1:00 pm ET Brad Keselowski DEFENDING WINNER: While he doesn't pick favorite racetracks, Brad Keselowski has quickly made Bristol Motor Speedway one of his best. He is the...
Sunday's Kobalt Tools 400 was the season's first 1.5-mile oval race of the season. As expected, the top teams looked competitive. Joe Gibbs Racing, Hendrick Motorsports and Penske Racing made their presences felt. Those names could be indicative of who will be charging hard for the championship since so much of the schedule is made up of these types of tracks. Kasey Kahne...
Talk about your happy birthdays...Most folks prefer not to work on their birthdays, but NASCAR driver Matt Kenseth didn't seem to mind on Sunday in Las Vegas especially after a late charge got him the win. Kasey Kahne had ruled the field for most of the day leading a race-high 114 laps, but Kenseth was able to take the lead coming off of pit road with 41 laps to go....
Ford Racing driver Brad Keselowski led the way for the Ford drivers by finishing third in Sunday's Kobalt Tools 400 from the Las Vegas Motor Speedway. Following him was Carl Edwards in fifth, Joey Logano in 12th, and Aric Almirola in 16th. Below are quotes from those drivers and Ricky Stenhouse, Jr. (18th) after the race. BRAD KESELOWSKI | No. 2 Miller Lite Ford Fusion "Never...
Sam Hornish, Jr. led 114 of the 200 laps Saturday afternoon and captured the Sam's Town 300 from the Las Vegas Motor Speedway. Fellow Ford Racing driver Trevor Bayne placed fourth and Bayne's teammate Travis Pastrana finished in 10th place. Reed Sorenson (16th) and Brad Keselowski (37th) were the other Ford drivers in the field. Below is post-race reaction from some of those...
NASCAR News

Delivered to your inbox

You'll also receive Yardbarker's daily Top 10, featuring the best sports stories from around the web. Customize your newsletter to get articles on your favorite sports and teams. And the best part? It's free!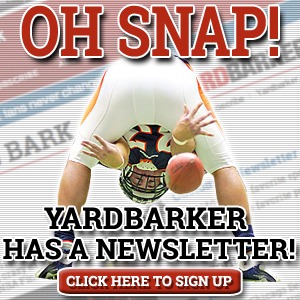 Latest Rumors
The Backyard

Today's Best Stuff

For Bloggers

Join the Yardbarker Network for more promotion, traffic, and money.

Company Info

Help

What is Yardbarker?

Yardbarker is the largest network of sports blogs and pro athlete blogs on the web. This site is the hub of the Yardbarker Network, where our editors and algorithms curate the best sports content from our network and beyond.