Found August 01, 2013 on Start 'N' Park Blog:
The champagne has dried, the interviews are over, and the crew is back in the shop. Life moves fast in the Sprint Cup Series, even faster if you're the most recent winner. Ryan Newman captured the Crown Royal 400 from the Indianapolis Motor Speedway Sunday and it was right back to work on Tuesday getting ready for the GoBowling.com 400 from the Pocono Raceway. Pocono comes at a great time when Newman needs another victory to sure up his Chase chances. Pocono ranks as one of Newman's favorite tracks and one he finished 5th at earlier this year. "It's one of my favorite racetracks just because it is so difficult. It's really fun to drive. I like it because it's challenging. Each corner is different – different radius, different banking, different bumps. Each straightaway is a different length. It just seems like it's a driver's racetrack and a crew chief's racetrack because he has to get the car to the driver's liking in all three corners. It's all about matching up the combination of how the crew chief sets up the car relative to how the driver drives the racecar to make a happy package and have a shot at victory. It's fun to have unique situations and unique racetracks. We look forward to going to Pocono each and every time," explained Newman. What draws Newman to the Pocono Raceway is the challenge of three corners that are distinctly different from each other. "It's like I said, the combination of driver, crew chief and a good-handling racecar are more important at Pocono than anywhere else because of the asymmetry. The three different corners, different banking and different straightaway lengths, if you're shifting or not shifting, there are so many variables. There's a lot of communication that has to be done at Pocono. I like the different corners. That's where you can make or lose a lot of time. Pocono is very unique in the sense that there's no perfect setup. You have to give up a little in one corner to be good in the others," said Newman. He will have some familiarity coming to the track with him. The car he will use this weekend is the same car that captured that fifth place finish in June and won Sunday at Indianapolis. "It's the same racecar we had at the first Pocono race that we finished fifth with. We had planned on turning it around and bringing it. We had no idea at that point it would take until Tuesday. What I don't think a lot of people know is, with the NASCAR inspection process, the winning racecar is taken from the track back to the NASCAR R&D center, where they go over absolutely everything. Sometime around lunchtime Tuesday, the team then gets the car back. From that point, we'll peel the wrap, re-wrap it with the Haas Automation colors, and begin the prep work for Pocono. The guys will then load it on the truck and it'll head to the track for this weekend's race," commented Newman. Newman and his team will look to get back to back wins starting at 1 PM EST as the Sprint Cup Series tackles "The Tricky Triangle." The race can be seen on ESPN this weekend.
Original Story:
http://startnparkblog.com/?p=30179&ut...
THE BACKYARD
BEST OF MAXIM
RELATED ARTICLES
Ryan Newman and his family take part in Indianapolis' winning tradition — kissing the bricks — after he captured his 17th career Sprint Cup Series win. (Photo Credit:  Streeter Lecka/NASCAR via Getty Images). By: Toby Christie – Follow on Twitter @Tobalical Motorsports, what a sport of brutal heartbreak and injustice. Ryan Newman, who just captured his 17th-career Sprint...
Ryan Newman kissed the Indy bricks, then had to deal with the Brickyard 350. That's the estimated number of text messages he received from well-wishers for his win at Indianapolis Motor Speedway last weekend. Friends, family. Just about anyone who helped Newman on his path from the short tracks that dot Indiana to taking the checkered flag in one of the sport's most prestigious...
What we saw last weekend in the Brickyard 400 from Ryan Newman was remarkable on so many fronts that it's almost unbelievable. He won the pole. He won the race. His whole family was there. It was in his home state. I think they said Ryan's family home was only like two and half hours from the track. It really was a feel-good story but it has even bigger ramifications and...
Sunday's win at the Brickyard by Ryan Newman was Chevrolet's 11th consecutive win there. Overall, the numbers are even more staggering. In the 20 Brickyard races that have been run, Chevrolet has won 15 of those. Now I would like to sit here and tell you that it is something with the Fords and something with the Toyotas that are keeping them from being more competitive there...
It's a new week, a new racetrack and kissing the bricks amid champagne and confetti showers at Indianapolis Motor Speedway are just memories now. But will the cachet from Ryan Newman's prestigious Brickyard 400 victory linger long enough to raise the free agent's stock in the NASCAR driver market? "I can't think of anything that can't be made better by...
Indianapolis, IN- The Brickyard 400 has come and gone and now teams look forward to making a run at the Chase. Ryan Newman capitalized on a late Jimmie Johnson pit stop mishap to win for the first time in 49 races Sunday. Now he looks to keep the momentum going for a second straight week. For those that watched the race Sunday you would have been used to seeing the No. 39 Quicken...
There was no bumping Jimmie Johnson this week. Johnson set a track record with a lap of 180.654 mph to win the pole Friday at Pocono Raceway. Johnson seemed poised to win the pole last week at Indianapolis until Ryan Newman topped him on the last qualifying attempt of the day. Johnson would not be denied at Pocono. He's now in position to go for the season sweep at Pocono,...
Historically, folks who are good at Pocono are good at Indianapolis and vice versa. This weekend, fresh off of the Brickyard, we are headed back to Pocono for our second race of the season there. I still believe how you ran at Indianapolis is a pretty good measuring stick for this weekend. Let's face it, the guy who won from the pole and dominated the race some seven weeks...
  While I watched Sunday's Crown Royal 400 from the Indianapolis Motor Speedway I was torn. On one hand the lack of passing, terrible attendance, and made for TV cautions was making me think maybe this track has no place on the Sprint Cup Series schedule. On the other hand, the strategy aspect to overcome the lack of passing was fascinating, and as always the history and prestige...
NASCAR News

Delivered to your inbox

You'll also receive Yardbarker's daily Top 10, featuring the best sports stories from around the web. Customize your newsletter to get articles on your favorite sports and teams. And the best part? It's free!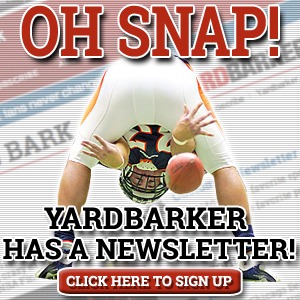 Latest Rumors
Best of Yardbarker

Today's Best Stuff

For Bloggers

Join the Yardbarker Network for more promotion, traffic, and money.

Company Info

Help

What is Yardbarker?

Yardbarker is the largest network of sports blogs and pro athlete blogs on the web. This site is the hub of the Yardbarker Network, where our editors and algorithms curate the best sports content from our network and beyond.