Found 4 hours ago on On Pit Road:
PLAYERS:
Jeff Gordon
,
Carl Edwards
,
Marcos Ambrose
,
Kasey Kahne
,
Clint Bowyer
,
Kurt Busch
,
Brad Keselowski
,
Kevin Harvick
,
Kyle Busch
,
Boris Said
,
Jamie McMurray
,
Dale Earnhardt Jr.
,
Martin Truex, Jr.
After surviving left and right turns as well as a late race charge by Jeff Gordon, Carl Edwards secured the victory in the Toyota SaveMart 350 for his second win of the year.   The Picks Ashley McCubbin picked Marcos Ambrose, Jeff Gordon and Jimmie Johnson. Ambrose fought the handling on his car all the way to finishing eighth. Gordon challenged Edwards in the final corner, but came up short and finished second. Johnson finished seventh after running inside the top 10 all day. Points: 37+43+38=118 Tayler Stiles picked Matt Kenseth, Jeff Gordon and Jimmie Johnson. Kenseth finished 42nd following contact from Dale Earnhardt Jr. Points: 2+43+38=83 Kreistina Blinova picked Jeff Gordon, Jimmie Johnson, Dale Earnhardt Jr. Earnhardt finished third for his first carer top-1o at Sonoma. Points: 43+38+41=122 Ronald Costigan picked Kasey Kahne, Jeff Gordon, Jimmie Johnson. Kahne ran solid all day on his way to finishing sixth. Points: 38+43+38=119 Marshall Gabell picked Marcos Ambrose, Clint Bowyer and A.J. Allmendinger. Bowyer finished 10th after a late race spin, while Allmendinger finished 37th after becoming a pinball on the frontstretch. Points: 37+35+9=81 Justin Tucker picked Brad Keselowski, Jimmie Johnson and Dale Earnhardt Jr. Keselowski would finish 22nd after struggling all day. Points: 22+38+41=101 Kyle Magda picked Jeff Gordon, Kurt Busch and A.J. Allmendinger. Kurt Busch had a quiet day on his way to finishing 12th. Points: 43+32+9=84 Terry Wagner picked Brad Keselowski, Marcos Ambrose and Jeff Gordon. Points: 22+37+43=102 Christina Cordner picked Marcos Ambrose, Jeff Gordon and Jimmie Johnson. Points: 37+43+38=118 Billy Stiles Jr. picked Kevin Harvick, Jimmie Johnson and Dale Earnhardt Jr. Harvick finished 20th after getting heavy contact as he made contact with Bowyer when he spun. Points: 25+38+41=104 Billy Zardo picked Kyle Busch, Boris Said  and Dale Earnhardt Jr. Said did not contend at all throughout the day, finishing 35th. Kyle Busch spun on his way to finishing 25th. Points: 19+9+41=69 Robert Hill picked Brad Keselowski, Marcos Ambrose and Kyle Busch. Points: 22+37+19=78 Joni Stiles picked Kasey Kahne, Kurt Busch and Martin Truex Jr. Truex finished 15th despite making an unscheduled pit stop on the opening lap. Points: 38+32+29=99 Tyler Sontag picked Marcos Ambrose, Kyle Busch and Jeff Gordon. Points: 37+19+43=99 Jeni Harris picked Jamie McMurray, Tony Stewart and Kurt Busch. McMurray contended late on his way to finishing fourth, while Stewart finished 19th after speeding on pit road with 19 laps to go. Points: 41+25+32=98   Sonoma Results Kreistina Blinova – 122 Ronald Costigan – 119 Ashley McCubbin and Christina Cordner – 118 Billy Stiles Jr. – 104 Terry Wagner – 102 Justin Tucker – 101 Joni Stiles and Tyler Sontag – 99 Jeni Harris – 98 Kyle Magda – 84 Tayler Stiles – 83 Marshall Gabell – 81 Robert Hill – 78 Billy Zardo – 69 Congratulations to Kreistina Blinova on scoring the most points for the Toyota SaveMart 350.   Cup Standings (Points Leader Post Pocono) Kreistina Blinova – 247+122=369 Ronald Costigan – 233+119=352 Billy Stiles Jr. – 245+104=349 Justin Tucker – 117+127+101=335 Ashley McCubbin – 212+118=330 Kyle Magda – 245+84=329 Marshall Gabell – 218+81=299 Tayler Stiles – 212+83=295 Robert Hill – 210+78=288 Tyler Sontag – 186+99=285 Christina Cordner – 166+118=284 Terry Wagner – 174+102=276 Joni Stiles – 158+99=257 Billy Zardo –  168+69=237 Jeni Harris – 130+98=228 Congratulations to Kreistina Blinova for holding on to the Cup points lead for the third straight weekend in a row. Though it's still close as the top three are within 20 points.   Combined Standings  (Points Leader Post Road America) Billy Stiles Jr. – 502+114+104=720 Ronald Costigan – 492+107+119=718 Justin Tucker – 492+117+101=710 Ashley McCubbin – 456+117+118=691 (Points Leader Post Michigan) Kyle Magda – 505+100+84=689 Kreistina Blinova – 474+92+122=688 Christina Cordner – 426+105+118=649 Marshall Gabell – 464+85+81=630 Tyler Sontag – 413+117+99=629 Tayler Stiles – 453+92+83=626 Terry Wagner – 405+112+102=619 Robert Hill – 450+89+78=617 Jeni Harris – 394+117+98=609 Joni Stiles – 406+96+99=601 Billy Zardo – 401+99+69=569 Congratulations to Billy Stiles Jr. on holding the Combined Standings points lead, however it's still close as he only leads Ronald by two points.
Original Story:
http://www.onpitroad.com/?p=8103
THE BACKYARD
BEST OF MAXIM
RELATED ARTICLES
Sonoma, Calif- The NASCAR Sprint Cup Series qualified for tomorrow's Toyota/Save Mart 350 this morning and many of the favorites didn't end up where they expected. Entering this weekend, names like Jeff Gordon, Martin Truex Jr., Marcos Ambrose and Clint Bowyer were listed as four of the favorites to take the checkered flag in Sunday's race. Neither them nor Tony Stewart or...
Jeff Gordon is out with comments on his back and he has had cortisone shots. Greg Biffle is still working on a new contract with Roush Fenway.    Both Greg and Carl can not talk until September on new deals.
getty images Jeff Gordon will leave Sonoma Raceway as the points leader in the NASCAR Sprint Cup Series. Jeff Gordon entered the day with the most points while teammate Jimmie Johnson's three wins were the most on the circuit. Those numbers will not change. Following 110 laps at the 1.99-mile road course it will be Gordon leading Johnson by 20 points but Johnson leading once...
SONOMA, Calif. — Carl Edwards has never been known for his road racing skills — to the point team owner Jack Roush had to send him testing in a two-seater so Boris Said could teach him the basics. A decade later, Edwards finally has a win to show for his hard work. And, he beat road racing ace Jeff Gordon to get to Victory Lane on Sunday at Sonoma Raceway, where Gordon leads...
Hendrick Motorsports drivers have won five straight NASCAR Sprint Cup Series races, dating to Jeff Gordon's May 10 victory at Kansas Speedway. Jimmie Johnson followed with wins at Charlotte at Dover before Dale Earnhardt Jr. collected his second victory of the year in the June race at Pocono. Last week at Michigan, Johnson finally broke his jinx with his first triumph at the two...
NASCAR News

Delivered to your inbox

You'll also receive Yardbarker's daily Top 10, featuring the best sports stories from around the web. Customize your newsletter to get articles on your favorite sports and teams. And the best part? It's free!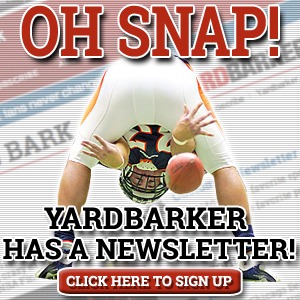 Latest Rumors
The Backyard

Today's Best Stuff

For Bloggers

Join the Yardbarker Network for more promotion, traffic, and money.

Company Info

Help

What is Yardbarker?

Yardbarker is the largest network of sports blogs and pro athlete blogs on the web. This site is the hub of the Yardbarker Network, where our editors and algorithms curate the best sports content from our network and beyond.