Found July 13, 2013 on Fox Sports:
PLAYERS:
Brad Keselowski
,
Paul Menard
,
Kasey Kahne
,
Jeff Gordon
,
Joey Logano
,
Ryan Newman
,
Kyle Busch
,
Brian Vickers
,
Austin Dillon
,
Danica Patrick
,
Martin Truex, Jr.
Can Brad Keselowski turn his season around on Sunday? It's been 25 races since his last Sprint Cup victory. And since his team was busted for taking liberties with unapproved suspension systems and components on the "Blue Deuce" at Texas Motor Speedway in April, Keselowski has posted just one top-five finish -- at Dover, where his Ford was found, in post-race inspection, to be too low. So, after a 31-point reduction for penalties and six races down the road, the defending Sprint Cup champion finds himself a season-low 13th in the point standings and 170 points behind current leader Jimmie Johnson. But after winning the pole on Friday for the Camping World 301, Keselowski insists, "This is our time." "We have a great race car here, and I think our race team is ready," said Keselowski. "We have been close. We've had the speed the last few weeks to get the job done, but different scenarios have bitten us. Those will come and go, and I feel like they've went." Perhaps. There still are eight races to decide which 12 drivers will qualify for the Chase for the Sprint Cup. And the margin between 10th-place Tony Stewart and 20th-place Paul Menard is a mere 39 points. Heck, the six drivers immediately outside the top 10 -- Martin Truex Jr. (11th), Kasey Kahne (12th), Keselowski, Jeff Gordon (14th), Joey Logano (15th) and Ryan Newman (16th) are separated by 17 points. However, the way the standings are now, without a win, Keselowski would miss the Chase. Keselowski, 29, swears that the pressure to defend his title isn't wearing on him. He insists that his "core values" and goals are the same -- "continue to be a winner, and that is what fuels me inside." "There is a sense of urgency but not a sense of panic," Keselowski said. "I think there is a strong difference between the two. We are eager to get going, we are hungry and feel like we can do it, but I don't feel a sense of panic. "There are still two months of racing essentially to get into the Chase. We have fast race cars, and if we do our part we don't need any help. If we do our part, we don't even need any luck. We just need to do our jobs, and I feel like we have got the team to do just that." Still, five-time champion Johnson said the burden of repeating a title run is inevitable. From past experience, Johnson said, he "understands" what Keselowski is going through. "Every champion goes through it -- to come back and try to repeat is really difficult to do," Johnson said. "When the spotlight is on you when you're chasing that first championship and you get it, that light intensifies quite a bit more coming back the next year, and I know it from my own experience, and it's five times what he's been going through -- the little things that we've been dealt with over the years that he's living through and experiencing now. "I think he's handled it well. We all hit bumps in the road and learn as we go down the road." Although Keselowski hasn't posted a top-10 in the last six races, his recent record at New Hampshire is solid. In the last three races, he's led laps and averaged a 3.4-place finish. It also helps that Keselowski's Penske Racing teammate Logano performed the Goodyear tire test here at the Magic Mile in May. When Logano didn't like his results, both drivers returned for a second round at New Hampshire on June 25 and 26 and burned a team test. The track time paid off with Keselowski winning just his third career pole in 144 attempts with a track record of 135.922 mph. On Saturday, Keselowski slid to 21st on the time sheet in Happy Hour, but considering that it's so difficult to pass on the flat, one-mile venue, his starting track position and selection of the first pit stall will help tremendously. "We have a really fast race car," Keselowski said. "We came here and tested a few weeks back and the guys did a great job giving me an awesome car. "Hopefully, it will be this fast on Sunday when it really counts." SOCIALIZING After Kyle Busch won his 58th career Nationwide Series race following three attempts at a green-white-checkered finish, his better half Samantha (@SamanthaBusch) tweeted: "Well that was intense but hey we won!" NUMBERS GAME 2 -- races run by 22-year-old Ryan Preece at New Hampshire Motor Speedway on Saturday. He finished third in the Wheelen Modified Tour and 24th in his Nationwide Series debut. 4 -- wins from the pole in 2013 by Kyle Busch in the Nationwide Series, tying Sam Ard's record set in 1983. 132.180 mph -- the best 10-consecutive-lap average in Happy Hour, posted by Brian Vickers. $100,000 -- bonus to Austin Dillon for being the top finishing (third) Nationwide Series campaigner. SAY WHAT? Danica Patrick on whether she would pose nude for a sports magazine: "I just never felt like that was something I needed or wanted to do. A lot of the stuff that I've done that has been scantily clad has all been swimsuit stuff. I was also asked to do the painted section of the swimsuit issue. I was asked to do that the second year after I was in it the first time. I asked one of my most liberal friends if I should do it and she was like, 'Um, that's naked, right? Last I checked that's naked.' "Would I feel comfortable? I'm sure it'd be a little bit borderline. There's a difference to me between going to the beach and wearing a swimming suit and going to the beach and wearing nothing or paint. That's just pushing the limit a little bit. I mean as far as artistically I think it'd be really fun, but it's not things that I need to do to push the issue with my brand. There's already enough stuff that I do that pushes that."
Original Story:
http://msn.foxsports.com/nascar/story...
THE BACKYARD
BEST OF MAXIM
RELATED ARTICLES
Brad Keselowski turned a lap of 135.922 mph to set a track record and win the pole at New Hampshire Motor Speedway.
The Chase to the Sprint Cup carousel carried Brad Keselowski and Kasey Kahne into the top 10 in the point standings and shuffled out Kurt Busch and Tony Stewart at New Hampshire on Sunday. While the top eight positions remained the same in the point standings, Keselowski capitalized on a solid weekend. A tire test by his Penske Racing teammate Joey Logano -- and subsequent team...
Brad Keselowski turned a lap of 135.922 mph to set a track record and win the pole at New Hampshire Motor Speedway. Keselowski led a fast Friday on the track, as 10 drivers topped the previous track record, held by Ryan Newman. Newman went 135.232 in 2011. Jimmie Johnson joins Keselowski on the front row for Sunday's race. Kurt Busch, Dale Earnhardt Jr., and Kyle Busch round...
Credit: Brad Keselowski Racing Ross Chastain (@RossChastain), driver of the No. 19 Harper Brush Ford F-150, will make his sixth start for Brad Keselowski Racing (BKR) during the American Ethanol 200 Presented by Enogen this Saturday night at Iowa Speedway. Harper Brush, a Cequent Consumer Products brand, will serve as the primary sponsor of the No. 19 BKR (@TeamBKR) entry this week...
credit: New Hampshire Motor Speedway Brad Keselowski will start on the pole for Sunday's NASCAR Sprint Cup Series race at New Hampshire Motor Speedway in Loudon, NH. While qualifying for the pole Keselowski set a new track record. The Camping World RV 301 will consist of 301 laps around the 1.058 mile New Hampshire track making up a total of 318.485 miles of racing. Jimmie Johnson...
Since iRacing.com opened its virtual doors for business in 2008, the online racing service's meticulously modeled race cars and tracks have proven to be valuable tools for professional race drivers, be they established stars like NASCAR's Dale Earnhardt, Jr. and Brad Keselowski, emerging talent like Nationwide Series Rookie of the Year Landon Cassill or Conor Daly, who drove...
Photo Credit: Tom Pennington/Getty Images By: Carrie Whitmore – Follow on Twitter @CarrieWhitmore Defending Sprint Cup Series Champion, Brad Keselowski, claimed the pole for the Camping World RV Sales 300 in his No. 2 Miller Lite Ford after setting a new track record during Friday's qualifying at New Hampshire Motor Speedway. Nine other drivers also flew past the former track...
BRAD KESELOWSKI, No. 2 Miller Lite Ford Fusion (Qualified 1st) ON HIS LAP: "We have a really fast race car. The Blue Deuce has been fast since we unloaded here and we came here and tested a few weeks back and the guys did a great job giving me an awesome car. I don't feel like I nailed a perfect lap but my guys carried me with that car. Hopefully it will be this fast on Sunday...
Series: NASCAR Nationwide Series Race: The Profit 200 Track: New Hampshire Motor Speedway Defending Champion: Brad Keselowski Story Lines: After the white knuckled restrictor plate racing of Daytona, we're back to normal in New Hampshire for the running of The Profit 200. I've been told The Profit is a show. I'll take their word for it. It continues a unique tradition of New...
Brad Keselowski led the way with a lap of 28.111 seconds in the first practice for the Camping World RV Sales 301 from New Hampshire. Rounding out the top five was Kyle Busch, Denny Hamlin, Jamie McMurray, and Dale Earnhardt, Jr. Pos # Driver Team Time Behind 1 2 Brad Keselowski Miller Lite Ford 28.111 Leader 2 18 Kyle Busch Interstate Batteries Toyota 28.331 -0.220...
Brad Keselowski won the pole for Sunday's Camping World RV Sales 301 from New Hampshire with a time of 28.022 seconds. Kurt Busch, Dale Earnhardt, Jr., Kyle Busch, and Jeff Gordon round out the top five starting positions. With only 43 entries, no drivers missed the race. The event will be live on TNT at 1 PM EST. Pos # Driver Team Time 1 2 Brad Keselowski Miller Lite...
NASCAR News

Delivered to your inbox

You'll also receive Yardbarker's daily Top 10, featuring the best sports stories from around the web. Customize your newsletter to get articles on your favorite sports and teams. And the best part? It's free!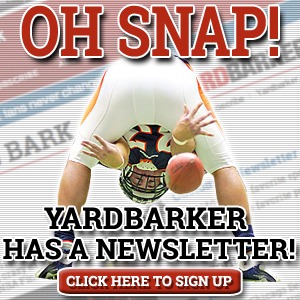 Latest Rumors
The Backyard

Today's Best Stuff

For Bloggers

Join the Yardbarker Network for more promotion, traffic, and money.

Company Info

Help

What is Yardbarker?

Yardbarker is the largest network of sports blogs and pro athlete blogs on the web. This site is the hub of the Yardbarker Network, where our editors and algorithms curate the best sports content from our network and beyond.