Found July 01, 2013 on Start 'N' Park Blog:
Richard Childress Racing teammates finished 10th (Kevin Harvick), 19th (Jeff Burton) and 30th (Paul Menard) in the Quaker State 400. Following the event at Kentucky Speedway, Harvick remains fourth in the NASCAR Sprint Cup Series driver championship point standings, trailing leader Jimmie Johnson by 66 markers, while Menard ranks 15th, 151 points back, and Burton sits 21st, 182 points out of the top position. The No. 29 Chevrolet SS team ranks fourth in the Sprint Cup Series owner championship point standings, with the No. 27 team 15th and the No. 31 team 22nd. According to NASCAR's Post-Race Loop-Data Statistics, Harvick completed 33 passes while running in the top 15, ranking him fifth in Quality Passes. Harvick made 61 Green-Flag Passes, ranking him fifth in that category. Burton was the ninth-Fastest Driver Early In a Run and made 62 Green-Flag Passes ranking him third overall. Menard was credited with two of The Fastest Laps run and made 13 Green-Flag passes during the event. Matt Kenseth earned his fourth victory of the 2013 Sprint Cup Series season and was followed to the finish line by Jamie McMurray, Clint Bowyer, Joey Logano and Kyle Busch. The next Sprint Cup Series race is the Coke Zero 400 Powered by Coca-Cola at Daytona International Speedway on Saturday, July 6. The 18th race of the 2013 season is scheduled to be televised live on TNT beginning at 6:30 p.m. Eastern Time and broadcast live on the Motor Racing Network and SiriusXM NASCAR Satellite Radio. Menard Finishes 30th at Kentucky Speedway After Early Involvement in Multi-Car Incident Paul Menard started the Quaker State 400 at Kentucky Speedway from the 24th position after persistent rain showers postponed the originally scheduled Saturday night event until Sunday afternoon. In the early laps, Menard relayed to the crew that his SYLVANIA/Menards Chevrolet was loose on entry and tight through the middle of the corners. A competition-caution on lap 30 allowed Menard to come down pit road for fresh tires, fuel and spring rubber and wedge adjustments. The chassis adjustments seemed to help the handling of the No. 27 machine and Menard had worked his way up to 20th at lap 42. Just five laps later, the Eau Claire, Wis., native was involved in a multi-car incident, which ultimately brought out the red flag on lap 48. Menard sustained significant right-front fender and front bumper damage during the on-track melee and the crew went to work making repairs during multiple pit stops once the red flag was lifted. Restarting in the 36th position, four laps down to the leader, Menard struggled with a tight condition for the reminder of race. Though he had a battle-scarred race car, Menard and the crew never gave up. By virtue of not having to take the car to the garage, Menard was able to gain six positions in the remaining laps of the event to finish 30th, earning valuable points in his quest to make the Chase for the NASCAR Sprint Cup. Menard now sits 15th in the NASCAR Sprint Cup Series driver championship point standings heading into Daytona International Speedway next weekend. Start – 24th Finish – 30th Laps Led – 0 Points – 15th PAUL MENARD QUOTE: "It's unfortunate we got caught up in a wreck early at Kentucky Speedway. We never really got a chance to see what our SYLVANIA/Menards Chevrolet had. I have to thank my guys though, they did a great job of getting the car patched up, which allowed me to stay on the racetrack and gain several positions over the course of the event. We've got to keep our heads up and hope our luck changes next weekend at Daytona International Speedway."  Harvick Brings Home His Chevrolet In 10th At Kentucky After being rained out Saturday evening, the NASCAR Sprint Cup engines fired back to life on Sunday with Kevin Harvick and No. 29 Budweiser Chevrolet team rolling off the grid 22nd at Kentucky Speedway. NASCAR mandated a competition caution at lap 30 to allow teams to check tire wear and address handling issues because rain washed rubber off the track following Saturday's heavy storms. Harvick started the first run by quickly picking off several spots, moving up to 17th place in just the first five laps. With the competition yellow out on lap 30, crew chief Gil Martin dialed up a few quick adjustments to fix the tight handling No. 29 car and opted to only take two two tires for track position on the first stop of the day. The strategy paid off with some ensuing caution laps pushing the team up to 11th place on lap 38. On the next restart, Harvick was able to squeak by a big wreck that put the field under a red flag condition. After making it to fifth by lap 60, the car began to develop a loose condition that would ultimately play a factor for the rest of the race. The following green flag stop saw a slew of cars get caught by an ill-timed caution, which included Harvick and the Budweiser Chevrolet SS. The team rallied back to the lead lap with a few fortunate cautions going their way. Through laps 214 to 243, Harvick maintained a tough battle for a top-10 spot with the No. 5 and No. 24 cars, until the yellow came out again and put the spotlight back on Gil and the crew for one final strategy call to take the team to the end. Right side tires and fuel with a small air pressure adjustment sorted the No. 29 Chevy back to ninth when the field took the green on lap 246. When the dust settled, Harvick brought home a 10th place finish and maintained his fourth place slot in the NASCAR Sprint Cup Series championship points Race to the Chase. Start – 22nd Finish – 10th Laps Led – 0 Points – 4th KEVIN HARVICK QUOTE: "We were loose in and fairly free through the corners for most of the day. Kentucky Speedway is a great place to race, but gave us all we could handle on getting our Budweiser Chevrolet to grip the turns. Jeff Burton Overcomes Adversity to Finish 19th at Kentucky Speedway Jeff Burton and the No. 31 Caterpillar Chevrolet SS team lined up 15th for the 400-mile race at Kentucky Speedway on Saturday. After waiting an extra day because Mother Nature washed out racing action on Saturday evening, the 43-car field took the initial green flag on Sunday afternoon. From the start, Burton and the Luke Lambert-led team battled a tight-handling condition through the corners of the 1.5-mile oval, but still managed to race up to 11th in the first 30, of 267, laps. That was when a pre-determined competition caution was displayed because rain washed so much rubber off the track the prior two days. After pitting for tires, fuel and air pressure adjustments, NASCAR penalized Burton for exiting pit road too fast in sections seven and eight. Taking the green flag at the tail end of the field in 34th, Burton picked up six positions before the caution waved again on lap 39. This time, Lambert called Burton to pit road for tires and additional adjustments. Once again, Burton was penalized for being too fast exiting pit road. This time, it was for sections two, three and eight. At this point, driver and crew chief realized there was a problem with the car's tachometer. For the remainder of the race, Burton used extreme caution upon entry and exit of pit road, which resulted in no more penalties. After another caution restart on lap 46, Burton was scored 35th. A multi-car wreck on lap 48 brought out the red flag. Electing not to pit allowed the team to restart 20th. From there, Burton raced his way up to fifth and then ran in and near the top-10 for the middle stages of the race. Towards the latter stages, Burton let Lambert know he was tight through the turns and lost some of the grip he had earlier in the race. More stops for adjustments didn't work to the team's desire and they ended up finishing 19th. Burton is now 21st in the NASCAR Sprint Cup Series driver championship point standings as the team heads to Daytona International Speedway for next Saturday night's scheduled race. Start – 15th Finish – 19th Laps Led – 0 Points – 21 JEFF BURTON QUOTE: "This was not the finish this Caterpillar team deserved. We were good in the early part of the race, then got way too tight before the car went to loose. It was very frustrating. Those speeding penalties on pit road cost us some, but we ended up racing our back into the top-10 for a while. The last part of the race just didn't go the way needed it to for this team. I hate it, but I know we're going to be good when we get to Daytona (International Speedway) next weekend." -Richard Childress Racing PR
Original Story:
http://startnparkblog.com/?p=28858&ut...
THE BACKYARD
BEST OF MAXIM
RELATED ARTICLES
Jeff Burton is hoping his birthday brings a happier ending at Kentucky Speedway on Saturday than his race did last weekend at Sonoma, where he got an on-track surprise hit from Tony Stewart. Burton was on pace to score his fifth consecutive finish of 12 or better at Sonoma before Stewart nailed him in the carousel stretch of the track with 20 laps remaining in the race. Burton was...
RCR NSCS Resume at The World Center of Racing … Dating back to 1976, Richard Childress Racing (RCR) has won 10 poles and collected five victories at the most-storied race track on the NASCAR Sprint Cup Series circuit. RCR owns two Daytona 500 wins (Dale Earnhardt – 1998, Kevin Harvick – 2007), three Coke Zero 400 trophies (Earnhardt – 1990, 1993 and Harvick – 2010) and...
RCR's NASCAR Nationwide Series History at Daytona … In 52 previous NASCAR Nationwide Series appearances at Daytona International Speedway, RCR has five wins at the famed restrictor-plate track, including victories in July 2010 and Feb. 2002 with Dale Earnhardt, Jr., wins with Clint Bowyer in July 2009, Kevin Harvick in Feb. 2007 and most recently with Tony Stewart in February...
Last week, Kyle Petty made some harsh comments about competitor Danica Patrick, saying NASCAR's only woman is "not a race car driver," but instead simply a "marketing machine." Some noted the irony in the fact that Petty was born with the NASCAR equivalent of a silver spoon in his mouth, being the son of Richard Petty. Other drivers, however, are giving a more detailed...
Two of the hottest sports properties on FOX have formed an alliance with last Thursday's announcement that UFC lightweight contender Donald Cerrone signed a deal to join Kevin Harvick Inc., an athlete management company owned by 21-time NASCAR Sprint Series winner Kevin Harvick. The move could be a sign of things to come on a larger scale with both NASCAR and the UFC being prominently...
NASCAR News

Delivered to your inbox

You'll also receive Yardbarker's daily Top 10, featuring the best sports stories from around the web. Customize your newsletter to get articles on your favorite sports and teams. And the best part? It's free!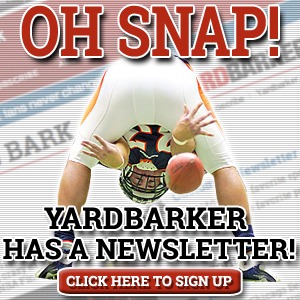 Latest Rumors
The Backyard

Today's Best Stuff

For Bloggers

Join the Yardbarker Network for more promotion, traffic, and money.

Company Info

Help

What is Yardbarker?

Yardbarker is the largest network of sports blogs and pro athlete blogs on the web. This site is the hub of the Yardbarker Network, where our editors and algorithms curate the best sports content from our network and beyond.