Found July 09, 2012 on Start 'N' Park Blog:
PLAYERS:
Kurt Busch
,
Ricky Stenhouse
,
Bill Elliott
,
Terry Labonte
,
Austin Dillon
,
Richard Petty
,
Roger Penske
,
Danica Patrick
,
Mike Bliss
,
Brad Keselowski
,
Jeff Burton
,
Bobby Labonte
,
David Reutimann
,
Jeff Gordon
,
Marcos Ambrose
,
Richard Childress
Welcome to the July 9, 2012edition of Start 'N' Park Blog's Stock Watch. Each week we'll take a look at who's rising, falling, and treading water in the world of NASCAR. This stretches all division and all aspects of NASCAR, including drivers, owners, crew members, media and fans. Finding their way onto this week's watch includes Kurt Busch, Ricky Stenhouse, Jr., Tony Stewart, RCR #3 NNS Team, TNT's Wide Open Coverage, Bill Elliott, and AJ Allmendinger. Is your favorite NASCAR personality rising, falling, or treading water? Find out below what Greg and Mike have to say below.
Rising
Kurt Busch (Nationwide) – Despite damaging his car during Saturday's Subway Jalapeno 250 Kurt Busch was able to pull off the victory beating Ricky Stenhouse, Jr. back to the line. It was special seeing the raw emotions by Busch and the crew in victory lane after the race. That's the sort of passion those guys have and it's great to see them rewarded. This buys Kurt a little more time with the team, but I don't think this gives him immunity through the rest of the year.
Tony Stewart (Sprint Cup) – Stewart pulled off the win in Saturday's Coke Zero 400 giving him three wins for the year and guaranteeing himself a spot in the Chase. This is great for a driver who fell ass backwards into last year's Chase (and won it). For the SHR team this should give them some breathing room between now and Richard to try new things. It also will make Stewart happy, and a happy Stewart is a happy team. Interested to see if they get dinged any points for failing post-qualifying inspection or get a slap on the wrist.
Bill Elliott (Sprint Cup) – The finish doesn't show how well Elliott did Saturday night, finished 37th after being involved in an accident, but the old dog showed he can still do it. He qualified in 6th place in a one off effort with Camping World Truck and Nationwide Series team Turner Motorsports. They got the car from Hendrick, which doesn't help, but Hendrick can only do so much. It was very impressive for the team to show that speed that quickly and for Elliott keeping it up front for a good number of laps. On the flip side, Terry Labonte was non-existent all race long and ended up 20th due to accidents. Thus, there is no justice in this world.
Falling
RCR Nationwide #3 Team (Nationwide) – This is the third time this year they have been caught "cheating" at the race track. The first time was chalked up to rookie mistakes at Las Vegas. Then last weekend they got busted at Kentucky, for something that actually hindered Austin Dillon's performance than helped this. This weekend they got busted again for something that didn't help, but at the same time was illegal. They got dinged 6 championship points last weekend that dropped Dillon from first to second in the standings, and figure to lose even more this week. Plus, you could see a crew chief suspension. You'd better believe NASCAR will have a closer eye on this team and all the other RCR teams going forward.
AJ Allmendinger (Sprint Cup) – It seems very obviously why 'Dinger would be on this list. He was suspended indefinitely by NASCAR after failing a random drug test this week. This was a very shocking development because you figured NASCAR only got random drivers without any potential like Jeremy Mayfield or Shane Hmiel. Allmendinger was in a dream season having the opportunity to drive for Penske Racing after wasting away at Red Bull Racing and Richard Petty Motorsports. Now that opportunity might be wasted as not only is Roger Penske a no BS type of owner, you gotta think that Shell/Pennzoil can't be pleased. They just got over having to deal with Kurt Busch's temper tantrums, now they're handed a driver getting busted for failing a drug test. Sponsors carry A LOT of pull now a days and even if he's exonerated, Allmendinger still might find himself out of a ride.
Nationwide Points Standings – Reviewing the points always makes me laugh this year. There are only 15 drivers that have made every race so far in 2012. One of which has DNF'd over half the races (TJ Bell 15 starts, 8 DNFs). So when you say "Danica Patrick sits 9th in points" on the outside that statement seems to indicate she's have a great year. But if you dig deeper you say she's 9th of 15 drivers driving full time and 2 drivers who have missed a race. Not picking on Danica, you can say that about anyone, especially in 8th place is Mike Bliss. To say this series has an identity crisis is an understatement. With so many Cup drivers in there and not getting points, it's showing the series what it truly is.
Treading Water
Ricky Stenhouse, Jr. (Nationwide) – Stenhouse came out of Daytona with a second place finish gained some in the points, which was the good part of his race. The bad part was that he hit just about everyone and everything out there but the pace car. His bumper caused a couple accidents and ruined some underachieving guys nights. Obviously you want to be up front pushing and all that, but once you start wrecking people you get into Ernie Irvan territory of people not liking you.
TNT's Wide Open Coverage (Sprint Cup) – TNT had its annual "Wide Open" coverage Saturday night for the Coke Zero 400. This meant the race was shown with very limited full commercial interruption, which after last week's KFC debacle, fans couldn't wait to see. For the most part it was great, except near the end when on lap 146 (of 160) Brad Keselowski spun but they were on a full screen commercial, i.e. we couldn't see what happened. My question is why is that happening that late in the race? At least ESPN and Fox do side by side in the last 50 laps or so. Why would TNT be so, well, stupid to do this? Granted, if Keselowski doesn't have an issue we don't notice, but you can't tout your "Wide Open" coverage then don't deliver in crunch time.
Multi-Car Accidents Leading to Random High Finishes – Drivers that must love resetrictor plate racing include Jeff Burton (2nd), Bobby Labonte (10th), David Reutimann (11th), and Terry Labonte (20th). Normally they'd all be marred 25th or worse, but thanks to some good driving (and luck) were able to negotiate the big wrecks and pull off great finishes. Especially Burton who really needed something to go right this year. I joked on Twitter about just realizing that Burton still drove, his numbers are still not anywhere close to good, but upon further look their not like 2011. He's currently 18th in points, has 2 top five finishes and 4 top ten finishes, just behind Jeff Gordon and above Marcos Ambrose. Will he make the Chase? No, absolutely not, but Burton is showing a bit more life that could extend his career at Richard Childress Racing.
Original Story:
http://startnparkblog.com/?p=8420&utm...
THE BACKYARD
BEST OF MAXIM
RELATED ARTICLES
  Kurt Busch, driver of the No. 51 Phoenix Construction Services Chevrolet for Phoenix Racing, was a solid fixture in the top-10 until just past the halfway point of the NASCAR Sprint Cup Series Coke Zero 400 Saturday night at Daytona (Fla.) International Speedway. But a multi-car accident on lap 92 of the 160-lap contest proved to be the beginning of the end of the bid by 2004...
DAYTONA BEACH, Fla. — The Great Pumpkin arrived early, and Kurt Busch left Daytona International Speedway with something more than peanuts after winning Friday night's Subway Jalapeno 250 NASCAR Nationwide Series race in a battered No. 1 Chevrolet that looked like a refuge from Halloween. With a strong push from defending series champion Ricky Stenhouse Jr., Busch took the checkered...
After a disappointing season start at Daytona (Fla.) International Speedway in February, and a promising run at the Talladega (Ala.) Superspeedway in April, the Kyle Busch Motorsports (KBM) team was ready to bring their restrictor-plate chassis back to the 2.5-mile high banks of Daytona. Showcasing progress made over the first half of the 2012 season, the No. 54 Monster Energy team...
NASCAR News

Delivered to your inbox

You'll also receive Yardbarker's daily Top 10, featuring the best sports stories from around the web. Customize your newsletter to get articles on your favorite sports and teams. And the best part? It's free!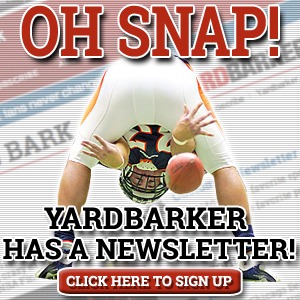 Latest Rumors
The Backyard

Today's Best Stuff

For Bloggers

Join the Yardbarker Network for more promotion, traffic, and money.

Company Info

Help

What is Yardbarker?

Yardbarker is the largest network of sports blogs and pro athlete blogs on the web. This site is the hub of the Yardbarker Network, where our editors and algorithms curate the best sports content from our network and beyond.