Found October 22, 2012 on Start 'N' Park Blog:
PLAYERS:
Paul Menard
,
Kasey Kahne
,
Regan Smith
,
Jeff Gordon
,
Kevin Harvick
,
Ryan Newman
,
Danica Patrick
,
Matt Kenseth
,
Brad Keselowski
,
Jamie McMurray
,
Taylor Swift
,
Kurt Busch
,
Dale Earnhardt Jr.
,
Martin Truex, Jr.
KANSAS CITY, KS –Paul Menard led the Team Chevy train across the finish line in third place at the close of a crash-infested Hollywood Casino 400 NASCAR Sprint Cup Series race today at Kansas Speedway.  This was the second top-10 finish in eight races at Kansas for Menard, driver of the No. 27 Menard's/Certain Teed Insulation Chevrolet. There were 14 caution flags for 66 of the 267-lap race; most of which were brought out by accidents. Menard managed to steer clear of the melee, and led the field once for a total of six laps. Behind Menard were Kasey Kahne, No. 5 Farmers Insurance Chevrolet (4th), and Tony Stewart, No. 14 Office Depot/Mobil 1 Chevy (5th). Regan Smith, who is temporarily substituting for Dale Earnhardt Jr. in the No. 88 National Guard/Diet Mountain Dew Chevy finished 7th. Jimmie Johnson, five-time NASCAR Sprint Cup champion in the No. 48 Lowe's Chevrolet, hit the wall in Turn 4 just after the half-way mark in the 400-mile race. Quick repairs by the team put him back on track; and Johnson managed to bring it home in the ninth position. Johnson remains in second place in the CHASE for the NASCAR Sprint Cup point standings, just seven (7) points shy of the leader. Teammate Jeff Gordon, driver of the No. 24 DuPont Chevy was 10th, and Kevin Harvick, No. 29 Budweiser Chevrolet finished 11th.  All six Team Chevy contenders finished in the top 11 for the day. Caught in accidents and sidelined early were Ryan Newman, No. 39 Code 3 Associates Chevy (30th), Danica Patrick, No. 10 GoDaddy Racing Chevy (32nd), and A.J. Allmendinger, temporary driver in the No. 51 Phoenix Construction Chevy (35th). Rounding out the top five were race winner Matt Kenseth (Ford) and Martin Truex, Jr. (Toyota). PAUL MENARD, NO. 27 CERTAINTEED INSULATION/MENARDS CHEVROLET – FINISHED THIRD – ON HIS RACE: "We had Slugger (Labbe, crew chief) back this weekend. He is well rested after six weeks off, and had some good ideas to try this weekend. Our Rheem Chevrolet in the Nationwide (Series) was probably the best car yesterday. And, our CertainTeed/Menards today was good too. It's a game of track position, and we had a good car. It was just a matter of getting us up there and having good pit stops and gained track position. Once we got up there, we just couldn't hang on." KASEY KAHNE, NO. 5 FARMERS INSURANCE CHEVROLET – FINISHED FOURTH – ON HIS RACE – DID THE CAR NOT RE-FIRE? "Yes, it just wouldn't re-fire. Disappointing. But we got through there. We had a good car; we got back to fourth.  We passed a lot of cars there. The Farmers Insurance Chevrolet team did an awesome job. Great pit stops; great pit calls. A lot a tire and fuel strategy race throughout. Our guys did a really nice job. I had an awesome car. It was a little loose there taking off. It was coming to me and getting good there at the end. We just weren't close enough at that point in time. But still, a solid day." TONY STEWART, NO. 14 OFFICE DEPOT/MOBIL 1 CHEVROLET – FINISHED FIFTH – ON HIS RACE: "An eventful day. Happy to get a top-five out of it. We have a ways to go, but I'm really proud of our guys. We had stuff early on in the race and our guys never quit. They never gave up, but we've got some work to do still. "Our guys led by (crew chief) Steve Addington, they never gave up today. Really proud of the effort they gave. That's how we won a championship last year, by never giving up. We probably had to pass more cars than anybody today, but that seems to be our M.O. We seem to have to do that every week. We've got a little bit of work to do, but we're gaining on it. Proud of my guys. We worked with a little different package this week. We still didn't get it right, but we got pretty close." JIMMIE JOHNSON, NO. 48 LOWE'S CHEVROLET – FINISHED NINTH – YOU ARE LOOKING AT THE BACK OF YOUR CAR AT THE DAMAGE WHEN YOU SPUN. WHAT HAPPENED? HOW DID YOU DRIVE IT BACK TO A TOP-10 FINISH?  "I had to get a look at it here. It is pretty tore up. I'm definitely proud of this team, and the fact that we never give up. We continue to fight to try to get every point that we can. I think that yesterday's Nationwide race showed that this thing isn't over until the checkered flag falls on any given Sunday. All that said, I'm very proud, but also disappointed. I crashed the car. I spun out trying to get inside the No. 56 (Martin Truex, Jr.).  He bobbled a little in front of me and I thought that was an opportunity to jump in the gas real hard. When I did that, my car took off and I couldn't catch it.  All-in-all a good day, but it could have been a lot better. I think we could have been in Victory Lane, and stretched some points on these guys."  MR. HENDRICK PRAISED THE NO. 48 LOWE'S TEAM OR IT'S QUICK REPAIR OF YOUR CAR. WHAT ARE YOUR THOUGHTS? "I'm just now getting a chance to look at the damage on the car and it's pretty severe. One, I'm impressed that they fixed it as they did and got the spoiler and deck lid back in place. Two, I'm surprised that the car was as fast as it was. It drove fine through the turn. I could tell on the straightaway that I didn't have the efficiency and I can see why with this left-rear quarter-panel. It's blown out; a big parachute sticking in the wind. So, all things considered, without my mistake, I think we had a shot to win. And then even after that we had a great pit stop and came out up in the top five or six probably, but we had some issues with getting fuel in the car and I had to go to tail-end and still got back to ninth. So, I'm proud of myself for all but one corner. Everything else today and this weekend was really good except for one corner. And truthfully, I was just trying to get inside the No. 56 (Martin Truex Jr.). He was loose in front of me. I could see his car moving around and I was trying to put some pressure on him and his car bobbled. When his car bobbled, I jumped on the gas hopeful to get an opportunity and mine took off, just quick, just gone. So that was the crash." HOW CRAZY WAS THIS RACE? "It was (crazy). It's weird that all the cautions came back. Now we see this type of driving at all the race tracks, but we don't get cautions out of is and today we got a lot of cautions out of it. And restarts were pretty wild. You had to run so hard that when something happened and you lost grip, the car just stood up on the tires and would take off and you couldn't control it and the guys were sliding everywhere." WHEN YOU LISTENED TO (CREW CHIEF) CHAD KNAUS ON THE RADIO, YOU SEEMED SO CALM THROUGH THE WHOLE THING. HE WAS VERY SPECIFIC ABOUT 'DO THIS, DO THAT'. WHAT'S THAT LIKE FOR YOU SITTING IN THE CAR AND THAT TONE HE WAS USING? "It's big. And that's what truthfully we didn't like about our attitude and execution at the end of last year. When things got a little trying for us, we didn't communicate and work as we needed to. That's all people; not just the guy calling the shots and what to fix on the car, but all of us. And today we executed like there really wasn't anything that happened and did our best to get the car back on the track and get our best finish. It's more mature racing here in 2012." HOW DID THE CAR FEEL AFTER THE CRASH? "The deck lid and all that is so sensitive, I really thought I was in trouble when I hit the wall. It's tough to get the support to hold that deck lid where it needs to be. And if there isn't enough support back there, NASCAR will park you. So when I backed it in, I was pretty bummed out and assumed that we were going to be many laps down." YOU SEEM REALLY SHAKEN-UP.  OR WAS IT JUST A REALLY LONG AND HARD RACE? "I had a couple of hundred miles to think through the mistake I made. And I want to be happy because of this amazing comeback the team had, but one little mistake. We didn't lose many points if any, at all today; maybe it's a draw because I led a lap. I'm not sure if Brad (Keselowski) did. But it could have been so much more. You don't want to leave points on the table." HOW LONG WILL YOU KICK YOURSELF FOR THAT? "Humm, through the night. Tomorrow I'll get back to normal." DOES KNOWING YOU ARE GOING TO MARTINSVILLE HELP? "I really hate missing an opportunity to get points on Brad (Keselowsi) on a 1.5-mile track. That's his strong suit and they're just good on them. Today we had a fast enough car that I think we could have gotten some points on him. So I'm disappointed in that, but at the same time, what we went through to finish and have it be even still is pretty good. So, we'll take it and we'll go to Matinsville and hopefully things will go well." HOW DID YOU CONTINUE TO REFOCUS AS YOU WENT THROUGH THE RACE AFTER THE CRASH? "Luckily the damage to the car was really cosmetic. The suspension was still true and straight and the car drove correctly. That helped me more than anything. If the car was wicked and evil to drive, it would have been a long, long afternoon. Luckily nothing was all that bad and it was just cosmetics." YOU FINISHED ONE SPOT BEHIND BRAD KESELOWSKI. WAS THERE A MESSAGE THAT GOT SENT TODAY? "The best way to send it is how you perform on the track and today we showed what our team is capable of. Outside of that, and the one mistake I made, everything else went pretty awesome. I'm proud of the team and I hope the other guys are paying attention." REGAN SMITH, NO. 88 NATIONAL GUARD/DIET MOUNTAIN DEW CHEVROLET – FINISHED SEVENTH – TODAY WAS A REALLY SOLID DAY FOR YOU AND THE NO. 88 TEAM, BUT IT LOOKED PRETTY TREACHEROUS OUT THERE HOW WAS YOUR DAY? "The track conditions were difficult.  I think a lot of it was just over done by guys maybe not being smart on restarts from what I saw.  Everybody was fighting for the bottom you didn't want to lose positions on the top side, but then the top side would come in as runs would go on so that was kind of weird.  All the guys on the National Guard/Diet Mountain Dew Chevy did a hell of a job.  These past two weeks we had arguably a better car last week had we had a chance to run the whole race.  It's been nice to be able to step in and have them treat me like their normal driver.  I know Dale (Earnhardt Jr.) is excited to get back so that is going to good for him. Looking forward to whatever comes next for me." JEFF GORDON, NO. 24 DUPONT CHEVROLET – FINISHED 10TH – CAN YOU TALK ABOUT THE TRACK CONDITIONS TODAY?  A SOLID 10TH –PLACE FINISH FOR YOU TODAY: "It wasn't that bad.  It was hard to pass you just couldn't reach the edge of the grip level really easy.  My car stuck pretty good so I had pretty decent grip on the restarts and we were able to make up some spots.  We did pretty good strategy so all in all it was a decent day for us.  I thought we could pull off a top five at one point, but we just didn't." JAMIE MCMURRAY, NO. 1 BASS PRO SHOPS/ARCTIC CAT CHEVROLET – FINISHED 15TH = ON HIS RACE: "Our guys worked really hard today on this Bass Pro Shops team.  We were forced to short pit early and got caught two laps down when the caution came out.  Our guys thrashed and never gave up; we got position back on the lead lap and just battled through all the cautions to bring home a 15th-place finish." JUAN PABLO MONTOYA, NO. 42 TAYLOR SWIFT/TARGET CHEVROLET – FINISHED 16TH – ON HIS RACE: "I'm proud of our Target team today. The guys did a great job and we went through a lot these last few days with a wrecked race car in practice and a flat tire during the race. Overall I was pretty happy with our car. What a crazy race that was. You never knew what to expect out there; everyone was wrecking. We just tried to run a safe race and thankfully we were able to stay out of everyone else's mess." KURT BUSCH, NO. 78 FURNITURE ROW RACING/FARM AMERICAN CHEVROLET – FINISHED 25TH – ON HIS RACE: "Our overall performance was indeed much better than our finishing result. There was just too much to overcome. But on the bright side, we have a race team that proved today that we can run up front. There is no doubt in my mind that we had at least a top-five car. " RYAN NEWMAN, NO. 39 CODE 3 ASSOCIATES CHEVROLET – FINISHED 30TH – THE ACCIDENT THAT YOU HAD WITH KYLE (BUSCH) CAN YOU TAKE US THROUGH IT? "I'm not real sure other than the fact that he got loose and I ended up hitting him in the middle of (turns) three and four and spinning him around.  Then we got clobbered by the No. 22.  A chain of events, but he just got loose in front of me and it's so fast here it's hard to check up when he is getting sideways.  Saw he already lost control of the car once earlier in the race it's kind of treacherous on the tires." The tour moves to Martinsville Speedway on October 28, 2012 for Round 33 of 38 in the series.
Original Story:
http://startnparkblog.com/?p=13276&ut...
THE BACKYARD
BEST OF MAXIM
RELATED ARTICLES
Paul Menard and the No. 33 Rheem/Menards team led on six different occasions for 110 circuits of the 200-lap race on Saturday at Kansas Speedway before running out of fuel to finish 16th. Menard qualified fifth earlier in the day, and when the main event began, Menard moved up to third place by the time the first of 12 caution flags waved on lap 15. The No. 33 continued to move forward...
Paul Menard took what he learned of the new track surface at Kansas Speedway during the NASCAR Nationwide Series race Saturday and, with crew chief Slugger Labbe back on top of the pit box after a six-week hiatus, turned it into a very strong third-place finish in the Kansas 400 NASCAR Sprint Cup Series race. Menard qualified 14th Friday afternoon and ran in the top 20 for the first...
Paul Menard will pilot Chassis No. 349 from the Richard Childress Racing NASCAR Sprint Cup Series stable in this weekend's Tums Fast Relief 500. This Chevrolet was last raced at New Hampshire Motor Speedway in September, where Menard started seventh and finished 12th, his career-best result at the one-mile race track. This chassis was also utilized this season at Martinsville Speedway...
Following the conclusion of the Hollywood Casino 400 from the Kansas Speedway Paul Menard (3rd place) and Martin Truex, Jr. (2nd place) talked to the media. Video courtesy of NASCAR Media Group.
NASCAR News

Delivered to your inbox

You'll also receive Yardbarker's daily Top 10, featuring the best sports stories from around the web. Customize your newsletter to get articles on your favorite sports and teams. And the best part? It's free!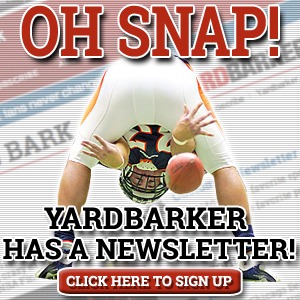 Latest Rumors
The Backyard

Today's Best Stuff

For Bloggers

Join the Yardbarker Network for more promotion, traffic, and money.

Company Info

Help

What is Yardbarker?

Yardbarker is the largest network of sports blogs and pro athlete blogs on the web. This site is the hub of the Yardbarker Network, where our editors and algorithms curate the best sports content from our network and beyond.