BROOKLYN, MI – With qualifying speeds topping the 200 mph mark at Michigan International Speedway, Kurt Busch powered his No. 78 Furniture Row Racing/Seta Chevrolet SS to a front row starting spot for Sunday's Quicken Loans 400 NASCAR Sprint Cup race. With a speed of 201.879 mph in 35.665 seconds, Busch was the second fastest qualifier in the 43-car field and earned the outside front row starting spot for the 200-lap, 400-mile race in the Irish Hills of Michigan. Two other Team Chevy drivers followed close behind, giving Chevrolet three of the top five positions in the line-up. Kasey Kahne qualified third in his No. 5 Farmers Insurance Chevrolet SS and Paul Menard was fourth fastest in his No. 27 Menards/CertainTeed Chevy SS. Other Team Chevy members starting in the top-20 are Juan Pablo Montoya, driver of the No. 42 Target Chevrolet SS – 10th, Dale Earnhardt, Jr., No. 88 National Guard "Man of Steel" Chevy SS – 12th, Tony Stewart, in a back-up No. 14 Bass Pro Shops/Mobil Chevrolet SS – 14th, Jimmie Johnson, No. 48 Lowe's Chevrolet SS – 17th, Jeff Burton, No. 31 Caterpillar Chevy SS – 18th, and Bobby Labonte, No. 51 Phoenix Construction Services Chevrolet SS – 20th. Carl Edwards (Ford) was the pole winner and Aric Almirola (Ford) was fifth to round out the Top 5 The Quicken Loans 400 takes the green flag on Sunday, June 16th at 1:00 p.m. ET, and will be aired live on TNT. KURT BUSCH, NO. 78 FURNITURE ROW/SEALY CHEVROLET SS – QUALIFIED SECOND VERY FAST LAP TELL US ABOUT IT: "It was a great lap it's amazing how close it comes down after a two mile run. Carl (Edwards) posted a fast lap early on. I just wanted to go after it. We just came up a tenth shy. The good news is we keep unloading fast. We are right there in the mix. All the guys back at the shop that are working on the pull down rig and all the simulation they are doing their job to the best that I have seen in this garage area. We just have to keep it up."  12 RACES TO GO IN THE REGULAR SEASON WE ARE INTO THE SUMMER STRETCH WHAT DOES THIS TEAM HAVE TO DO TO MAKE THE CHASE? "We just have to finish races stronger. When it gets down to the final 50 miles or the final segment of the race on the last couple of pit stops that is where we haven't been our best so that is where we have to get stronger." KASEY KAHNE, NO. 5 FARMERS INSURANCE CHEVROLET SS – QUALIFIED THIRD TALK ABOUT YOUR QUALIFYING LAP: "We picked up a little bit from where we were in practice. I was happy about that. I knew Carl (Edwards) had a really good lap and we weren't able to get there. We still had a good lap with our Farmers Insurance Chevy. We should end up in the top maybe three or four somewhere in there. It's a great spot for Sunday. Looking forward to the race, I don't know the track is really nice and it seems like it will move around some so it should be good." ONE LAP IS ONE THING 200 IS ANOTHER WHAT DO YOU HAVE TO DO TO WIN THIS RACE? "Well there is a lot that goes on to win it. We worked on some things in practice already, put about 40 minutes into kind of our race deal. Felt pretty good with that so we have a good amount of time tomorrow to hopefully fine tune it more, but I think we are in a really good spot right now." PAUL MENARD, NO. 27 MENARDS/CERTAINTEED CHEVROLET SS – QUALIFIED FOURTH WE HAVE SOME CLOUD COVER NOW DID THAT HELP THAT LAP? "It always helps when you have a little shade for sure. We had a really good car in practice; we just could never really get a clean lap to show it. Just proud of my guys. We have had a rough couple of weeks. Trying to get things turned around here in a good qualifying will go a long ways." AUSTIN DILLON, NO. 33 AMERICAN ETHANOL CHEVROLET SS – QUALIFIED SEVENTH HOW WAS YOUR QUALIFYING LAP? "It was pretty exciting. I felt like there was a little bit more out there, but I drove it and it got a little tight on me. I had to check up off of (turn) two, but really proud of that lap. The American Ethanol Chevy is fast so just now focused on race trim from here on out. We got a solid lap in. I think that will hold up possibly for a top-10 we were about ninth in practice. So it should be right in there. Man, I'm excited; I'm shaking that was a fast lap. We will go on and keep working on it for tomorrow." JUAN PABLO MONTOYA, NO. 42 TARGET CHEVROLET SS – QUALIFIED 10TH ON HIS QUALIFYING LAP: "I'm happy with where the Target Chevy qualified for the race on Sunday. We had a pretty early draw but the weather stayed the same so no one really had an advantage as qualifying continued. The car was loose when I was getting up to speed and I was a little nervous going into turn one but it ended up being a good lap and a top-10 starting position for us." DALE EARNHARDT, JR., NO. 88 NATIONAL GUARD "MAN OF STEEL" CHEVROLET SS – QUALIFIED 12TH YOU DON'T SEEM SO HAPPY WITH YOUR LAP WHY? "I just I thought it was slow. Everybody has been picking up. We didn't pick up, got on the splitter real bad down in (turns) one and two and just couldn't get in the gas. It shoved up out of the groove. I don't know that it ran that great in (turns) three and four either, but that really costs us a lot of time down in (turns) one and two. We had a real good car in practice, felt real competitive and felt like we could put up a good enough lap for a top-10. That is probably going to end up right around 19th or so we will see." -Team Chevy PR
Original Story:
http://startnparkblog.com/?p=28047&ut...
MORE FROM YARDBARKER
NASCAR News

Delivered to your inbox

You'll also receive Yardbarker's daily Top 10, featuring the best sports stories from around the web. Customize your newsletter to get articles on your favorite sports and teams. And the best part? It's free!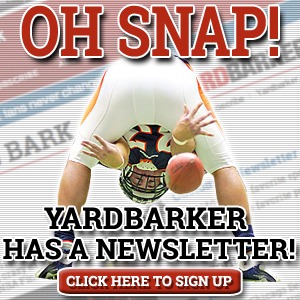 Latest Rumors
Best of Yardbarker

Today's Best Stuff

For Bloggers

Join the Yardbarker Network for more promotion, traffic, and money.

Company Info

Help

What is Yardbarker?

Yardbarker is the largest network of sports blogs and pro athlete blogs on the web. This site is the hub of the Yardbarker Network, where our editors and algorithms curate the best sports content from our network and beyond.