Found June 17, 2013 on Start 'N' Park Blog:
PLAYERS:
Kevin Harvick
,
Richard Childress
,
Jeff Burton
,
Austin Dillon
,
Danica Patrick
,
Paul Menard
,
Greg Biffle
,
Kyle Busch
,
Kasey Kahne
,
Martin Truex, Jr.
,
Dale Earnhardt Jr.
BROOKLYN, Mich. – Kevin Harvick, No. 29 Budweiser Chevrolet SS, led Team Chevy at the ultra-fast Michigan International Speedway with a key second-place finish for his Richard Childress Racing (RCR) team. Harvick, who has one win at the 2-mile speedway (2010), was unable to catch the leader after the final restart, but settled for his fifth top-10 in a row, and fifth top-five finish of 2013, to move up one spot in the overall standings to fourth. Three-time NASCAR Sprint Cup champion Tony Stewart, No. 14 Bass Pro Shops/Mobil 1 Chevrolet SS, kept his hot streak going by scoring his third straight top-five finish in a row – coming home fifth today. Stewart, who was outside the top-20 just four races ago, now moves to 10th in the overall standings with the finish. RCR teammates Jeff Burton, No. 31 Caterpillar Chevrolet SS, and rookie Austin Dillon, No. 33 American Ethanol Chevrolet SS, finished 10th and 11th respectively to put a total of three RCR cars inside the top-10 today. Burton moved up four positions in the standings to 17th with his third top-10 finish of the season. Dillon, in only his seventh Sprint Cup Series start, earned his best career finish to date. Danica Patrick, No. 10 GoDaddy Chevrolet SS had a solid run in today's race and came home in 13th position. It was Patrick's third-best career finish in 25 NSCS starts. She was followed by another RCR driver, Paul Menard, in the No. 27 Menards/CertainTeed Chevrolet SS, who finished 14th overall. Greg Biffle (Ford) was the race winner, Martin Truex Jr. (Toyota) was third, and Kyle Busch (Toyota) was fourth to round out the top-five finishing order. Next stop on the circuit will be Round 16 at Sonoma Raceway, the first road course race of the year, on Sunday, June 24. Green flag is set for 3:00 pm ET and will air live on TNT, Sirius/XM Channel 90, MRN Radio KEVIN HARVICK, NO. 29 BUDWEISER CHEVROLET SS – FINISHED SECOND YOU HAD A VIBRATION AT THE END, AND HAD TO BACK IT DOWN. IS THAT CORRECT? "Yeah, we had one at the end. We had a few of them throughout the day. You just have to ride it out and hope that you don't wind-up like a lot of those guys did. Everybody on our Budweiser Chevy did a great job today. I didn't wake up this morning thinking that we were going to even run in the Top 10. I was pretty nervous about our car. But everybody on this whole Budweiser team did a great job making adjustments this morning. And we just kept our head in there and kept digging and changing the car. We didn't start off great. We made some big adjustments on that first pit stop and we were able to get some track position and then they did a good job managing, when the caution came out there, to get us off the end of pit road in front of the leader. So, everybody did a great job today." WE SAW SO MANY RIGHT FRONT TIRES GO DOWN TODAY. WHY DO YOU THINK THAT WAS? "Well, it's just there's a lack of grip with this particular tire on this particular track. And you've got really high speeds, so you have to do everything you can do to get your car planted in the race track. And when you do that, it's going to build some heat and be harder on the tire, and you have some issues sometimes. It's just a fine line. We're always on the conservative side on camber and a lot of things, so I'm glad for that." TONY STEWART, NO. 14 BASS PRO SHOPS/MOBIL 1 CHEVROLET SS – FINISHED FIFTH: YOU FINISHED FIFTH TODAY IN A BACK-UP CAR. THIS SHOULD SAY A LOT ABOUT THIS CREW. THEY ARE PRETTY TIGHT, AREN'T THEY? "Oh yeah, they've been tight. It's just that we haven't had much luck. And today we really weren't a fifth place car. But we had some breaks go our way. A caution came out at the right time and we got a good re-start and two of the guys ahead of us, one had fuel trouble and one had a problem. So, we got some breaks going our way today. But I'm proud of these guys. Bass Pro Shops have been hanging in there all year with us and Mobil 1 and Rush Truck Centers and Code 2 and Associates and Coke and Sprint and everybody. It was a good weekend for me putting us in a hole as far as I did on Friday crashing our primary car." TALK ABOUT ANOTHER TOP-FIVE FINISH AND WHERE THIS TEAM IS: "I think we definitely got a lot of luck there at the end, but we'll definitely take it for sure because we haven't had much to this point in the year. The caution came out after some guys had pitted, and that put them at the back of the lead lap. We got a really good restart and got up to fourth there, then fell back to fifth, or back to seventh or whatever it was, and Jimmie (Johnson) had his problem. And Brad (Keselowski) ran out of fuel, so we got a couple of spots there at the end because of that. Definitely proud of the effort this week; I thought our guys did a good job. We weren't very good all weekend. I made a mistake on Friday and crashed the primary car on Friday, so this team had to work hard and do a lot to get us where we are today." JEFF BURTON, NO. 31 CATERPILLAR CHEVROLET SS – FINISHED 10TH ON HIS RACE: "The No. 31 Caterpillar Team fought hard all day to bring home another solid finish. It turned out that tires made a huge difference. We continue to make progress with our mile-and-a-half and two-mile track programs. Overall it was a good point's day." DANICA PATRICK, NO. 10 GODADDY CHEVROLET SS – FINISHED 13TH WHAT DO YOU TAKE FROM THIS? THIS WAS NOT THE EASIEST RACE FOR A LOT OF PEOPLE: "I think that there were some breaking moments out there. Yellows definitely helped us be able to get track position as far as closing up the gaps and being able to pit a few times. We tried to take right sides and get track position early on. It just didn't go well we weren't ready the car wasn't… we just hadn't gotten ourselves to a good place with the car that I could carry the speed that I needed to run with them. It didn't work out so well. We worked on it and got it better. At the end of the race the last run was the best run I felt as far as the balance of the car, which I was surprised because we had fallen off a little bit at the end of the run before. We had only taken right side tires again for a second time. It's nice to just get a decent finish for the team and for GoDaddy. It's been rough going since Martinsville. This will hopefully get everyone's head up a little bit and we will go on. I think we have been strong lately. We just needed to have days like today where we finished it off." JIMMIE JOHNSON, NO. 48 LOWE'S CHEVROLET SS – FINISHED 28TH: YOU CAME FROM THE BACK TODAY THREE OR FOUR OR MAYBE FIVE TIMES TODAY. HOW FRUSTRATING WAS IT TO HAVE THE CAR GET INTO THE WALL IN THE CLOSING LAPS? "Yeah, it's just a bummer. We had a great race car. Our strategy was throwing some challenges at us today and we just struggled with maintaining track position. But we had a fast car and I could drive up through there and as soon as I'd get to first or second, a caution would come out and then something would happen again and we'd lose track position. But we had a great race car and I hate having that problem at the end. I had to run the car really hard to get through all those guys and must have worn through that right front tire with two or three (laps) to go, it went down going into Turn 1." TALK ABOUT YOUR DISAPPOINTMENT AFTER LEADING SO MANY LAPS: "Definitely disappointed for this race team, everybody at Lowe's and all my race fans out there. We had a great car coming through the pack multiple times. We just couldn't get it right on pit road with the strategy. Chad (Knaus) is being a little hard on himself about that right now. Good news is, we had an awesome race car and we had a big points lead. I'm sure we lost a little today. I hate to miss an opportunity. I want those bonus points for winning races, and I feel like one got away from us today. But, we will come back next week at Sonoma, make some right hand turns and see what happens." WAS IT A TIRE? WERE YOU JUST GOING FOR IT AT THE END? HOW DID YOU END UP IN THE WALL? "No, we cut a right-front tire there at the end. I guess just running that hard trying to get through traffic and get to the No. 16 we wore through the right-front. I'm kind of shocked because we didn't have any issues. The No. 5 had some problem, but that was kind of a weird thing to happen there." TALK ABOUT THE DISAPPOINTMENT HERE LATE IN THE GOING: "Definitely disappointed for this race team, everybody at Lowe's and all of my race fans out there. We had a great car coming through the pack multiple times. We just couldn't get it right on pit road with the strategy. Chad (Knaus, crew chief) is being a little hard on himself about that right now. The good news is we had an awesome race car. We have a big points lead so I'm sure we lost a little today. I hate missing an opportunity. I want those bonus points for winning races and feel like one got away from us today. We will come back at Sonoma next weekend make some right-hand turns and see what happens." A VERY UNCHARACTERISTIC DAY FOR HENDRICK MOTORSPORTS TODAY ALL THE WAY AROUND WITH EVERYONE HAVING SOME SORT OF TROUBLE: "Yeah, I hadn't thought about it, but everybody did have some form of trouble. I think all of our cars were fast. There is a silver lining in it. At least we weren't running 25th with problems that makes it all the worse. We have fast race cars and I'm proud of everybody at Hendrick." WHAT ABOUT THE RESTART WITH THE NO. 88 WITH THE WHEEL SPIN. JUST GIVE US YOUR THOUGHTS ON WHAT HAPPENED THERE: "Yeah, he spun his tires and almost ran into the side of me trying to control his car. I wasn't going to get burned on that again so I jumped off the gas and go drilled from behind. Then my tires were off the ground and I can't go. It's an interesting scenario. The distance outside of the restart box to the start/finish line that area is something that needs to be addressed. There is a game to be played there and you can cause a heck of a pile up and take out 15-20 cars if you are trying to give it back." DID YOU AND CHAD (KNAUS, CREW CHIEF) REALLY DISCUSS THAT FOUR TIRE STOP? WERE YOU SURPRISED WHEN YOU DROPPED THAT MANY SPOTS? "Yeah, he is so great at calling a race. I figured everybody was coming for four when he called for four. They didn't clearly and we lost a lot of track position there. I know he is beating himself up pretty bad about it. He has won a lot of races on four tires. One got away from us today, but we still had a fast race car." KASEY KAHNE, NO. 5 FARMERS INSURANCE CHEVROLET SS – Sidelined on lap 105 DID YOU HAVE ANY VIBRATION OR INDICATION AT ALL? "No, I had no indication. We were just cruising. We had a really good Farmers Insurance Chevrolet. I knew it was going to be a battle with Jimmie (Johnson) today. He's fast and I thought we were really good. We were on the loose side but I think we could have tightened it up a little bit more and gotten a little bit better. But I felt really good about it. We'll see what happens here through the rest of this race. "But I know it's been a tough week for a lot of people. Jason Leffler was a good buddy of mine and it's neat to see how the racing world and the fans and his friends and everybody has supported him for the last four or five days. That showed the person and the racer that he was. I'm just glad I could say he was one of my good friends." WHAT HAPPENED? "Something broke. I don't really know. I would say it was a tire that went down, but I don't know for sure. I just was going into the corner and then it 'boom' and turned right went straight into the wall. It was a hard hit. We had a great Farmers Insurance Chevy. Things were working out. I thought it was going to be between myself and Jimmie (Johnson). We both had two really fast cars." HOW SLICK IS IT OUT THERE? "It was slick at the start. It's still slick. We were still on the loose side so I thought as the race went we still had an opportunity to tighten up and hopefully get a little better. My car would move around some on exit, but I felt really good. I felt like our Farmers Insurance Chevy was fast and Jimmie (Johnson) is going to be tough to beat. I thought it was going to be between me and him. It would have been a shootout." DALE EARNHARDT JR., NO. 88 NATIONAL GUARD 'MAN OF STEEL' CHEVROLET SS – Sidelined with engine failure on Lap 132 HOW DISAPPOINTING IS IT TO BE RUNNING UP FRONT WHEN AN ENGINE LET'S GO? "Yeah, that is worse than if it happens when you're running in the back. I'm real proud of the car. We were really struggling in practice and I'm just real proud of (crew chief) Steve (Letarte) and the whole team. They made a lot of great changes. And that car was just flying at the end there. I don't know if we had as good a car as Jimmie (Johnson), but we had certainly made some gains on it, even in the last stop. So, I'm just real proud of my team. I hate to run into trouble. They'll figure it out and we'll get it sorted and we'll be able to come back here and expect to run strong again. I just hate it. Hendrick Motorsports, they work harder than anyone in the business. They're the best company in the business and we ought to be out there running up front still, but we'll get it eventually." WAS THERE ANY WARNING WHEN THE ENGINE LET GO? "No there was no warning at all even after I think we lost a cylinder. The gauges all looked really good. Flipped all the switches I could flip and nothing was really making a difference. We just had something come apart in the motor. Really happy though with the engine. Happy with the way the car performed. Weren't really happy with the National Guard Chevrolet yesterday. Made a lot of changes last night. Steve Letarte (crew chief) and the whole crew made some great changes last night. We had such an awesome car. Look forward to coming back here and try to get a win." YOU TALKED QUITE AWHILE WITH YOUR CREW CHIEF ONCE YOU CLIMBED OUT OF THE CAR. WHAT WERE YOU DISCUSSING? "I was just telling him how proud I was of him and the team because we were really frustrated yesterday after practice. Really frustrated with how the car was driving and where our speed was. Just telling them guys to hold their head up they did a great job overnight getting the car competitive. We had a first or second-place car right there." -Team Chevy PR
Original Story:
http://startnparkblog.com/?p=28145&ut...
THE BACKYARD
BEST OF MAXIM
RELATED ARTICLES
KERRY THARP: "Let's roll right into our post-race for today's 45th annual Quicken Loans 400, and our race runner-up was Kevin Harvick. He drives the #29 Budweiser Chevrolet for Richard Childress Racing, and today's performance moves him up to fourth in our points race in the Chase for the NASCAR Sprint Cup. Kevin, just talk about your run out there today. Certainly listening...
Many of us wondered how much effort and resources Kevin Harvick would get during the 2013 NASCAR Sprint Cup Series campaign after he and Richard Childress Racing announced they'd part ways following the year. After a ho-hum start to the season where he finished between positions 12th-14th in six of the first eight races, he's arguably one of the hottest drivers in the series...
For the second consecutive year, the Reds will hold a racing night at Great American Ball Park to get folks geared up for the upcoming NASCAR race at Kentucky Speedway.  Here is the press release highlighting the details... CINCINNATI (June 14, 2013) - Reds fans and racing enthusiasts should come to the ballpark on Monday, June 17 for an evening of excitement at the second...
Richard Childress Racing teammates finished second (Kevin Harvick), 10th (Jeff Burton), 11th (Austin Dillon) and 14th (Paul Menard). Following the event at Michigan International Speedway, Harvick is now fourth in the NASCAR Sprint Cup Series driver championship point standings, trailing leader Jimmie Johnson by 62 markers, while Menard ranks 11th, 123 points back, and Burton sits...
NASCAR News

Delivered to your inbox

You'll also receive Yardbarker's daily Top 10, featuring the best sports stories from around the web. Customize your newsletter to get articles on your favorite sports and teams. And the best part? It's free!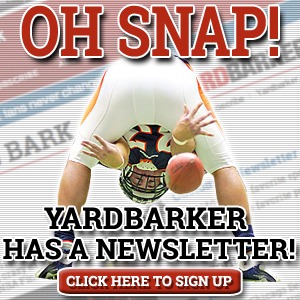 Latest Rumors
Best of Yardbarker

Today's Best Stuff

For Bloggers

Join the Yardbarker Network for more promotion, traffic, and money.

Company Info

Help

What is Yardbarker?

Yardbarker is the largest network of sports blogs and pro athlete blogs on the web. This site is the hub of the Yardbarker Network, where our editors and algorithms curate the best sports content from our network and beyond.