Found April 19, 2013 on Start 'N' Park Blog:
PLAYERS:
Kyle Busch
,
Johnny Sauter
,
Matt Crafton
,
Matt Kenseth
,
Denny Hamlin
,
Brian Vickers
,
Clint Bowyer
,
Tyler Clary
,
Elliott Sadler
,
Michael Waltrip
,
Parker Kligerman
,
Joey Coulter
,
Martin Truex, Jr.
BREAK OUT THE BROOM IN TEXAS: Camry driver Kyle Busch recorded a weekend sweep at Texas Motor Speedway with wins in both the NASCAR Sprint Cup Series (NSCS) and NASCAR Nationwide Series (NNS) at the 1.5- mile track. In Saturday night's NSCS race, Busch led more than half the race — 171 laps (of 334) — en route to victory lane after starting from the pole. Camry driver Martin Truex Jr. led 142 circuits and finished runner-up. Busch also led the most laps in Friday evening's NNS race, when he paced the field for 91 laps (of 200) before capturing the checkered flag. The NSCS victory was Busch's first at Texas, and the 27-year-old driver now has six NNS wins at the track. Busch has also recorded weekend sweeps driving Toyotas at Auto Club Speedway (2013), Bristol Motor Speedway (2010 and 2011), Chicagoland Speedway (2008) and Richmond International Raceway (2009). ROCK RESULTS: Tundra driver Johnny Sauter recorded a fourth-place finish in the NASCAR Camping World Truck Series (NCWTS) race at North Carolina's Rockingham Speedway on Sunday after posting consecutive victories to start the 2013 season. Sauter's ThorSport Racing teammate, Matt Crafton (sixth), and 16-year-old rookie Erik Jones (ninth) also posted top-10 results on the 1.017-mile track. Sauter currently leads the NCWTS standings by 16 points over second. KENSETH IN KANSAS: First year Camry driver Matt Kenseth returns to Kansas Speedway as the most recent NSCS race- winner on the 1.5-mile track. Kenseth led 78 laps (of 267) at Kansas last October, including the final 49 circuits and held off Truex to take the checkered flag. Since joining Joe Gibbs Racing (JGR) this season, Kenseth picked up his first victory with the team — and first driving a Camry — in March at the 1.5-mile Las Vegas Motor Speedway. SUBBING FOR A WINNER: A Toyota Camry claimed its first NSCS triumph at Kansas Speedway when Denny Hamlin visited victory lane at the track in April 2012. However, with Hamlin sidelined due to an injured back, Brian Vickers will fill the seat of the No. 11 Camry at Kansas Speedway. Over the last two seasons, Vickers has recorded seven top-10 finishes in 11 NSCS starts. Veteran driver Mark Martin first stepped in for Hamlin at Virginia's Martinsville Speedway and recorded a 10th- place finish, and Vickers most recently posted a ninth-place result driving for Hamlin at Texas last weekend. Hamlin suffered a L1 compression fracture during a last lap collision at California's Auto Club Speedway in March. BOWYER INTO BUSINESS: In addition to growing up racing in Kansas, Camry driver Clint Bowyer also worked at a Toyota dealer in his hometown of Emporia — and he recently partnered with Davis-Moore Auto Group to purchase the dealership where he once worked. The newly renamed Clint Bowyer Autoplex will have its grand opening on Thursday, April 18 before Bowyer takes to the track at Kansas Speedway. The Autoplex is located on Highway 50 in Emporia and is across the street from the Clint Bowyer Community Center. Bowyer grew up racing both motorcycles and cars locally in Kansas where he claimed several championships prior to joining the NASCAR ranks. TREES FROM TOYOTA: As part of NASCAR's 'Race to Green' initiative, NASCAR and Toyota officials will host a tree planting at the Toyota Legends dealership in Kansas City, Kan., on Friday, April 19. Through the initiative, Toyota has committed to donate trees to the program for on-track accomplishments in April, including 100 trees for each Toyota victory, 50 trees for each Toyota pole position, one tree for each lap led by a Toyota driver, and one tree for each caution lap paced by a Toyota pace car. HOLLYWOOD IN THE HOT SEAT: The annual Toyota Pro Celebrity Race will take place on Saturday, April 19 and will feature Olympic medalist Tyler Clary, television host and NASCAR reporter Rutledge Wood and Dakota Meyer, a recipient of the Medal of Honor, among other racers and celebrities. Defending race winner Adam Carolla and 18 other participants will race in the 10-lap charitable event that is a part of the Toyota Grand Prix of Long Beach, Calif. IndyCar Series race weekend. NASCAR Sprint Cup Series (NSCS): Through seven 2013 races, Kyle Busch is third in the NASCAR Sprint Cup Series (NSCS) point standings, trailing leader Jimmie Johnson by 18 points Clint Bowyer (eighth) also ranks in the top-10 Mark Martin captured a NSCS win at Kansas Speedway in 2005 Toyota Camrys have led more than 49 percent of all laps completed in the NSCS in 2013 (1,136 laps of 2,317) Elliott Sadler will attempt to qualify for the Kansas NSCS race in a fourth Joe Gibbs Racing entry, the No. 81 Camry John Royer, the front tire changer for the No. 20 Camry team, is native of Otis, Kan. Chris Taylor, rear tire changer for the No. 20 Camry team, is from nearby West Plains, Mo. TRD, U.S.A. (Toyota Racing Development) president Lee White is a Missouri native and obtained his mechanical engineering degree from the University of Missouri, St. Louis. CLINT BOWYER, No. 15 5-hour ENERGY Toyota Camry, Michael Waltrip How exciting is it to see your name on a Toyota dealership in your hometown? "It's super cool. It's a dealership that my brother and I — it was one of our first jobs working at the Toyota dealership and certainly really neat to have Clint Bowyer Autoplex open. It's going to be a lot of fun. There's a lot of renovation work and a lot of stuff to do, but getting the doors opened up for business was really neat and a big day for me. We just do so much with the community building and it is right adjacent from the dealership. It's fun to go back there and give back. Now, that we're a business owner in the community, we'll be doing even more of that so it's just really cool." KYLE BUSCH, No. 18 M&M's Toyota Camry, Joe Gibbs Racing What is your goal this weekend in Kansas? "I think maybe I should figure out how to finish one spot better — two second-places there was pretty disappointing. I have to go back there and win this time. It will be interesting to see though with the track being repaved last year. Kansas winters are pretty rough — about as rough as old Clint Bowyer. We'll see what it's like. It's going to be different for sure. But, I love that race track and I love going out there obviously after what we did there last year." Are you excited to race the new car on the slick Kansas Speedway surface? "I'm looking forward to it. I thought we were running decent there last year — actually, I was leading and I spun myself out while I was leading, so that was dumb. So, hopefully we have a good car like that this time around. I don't make a mistake like that, but Kansas is newly repaved. It's got a winter on it now, so we'll see how that changes things but I still expect it to be fast. It's a place that you want to run well at because it is a Chase race, so we've got to develop our notes in Kansas this weekend. Fortunately, I've got a really good teammate in Matt Kenseth. He and I have been working really well this year." MARTIN TRUEX JR., No. 56 NAPA Auto Parts Toyota Camry, Michael Waltrip Racing What kind of racing do you expect at Kansas Speedway? "I think it will be good. We had a good run in Vegas, and ran well at Texas. It seems like our mile-and-a-half, big track program is pretty good and kind of like Kansas, so look forward to going there. I think, obviously, it's going to be a lot different from last year, but it's the same race track. So, it's the same kind of thing and I think it will work." BRIAN VICKERS, No. 11 FedEx Freight Toyota Camry, Joe Gibbs Racing How do you feel heading to Kansas after your first race with Joe Gibbs Racing? "I'm looking forward to it — I really am. I think we learned a lot — Texas is the first time that I've driven a Gen-6 car on a big track. It was a big learning curve for me. Just learning about these cars and the trend it takes under a green flag run and the difference between practice and a race. It was a learning curve. I think working with a new team, being in the Gen-6 car at a mile-and-a-half for the first time for me was a lot to learn. I think we'll go to Kansas and go after that win." NASCAR Nationwide Series (NNS): After six 2013 races, Parker Kligerman is sixth in the NASCAR Nationwide Series (NNS) point standings, trailing leader Sam Hornish Jr. by 35 points Elliott Sadler (seventh), Alex Bowman (eighth) and  Brian Vickers (ninth) also rank in the top-10 Bowman is currently the top rookie in the standings With his victory in Texas, Kyle Busch has now won three consecutive NNS races and four of the first six events to start 2013 Busch is the first driver to ever win four of the first six NNS races to start a season Bowman recorded his first career NASCAR pole position last weekend at Texas The NNS returns to action on Friday, April 26 in Richmond, Va. for the ToyotaCare 250. NASCAR Camping World Truck Series (NCWTS) After three races this season, Johnny Sauter leads the NASCAR Camping World Truck Series (NCWTS) standings by 16 points over second-place Jeb Burton … Matt Crafton (third) and Darrell Wallace Jr. (10th) also rank in the top-10 Dating back to June 2012, Sauter has four wins in his last 19 races, the most in the NCWTS during that period. JOEY COULTER, No. 18 Darrell Gwynn Foundation Tundra, Kyle Busch Motorsports How do you think the trucks will fare on the new Kansas Speedway surface? "It's going to be interesting. I've noticed with the way the truck bodies are, we're making so much more downforce and side-force than the Nationwide or the Cup cars are, so I don't think it's going to affect us as much as it affects everybody else. I think it's going to be a really good race. The track was fantastic before they put pavement on it, so I think it's now just going to be even better. And just like every other track the trucks go to, it's always a really exciting race." DARRELL WALLACE JR., No. 54 Liberty Tire Recycling/GroundSmart Rubber Mulch Tundra, Kyle Busch Motorsports Have you ever raced at Kansas Speedway? "Yeah, I've run plenty of laps at Kansas on Xbox, but I don't know how that's going to switch over. It should be great. I know it's a lot faster than what it was with the new surface on there and I know the trucks are pretty quick around there, so I'm excited to go there. It looks like a wide open race track and you have a lot of room to race and it's really fast. I'm excited to go there and for that race we're getting a brand new truck right off the assembly line, so I'm definitely looking forward to that and I think we'll have another great run with the KBM (Kyle Busch Motorsports) guys."
Original Story:
http://startnparkblog.com/?p=24893&ut...
THE BACKYARD
BEST OF MAXIM
RELATED ARTICLES
Joe Gibbs Racing's No. 18 team pulled out a back-up Toyota for last week's Sprint Cup winner Kyle Busch after he glanced off the wall during NASCAR Sprint Cup practice on Friday at Kansas Speedway. Busch had completed just four laps in first practice before hitting the wall exiting Turn 2. Busch's fastest lap was 180.644 mph. The team unloaded the backup car just 20...
Kyle Busch has been on an amazing streak of late. Last Friday and Saturday nights at Texas Motor Speedway, he won both the NASCAR Nationwide and Sprint Cup series races. I think the difference for Kyle from a year ago is that he is back to doing what he does best -- and that's called winning. Last year, a lot of his time and effort were put into Kyle Busch Motorsports to get...
It was a tough-luck weekend for Kyle Busch and his ToyotaCare Racing team. After changing engines twice in practice and losing valuable time preparing for the 167-lap race on the freshly paved 1.5-mile tri-oval at Kansas Speedway in Kansas City, Busch proved to have one of the strongest trucks in the field in the early stages of Saturday's SFP 250. After getting pinched early in...
HUNTERSVILLE, N.C. – After his win at Saturday's NASCAR Sprint Cup race at Texas Motor Speedway in Fort Worth, his second of the young season, Kyle Busch said he felt like he was "riding a wave right now that's 30 feet tall and ready to keep riding." Even though the next race on the schedule occurs at land-locked Kansas Speedway in Kansas City, Busch will hope to continue...
MOORESVILLE, N.C. – Kyle Busch sweeps into Kansas Speedway in Kansas City this weekend, where once again he will be pulling double-duty, driving the No. 51 ToyotaCare Tundra in Saturday's SFP 250 NASCAR Camping World Truck Series race and the No. 18 M&M's Camry in Sunday's STP Gas Booster 500. The last two weekend's that the Las Vegas native has pulled double-duty –...
Martin Truex Jr. is still reeling over last weekend's loss to Kyle Busch at Texas Motor Speedway. Truex led 142 of 334 laps in the NASCAR Sprint Cup race at Texas -- the only laps he's led all year -- before Busch beat the No. 56 Toyota off of pit road on the final pit stop to take the lead and the win. Not only did Truex have to accept a second-place finish and endure a...
Streaking Busch Faces Kansas Challenge The Kyle Busch that won 100 NASCAR national series races at a record clip largely disappeared in 2012. He fashioned just one victory overall and missed the Chase for the NASCAR Sprint Cup™. News flash: He's back. And how. Busch posted his second NASCAR Sprint Cup Series victory of the year in Texas to extend his string of five top-five finishes...
Welcome to the inaugural season of the Start 'N' Park Blog Pick 'Em Challenge. This will take place all year long and will feature our esteemed panel of experts who will pick a winner in the series running that weekend. For this weekend the Camping World Truck Series and Sprint Cup Series venture to the Kansas Speedway. Points will be given based on how close to firs the pick...
NASCAR News

Delivered to your inbox

You'll also receive Yardbarker's daily Top 10, featuring the best sports stories from around the web. Customize your newsletter to get articles on your favorite sports and teams. And the best part? It's free!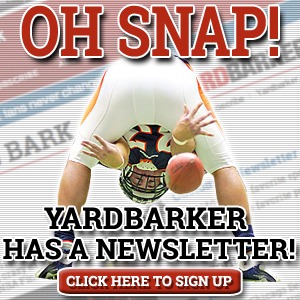 Latest Rumors
The Backyard

Today's Best Stuff

For Bloggers

Join the Yardbarker Network for more promotion, traffic, and money.

Company Info

Help

What is Yardbarker?

Yardbarker is the largest network of sports blogs and pro athlete blogs on the web. This site is the hub of the Yardbarker Network, where our editors and algorithms curate the best sports content from our network and beyond.