Found April 19, 2013 on Fox Sports:
Martin Truex Jr. is still reeling over last weekend's loss to Kyle Busch at Texas Motor Speedway. Truex led 142 of 334 laps in the NASCAR Sprint Cup race at Texas -- the only laps he's led all year -- before Busch beat the No. 56 Toyota off of pit road on the final pit stop to take the lead and the win. Not only did Truex have to accept a second-place finish and endure a 210-race winless streak, when his car failed height inspection following the race due to faulty shock, the Michael Waltrip Racing driver was docked six championship points coupled with a $25,000 fine for crew chief Chad Johnston. "We pretty much knew it was coming, so no reaction really," said Truex, who is currently 16th in the points standings, of the penalty. "It is what it is, six points, and we'll move on and go racing. I said last week that I'm not worried about points anymore. I'm tired of waking up on Monday morning and looking at points, or Sunday night when I get home. It wears you out. So we're just going to go racing, we're going to have fun, we're going to try to win races and try to finish off what we started last week." Truex believes the broken shock, "hurt us more than anything." Despite complaints to Johnston in the closing laps, Truex couldn't understand why the condition of his car changed so dramatically. At the time, he didn't realize debris had gathered inside of the shock. "As far as what we can tell, the shock broke in the last 20 laps, because the left front tire dropped out on the pit stop like it was supposed to, and after the race, the left front shock was completely seized up," Truex Jr. said. "They couldn't move it at all. And so it was definitely something that hurt us. I think the last 20 laps of the race was the first time all day I'd been tight. The car didn't handle like it had all day. It's like 'Seriously?' We get beat off pit road, and the car gets tight out of nowhere. And then I'm like, 'Chad, the car is just tight as hell for no reason -- I have no idea why.' "And then after the race we come to find out the shock was seized up. And then it was like, 'Well, maybe we could have beaten Kyle if the shock didn't seize up.' It was one of those deals like 'What's going to happen next?' We'll take the six points and move on and hopefully go win here at Kansas." Truex started the weekend off right. As part of the NASCAR Green initiative to reduce the carbon footprint, Truex and his teammate Clint Bowyer planted trees at a nearby Toyota dealership. "The Earth's happier so maybe Mother Nature won't be so pissed off at us," Bowyer said, referring to the 30-degree weather. Truex joked that he hadn't planted anything for a while, "I have landscapers." "That's real nice," Bowyer replied. "Hey, I'm on the road too much to plant trees," Truex said. And he couldn't wait to return to racing at Kansas Speedway to take his mind off last week's loss. For Truex, it's the perfect track to redeem himself. Last year on the 1.5-mile track, Truex finished second in both races. So rather than dwell on that disappointment, Truex will use it as motivation for Sunday's STP 400. "I want to win worse than anything in the entire world, and I'm not going to stop till I get it," Truex said. "Last week, I was definitely disappointed for 30 or 40 minutes, but after that I looked back, as I did last year all those times, and said, 'You know, we did a lot of really good things.' It was a really big day for us. It was a turnaround race for our season. "We've had some really fast cars all year long. A lot of terrible things happened to us, as far as finishes go, so it was good to get the ball rolling last week. We learned a lot of things with the race car that we can use, I think, here and other places this year, and really, just figuring out the new Gen-6 car. So I'm excited about what we can (do) from here on out. I'm definitely excited to be here at Kansas. We ran second here both times last year, and, hopefully, we can improve that by one spot." In support Michael Waltrip Racing will run different stylized numbers of its traditional No. 15, 55 and 56 doors to replicate the "bib" designations of the 2013 Boston Marathon runners. Waltrip, who competed in the 2000 event, posted a time of four hours, 33 minutes. "The news coming out of Boston this week was very personal to me," Waltrip said. "When I ran the Boston Marathon in 2000, I remember thinking about what a privilege it was to be able to participate and all the hard work it took to be there. When you see those international flags flying in Copley Square, you know you are about to complete your journey. I know the joy those runners were feeling at that moment when their worlds changed." Truex says he was consumed by the coverage of the aftermath of the Boston Marathon bombings. He hopes that carrying the numbers on his door this weekend will offer some form of support. "When is this going to end? What the hell is wrong with people? I'm very proud to be running the bib numbers on our race cars this weekend," Truex said. "Obviously, the whole deal, when we heard about it, it hit Michael really close to home, because he's run in the marathon before. He understands what it's like to put all the work in, the effort in to be a part of that event. It was obviously a huge honor for all those people to be a part of and then, getting ready to cross the finish line and realize their goal and be proud of something, somebody had to take that away from them and hurt a bunch of people. "It's sick. We're very proud to have those numbers on the race cars this weekend. We're all thinking about all the folks from Boston that were affected -- everybody that ran in it, everybody that watched and was around the area, everybody that was affected by it. Hopefully, we can do a little bit to help them out and let them know we're thinking of them. Fortunately for us, we haven't had much of that around NASCAR. We've got great fans and people involved with it, and hopefully, that's something we won't ever have to worry about." Extra precautions When Kansas Speedway opened up for its first Sprint Cup race on Sept. 30, 2001, the tragic events surrounding Sept. 11 were still very fresh in everyone's mind. Now, just four days after the bombings at the Boston Marathon, the speedway finds itself in preparation mode again. On Sunday, 60,000 fans are expected to attend the STP 400. Kansas Speedway president Pat Warren said on Friday the track has taken every precaution for fans to have a safe and enjoyable experience. "We have an emergency-action plan that we put in place that we coordinate with NASCAR," Warren said. "Because we were the second race three weeks after 9/11, we've always been at a really high security profile. Just the inherent nature of the sport, in order to make it safe, you have to have good security. So you're not really going to see a lot of changes. "We are doing some things -- some visible, some not. But for the most part, the fan experience, the experience in the infield may be a little more cautious pace, because we're using more diligence and checking things twice -- that kind of a thing. Other than that, I don't want to say it's, 'business as usual' because that would be too casual but we're always very concerned about security of safety so it is 'business as usual' but 'business as usual' in this sense means very serious." Say what? Clint Bowyer opened up a new Toyota dealership in his hometown of Emporia, Kan., on Thursday. Despite owning race teams, the 33-year-old says the prospect of opening up a business was mind-blowing. "It was very good," Bowyer said. "It was awesome. Just crazy to think that you're a business owner in your home town first of all, but for Darrell Waltrip, Michael Waltrip and Mark Martin there was pretty surreal to me to know that those guys came out to support you and help you out. That meant a lot to me."
Original Story:
http://msn.foxsports.com/nascar/story...
THE BACKYARD
BEST OF MAXIM
RELATED ARTICLES
HEAD-ON
On the 104th lap at Kansas Speedway, Kyle Busch's car crashed into that of Joey Logano with such force that it actually lifted the two front tires of Logano's car off the ground completely.
Joe Gibbs Racing's No. 18 team pulled out a back-up Toyota for last week's Sprint Cup winner Kyle Busch after he glanced off the wall during NASCAR Sprint Cup practice on Friday at Kansas Speedway. Busch had completed just four laps in first practice before hitting the wall exiting Turn 2. Busch's fastest lap was 180.644 mph. The team unloaded the backup car just 20...
Kyle Busch has been on an amazing streak of late. Last Friday and Saturday nights at Texas Motor Speedway, he won both the NASCAR Nationwide and Sprint Cup series races. I think the difference for Kyle from a year ago is that he is back to doing what he does best -- and that's called winning. Last year, a lot of his time and effort were put into Kyle Busch Motorsports to get...
It was a tough-luck weekend for Kyle Busch and his ToyotaCare Racing team. After changing engines twice in practice and losing valuable time preparing for the 167-lap race on the freshly paved 1.5-mile tri-oval at Kansas Speedway in Kansas City, Busch proved to have one of the strongest trucks in the field in the early stages of Saturday's SFP 250. After getting pinched early in...
HUNTERSVILLE, N.C. – After his win at Saturday's NASCAR Sprint Cup race at Texas Motor Speedway in Fort Worth, his second of the young season, Kyle Busch said he felt like he was "riding a wave right now that's 30 feet tall and ready to keep riding." Even though the next race on the schedule occurs at land-locked Kansas Speedway in Kansas City, Busch will hope to continue...
MOORESVILLE, N.C. – Kyle Busch sweeps into Kansas Speedway in Kansas City this weekend, where once again he will be pulling double-duty, driving the No. 51 ToyotaCare Tundra in Saturday's SFP 250 NASCAR Camping World Truck Series race and the No. 18 M&M's Camry in Sunday's STP Gas Booster 500. The last two weekend's that the Las Vegas native has pulled double-duty –...
CORNELIUS, N.C. — There are plenty of reasons No. 56 NAPA AUTO PARTS Toyota driver Martin Truex Jr. can't wait for this weekend's NASCAR Sprint Cup race at Kansas Speedway. The Michael Waltrip Racing driver recorded back-to-back second-place finishes at the Kansas track last year. Also, Truex is on a roll after leading 142 laps and nearly winning Saturday night's race at...
Streaking Busch Faces Kansas Challenge The Kyle Busch that won 100 NASCAR national series races at a record clip largely disappeared in 2012. He fashioned just one victory overall and missed the Chase for the NASCAR Sprint Cup™. News flash: He's back. And how. Busch posted his second NASCAR Sprint Cup Series victory of the year in Texas to extend his string of five top-five finishes...
BREAK OUT THE BROOM IN TEXAS: Camry driver Kyle Busch recorded a weekend sweep at Texas Motor Speedway with wins in both the NASCAR Sprint Cup Series (NSCS) and NASCAR Nationwide Series (NNS) at the 1.5- mile track. In Saturday night's NSCS race, Busch led more than half the race — 171 laps (of 334) — en route to victory lane after starting from the pole. Camry driver Martin...
When the Kansas Speedway was reconfigured prior to last October's race there, they created a track that could feature some action-packed and intense racing. The drivers attempted to figure-out their way around the mile and a half track last October, but they left with some knowledge and mainly torn up sheet-metal. The race featured multiple incidents and it went down in the history...
Carl Edwards led the way with a lap of 28.117 seconds in the first practice for the STP 400 from Kansas. Rounding out the top five was Ricky Stenhouse, Jr., Sam Hornish, Jr., Martin Truex, Jr., and Aric Almirola. Pos # Driver Team Time Behind 1 99 Carl Edwards Aflac Ford 28.117 Leader 2 17 Ricky Stenhouse Jr. Zest Ford 28.146 -0.029 3 12 Sam Hornish, Jr. SKF Ford...
Welcome to the inaugural season of the Start 'N' Park Blog Pick 'Em Challenge. This will take place all year long and will feature our esteemed panel of experts who will pick a winner in the series running that weekend. For this weekend the Camping World Truck Series and Sprint Cup Series venture to the Kansas Speedway. Points will be given based on how close to firs the pick...
NASCAR News

Delivered to your inbox

You'll also receive Yardbarker's daily Top 10, featuring the best sports stories from around the web. Customize your newsletter to get articles on your favorite sports and teams. And the best part? It's free!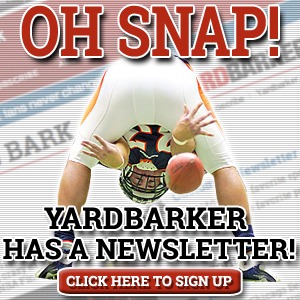 Latest Rumors
The Backyard

Today's Best Stuff

For Bloggers

Join the Yardbarker Network for more promotion, traffic, and money.

Company Info

Help

What is Yardbarker?

Yardbarker is the largest network of sports blogs and pro athlete blogs on the web. This site is the hub of the Yardbarker Network, where our editors and algorithms curate the best sports content from our network and beyond.