Ryan Blaney and Penske Racing started things on the right foot to kick off the 2018 Cup season. How did the other new driver-team duos fare? Our NASCAR experts weigh in.
NASCAR Cup Series Highlights: Ryan Blaney led over half of the Daytona 500 but got swept up in a late wreck and wound up 7th.
Ryan Blaney won the second Can-Am Duel at Daytona on Thursday with a big assist from his best bud, Darrell Wallace Jr. The two drivers may get to do something similar in the 500.
Daytona Beach, Florida — Over a fifth of the first Can-Am Duel at Daytona was run under the yellow flag, 60 of the 63 laps run were led by Joey Logano, but Ryan Blaney made a move in overtime to get his first Monster Energy NASCAR Cup Series restrictor-plate win. The Clash, run last Sunday, was also won by a Team Penske driver. The winner of that race, Brad Keselowski spent much...
Ryan Blaney holds off his teammate Joey Logano and best friend Bubba Wallace to win the first Can-Am Duel at Daytona.
Ryan Blaney helped give Team Penske its second win of Speedweeks.
Ryan Blaney talks with Adam Alexander and Larry McReynolds about his transition to Team Penske for the 2018 season.
The Team Penske driver made a young fan's dream come true Tuesday at Walt Disney World.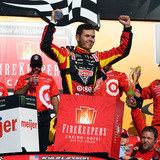 Sunday in Michigan looked like it was going to result in a boring finish for the NASCAR Cup Series. However, a series late cautions changed all of that and the end result was Kyle Larson putting the No. 42 machine into victory lane for the second time this season.Kyle Busch, Kyle Larson and Martin Truex Jr. all dominated Sunday in Michigan at various times during the race. Late in...
MORE STORIES >>
NASCAR News

Delivered to your inbox

You'll also receive Yardbarker's daily Top 10, featuring the best sports stories from around the web. Customize your newsletter to get articles on your favorite sports and teams. And the best part? It's free!