Found November 29, 2012 on With Leather:
In the style of our non-stop KIDS BEATING THE MIAMI HEAT AT BASKETBALL coverage comes this clip of Bailey, lion mascot for the NHL's Los Angeles Kings, out-shooting Dwight Howard, a guy who gets paid to win at basketball. This contest of skills was made possible by the NHL lockout, which has given the league's mascots a lot of free time, and the Los Angeles Lakers, who are currently 7-8 and still waiting for the NBA season to begin, I guess.Here's the recap, courtesy of ESPN's Dave McMenamin by way of That NBA Lottery Pick:Dwight said it didn't count unless it was on the main court. So Bailey beat him at free throws on the main court. Then Dwight moved the contest out to the NBA 3-point line. They shot 3s from the corner and Bailey, a man standing about 5-10 wearing a lion costume, beat Howard, a man standing 6-9 and wearing his basketball practice uniform and sneakers as the first person to make five 3s.That Bailey. He's so smug.Video proof that this was not just a Brandon Stroud fever dream is below. Warning: It is still not hockey.Up next, Hugo the Hornet scores a shootout goal against Henrik Lundqvist.[h/t to Danielle]The post A Hockey Guy In A Lion Costume Is Better At Basketball Than Dwight Howard appeared first on With Leather.
Original Story:
http://feedproxy.google.com/~r/uproxx...
THE BACKYARD
BEST OF MAXIM
RELATED ARTICLES
FROM DOWNTOWN
Dwight Howard isn't known for his skills on offense. It basically consists of being able to get the ball low on the block and dunking or performing the Mikan Drill. Howard is so bad as a shooter that he actually lost a FT and 3pt-shooting contest to the mascot for the Los Angeles Kings. Yes, [...]
Dwight Howard was poked by his left eye during the second quarter of the Lakers' 122-103 win over the Denver Nuggets on Friday. The Lakers center got a defensive rebound, and Nuggets guard Andre Miller scratched him by the eye as he was running by. Miller's scratch opened up a cut by the corner of Howard's eye that began bleeding. Howard went into the locker room to have it...
Dwight Howard was at Serra High School on Wednesday to film a series of commercials for Mission Athletecare and their various on court products, such as Court Grip, which reduces on court slippage.  Howard joins Dwyane Wade, Brandon Jennings and Carmelo Anthony as other partners with the company.
While Time Magazine will count down their picks for the most influential people of the year sometime in the near future, GQ Magazine has something far more interesting in the meantime: "The Least Influential People of 2012″.  Topping the parody list is this year's biggest loser, Mitt Romney, followed by celebrity trainwreck of the year, Amanda Bynes, Madonna with a failed...
GQ recently released a list titled "The Least Influential People of 2012″.  One particular NBA player made that list.  That player, you may ask?  Dwight Howard of the Los Angeles Lakers.  GQ did include an important note that states, Please note that these folks are ranked in no particular order, because all zeros are created equal. With that said, Dwight Howard is listed...
Los Angeles Lakers center Dwight Howard hit his first three-pointer since the 2006-07 season in the final seconds of the Lakers 122-103 victory over the Denver Nuggets. Howard scored 28 points with 20 rebounds and three blocks while Antawn Jamison led the team in scoring with 33 points.   The Nuggets were led by Danillo Gallinari with 19 points while Denver's high energy Kenneth...
The continuing chronicle of Dwight Howard versus The Free Throw Line hit a new rut for the Los Angeles Lakers center on Tuesday when Howard, at the end of the team's morning shootaround, was defeated by Bailey, the Los Angeles Kings lion mascot, in a shooting contest Repeatedly. Upon Baileys invitation, according to Dave McMenamin of Sulia.com, Howard was challenged to a free...
Every morning, we will give you five things from the night before in the NBA to start your day. 1: When it rains, it pours It was a rough 48 hours for the Nuggets. First was the wild finish in Golden State that ended with Andre iguodala's shot falling after the buzzer. The next night was an absolute offensive onslaught from the Lakers. It is hard out there for a Nugget...
During the fourth quarter of last night's Indiana Pacers/Los Angeles Lakers game, Indiana forward Gerald Green was attempting to throw down a baseline slam dunk.Sadly for Gerald, he ended up missing the dunk attempt and to add insult to injury, his second shot attempt was swatted by Lakers center Dwight Howard:
By the time Dwight Howard stepped back and oh-so-coolly hit just the second 3-pointer of his entire career in the closing seconds, it didn't even seem weird to the Los Angeles Lakers. With so many unlikely numbers in improbable places on that bulging scoresheet, what was one last long-distance shot for a team that finally discovered its elusive rhythm? Antawn Jamison scored...
Los Angeles Lakers center was challenged by Los Angeles Kings mascot "Bailey" to a free throw and three-point shooting contest. Bailey won both challenges. "Sometimes you have to lose to win," joked Howard afterwards. Howard's free throw average this season is 47.8 percent while his three-point average is 0.00 percent as it should be.  
LOS ANGELES -- Antawn Jamison had 33 points and 12 rebounds and Dwight Howard added his first 20-20 game in Los Angeles as the Los Angeles Lakers' super-subs lifted the team to a 123-102 win over the visiting Denver Nuggets on Friday night at Staples Center. The Los Angeles bench outscored Denver's 61-47 as Jamison and Jodie Meeks (21 points) combined to hit 20 of 28 shots...
NBA News

Delivered to your inbox

You'll also receive Yardbarker's daily Top 10, featuring the best sports stories from around the web. Customize your newsletter to get articles on your favorite sports and teams. And the best part? It's free!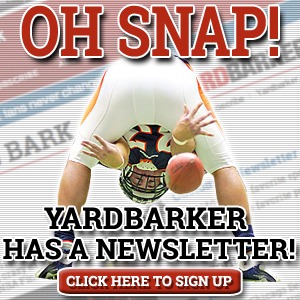 Latest Rumors
Best of Yardbarker

Today's Best Stuff

For Bloggers

Join the Yardbarker Network for more promotion, traffic, and money.

Company Info

Help

What is Yardbarker?

Yardbarker is the largest network of sports blogs and pro athlete blogs on the web. This site is the hub of the Yardbarker Network, where our editors and algorithms curate the best sports content from our network and beyond.