Found November 20, 2012 on Extra Pine Tar:
PLAYERS:
Alexey Shved
,
Andrew Bynum
,
Brandon Roy
,
Ersan Ilyasova
,
A.J. Price
,
John Wall
,
Emeka Okafor
,
Kevin Seraphin
,
Trevor Booker
,
Eric Bledsoe
,
Chauncey Billups
,
Chris Paul
,
Andrei Kirilenko
TEAMS:
Minnesota Timberwolves
,
Philadelphia 76ers
,
Milwaukee Bucks
,
Washington Wizards
,
Los Angeles Clippers
Are you officially done with Andrew Bynum? It would be understandable. The guy hasn't even set foot on the court yet and he's suffered another knee injury. Does it make it any better that the injury occurred while bowling? No, but Bynum actually has a point when he said "I'm kind of taking the position of, if that happened bowling, it would've happened jumping. I don't see anything wrong with going bowling." That makes sense, and may be one of the more sane responses we will get from Bynum until he returns to the court. I fully expect him to rapidly achieve new levels of ******* craziness the more questions he has to answer about the status of his ailing knees. At this point I really don't think you should drop Bynum. The numbers he put up in LA last season should be enough to persuade you, but also factor in just how much this Philly team was planning to rely on him and your decision should be even more clear. The middle of January isn't that far off and if your team can't tread water until then, or you simply don't have the patience for someone who does this with their hair, then you should still be able to get some value for Bynum, even if you have to include him in some sort of package. But until I hear that he's going to miss more time I wouldn't even consider dropping him. Trading him, sure, but dropping him and getting nothing of value for someone who, when healthy, has the capabilities to be the best offensive center in the game? Not for me. Now on to some quick notes. * Yes, Alexey Shved is an actual NBA player, and, surprisingly, he's actually pretty polished on the offensive end. With Brandon Roy making sure that Andrew Bynum knows who has the worst knees in the NBA, there have been more opportunities of late for Shved, and he has produced. It's tough to tell who is going to be standing once Minnesota has their full lineup healthy, but for now Shved is a worthwhile add for those looking for help at the SG spot. * Is Ersan Ilyasova ok? Did someone run over his dog before the season started? Did the Greeks invade Turkey? Does he think that for Thanksgiving we are actually going to eat his country? These questions, as far fetched as they may seem, are not nearly as inconceivable as the fact that Ilyasova went from one of the most dominant forces in fantasy basketball last season to a guy who doesn't warrant quality minutes for the Bucks. It's not even like he's getting screwed out of playing time because when he is on the floor he just flat out can't put the ball in the basket to save his life. And his rebounding, usually the bread and butter of his game, has all but disappeared. The time has come to cut the cord in most leagues, although he does deserve to be watched like a hawk on the waiver wire in case he decides to wake up anytime soon. * The Washington Wizards front court is an absolute mess right now. The same could be said for the entire roster, but the front court is the only place – other than AJ Price – where there will be any production until John Wall comes back. Emeka Okafor was benched on Monday night and the main beneficiary of that would seem to be Kevin Seraphin, but he didn't exactly wow anybody with his performance. I would look to Trevor Booker, who contributed solid numbers when given the opportunity next year, to step up. * Paging Eric Gordon. Eric Gordon… * I'm absolutely out of my mind about Eric Bledsoe. I love everything he does. Chauncey Billups is going to eat in to his minutes once he returns, but Bledsoe is a momentum swing waiting to happen whenever he's on the court. He can do it all on both ends of the floor, which is amazing considering he's barely (not) six feet tall. If the Clippers were ever to trade him, or Chris Paul went down for an extended period of time, then Eric Bledsoe would be a top 10 PG. That's right, if Eric Bledsoe got starters minutes he would EASILY be a top 10 point guard. If you project his stats on a 30 minute per game basis, he would have averages of 16.6 ppg, 4.5 apg, 4.5 rpg, 2.6 spg and .8 bpg. #FreeEricBledsoe * Andrei Kirilenko's resurgence gives us the chance to remember that he and his wife have an "agreement." Be a little wary of Kevin Love's impending return, but with the way AK47 has been playing there is no reason that he won't continue to log heavy minutes (36.1 mpg) even when Love gets back on the court.
Original Story:
http://www.extrapinetar.com/2012/11/2...
THE BACKYARD
BEST OF MAXIM
RELATED ARTICLES
PLAYING FOR KICKS
Andrew Bynum comes across as a bit of a goofball, but would someone actually say the center doesn't even like playing basketball?
Somehow, Andrew Bynum has become the story of the young 2012-13 season without playing a single minute. First, he was traded from the Los Angeles Lakers to the Philadelphia 76ers in a massive deal that sent Dwight Howard to the Lakers, then he injured himself and then re-injured himself bowling and may not play until January, if at all. Oh, and somewhere along there, he got a crazy...
Andrew Bynum hurt himself while bowling. No matter how you roll it, that is funny. So funny, in fact, that it makes a great poorly animated Photoshop job. A couple of skilled fans took up the mantle of putting Bynum's injury in its proper context by creating a couple GIFs of the Philadelphia 76ers center's plight. These may not be funny to Sixers fans or Bynum himself, but if...
Philadelphia 76ers center Andrew Bynum has been out since the before the season started with a knee injury. Doctors are now saying he may not play at all this whole season if he chooses to go through surgery. Jason Wolf of The News Journal reports about Bynum's possibility of missing the entire season.One internationally respected orthopedic surgeon, who is not involved with...
  Wanna know why Andrew Bynum has pushed back his return? Bowling. The guy re-injured his knee, bowling. I mean, c'mon, seriously? The city of Philadelphia has been waiting for his return on pins and needles, on now they have to deal with the fact that he isn't taking his recovery seriously. Bynum is a free agent next season, unrestricted. This could get ugly.
Regular readers of these pages, are well aware of the amount of criticism that Philadelphia 76ers center Andrew Bynum, has received from this corner over the years. Although, Bynum's talent has never been questioned, his durability certainly has been up for debate; as he has spent a good part of his career in the Association on the sidelines, due to injuries. Spending his first...
BOWLING? Are you kidding me? Bowling? On Sunday, Sixers center Andrew Bynum said he does indeed believe that he injured his left knee while bowling a week ago Saturday. Bynum, who has not played for the Sixers in the preseason or regular season since coming over from the Los Angeles Lakers, said he most recently…
Delaware Online "The truth is that the 7-foot, 285-pound former All-Star center who has yet to play a game as a Sixer may be out for the season and will learn in December, at the earliest, whether he'll require surgery that could sideline him for up to a year. One internationally respected orthopedic surgeon, who is not involved with Bynum's treatment and has not seen...
With Andrew Bynum's ever-evolving fro, it was only a matter of time before the Legends at TNT's Inside The NBA decided to have a little fun with the Sixers big man. With the magic of some brilliant photoshop work on their show, the image above may have topped them all. Analyst Charles Barkley became a victim of the Yolo Fro, as his bald head got topped with the Bynum "Ike...
Andrew Bynum contends that he did not suffer any trauma to the knee.
Andrew Bynum's agent continues to keep the specifics of his client's knee issue a secret.
Quite unexpectedly, Kevin Love returned to action and immediately dropped 34/14/2 with steals, a block and 2 threes. Of course, I was traveling yesterday and didn't get him into my lineup in the one league I own him in but that's okay, I'm not greedy, I'll gladly take his stats the rest of the year. Was this line a bit shocking after missing over a month? Hell yeah, but then...
NBA News

Delivered to your inbox

You'll also receive Yardbarker's daily Top 10, featuring the best sports stories from around the web. Customize your newsletter to get articles on your favorite sports and teams. And the best part? It's free!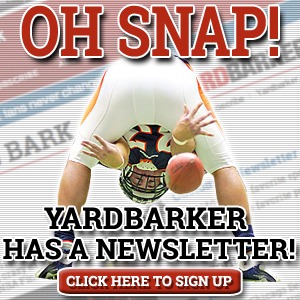 Latest Rumors
Best of Yardbarker

Today's Best Stuff

For Bloggers

Join the Yardbarker Network for more promotion, traffic, and money.

Company Info

Help

What is Yardbarker?

Yardbarker is the largest network of sports blogs and pro athlete blogs on the web. This site is the hub of the Yardbarker Network, where our editors and algorithms curate the best sports content from our network and beyond.