Found March 16, 2013 on Knickswag:
By, Aaron Kopperl – Knickswag Contributor In a manner all too similar to the 2011-2012 season, Amar'e Stoudemire is facing another serious injury that will keep him sidelined until at least the start of the postseason. Apparently, whenever Amar'e feels any "soreness" these days, that's basically code for "your seasons over, STAT".  Stoudemire had knee debridement surgery on his right knee, which is the same procedure that kept him out until New Year's except, in that instance, it was on his left knee.  Now people are starting to wonder if Amar'e's days in New York are limited, as his body continues to gradually turn to $100 million dust. Well, it does sound like a good idea to part ways with a physically deteriorating former star who signed an uninsurable max contract, but it'd be hard to imagine a team stupid enough to trade for him at this point.  Amar'e may become more of a trade chip in the final year of his deal in the 2014-2015 season when he becomes a $20 million expiring contract, but that's still a full season and half away. With each injury that Amar'e is dealt with, it becomes less and less likely that he'll return to his MVP-caliber form that swept New York by storm when he first arrived in 2010.  He was already reduced to a 7th man role with a 30 minute limit. The real shame of it all is that Amar'e works so hard to keep his body in shape with his vegan diet and he worked so vigorously with Hakeem Olajuwon last summer to develop a post-game, which the Knicks desperately needed. It was so fun and exciting to watch STAT put opponents "in the blender" with his version of the Dream Shake and then slam it down ferociously with one hand in the 29 games he played this season. Sure, we may very well see those moves again next season when he's on an even shorter minute restriction and every time he does those moves, it will just serve as a sad reminder of how skilled and gifted this man truly is and what a terrible shame it is that he can never stay healthy. However, enough of this sad talk about Amar'e. Before you call Glen Grunwald up on your iPhone and demand him to trade STAT, let's take a minute to remember everything he did for this Knicks franchise.  Let's not forget how much of a horrendous embarrassment the Knicks were for most of the 21st century when Stephon Marbury and Eddy Curry were our stars. Those were truly some dark days.  In the summer of 2010, Amar'e saved the Knicks franchise by signing a max contract to put the Knicks back on the map.  Sure, the contract was far too long and far too lucrative,but it had to be done. Looking back, the Knicks would be far better off if they had retained David Lee and signed him to a max contract and let Amar'e sign elsewhere. However, no true Knicks fan can truly say they would be better off, because if Amar'e hadn't signed with the Knicks, Carmelo Anthony wouldn't have demanded a trade to New York. Amar'e and Melo, the best buddies, schemed to be together. If Amar'e hadn't come to New York, we may have seen Melo dealt to the Brooklyn Nets. Overall, it seems Amar'e's best days are far behind him and he will never be that star player back when he first signed, but before you condemn the man and call him everything that is wrong with this team, just take a minute to think about where this franchise would be if Amar'e didn't, as he once put it, "Bring the Knicks back". The post Amar'e Stoudemire: A Lost Knicks Tenure appeared first on Knickswag - A New York Knicks Blog - News, Rumors, and more!.
Original Story:
http://knickswag.com/amare-stoudemire...
THE BACKYARD
BEST OF MAXIM
RELATED ARTICLES
The Knicks are currently in LA to face off against the Clippers on Sunday. The timing was perfect for Kenyon Martin, his ex-wife Heather lives here with their three children. His daughter Cierra had a 50′s themed father-daughter dance so Kenyon dressed up as the Fonz or Danny Zuko ("Happy Days" and "Grease" references) for the occasion. Super cute, I love to see dads and...
Knicks Sign Kenyon Martin For Remainder Of Season — bit.ly/ZNY9wl — RealGM (@RealGM) March 15, 2013   The post Kenyon a Knick for the Remainder of the Season appeared first on Knickswag - A New York Knicks Blog - News, Rumors, and more!.
The New York Knicks are dealing with knee problems to three of their key players, but J.R. Smith is more concerned about another part of the body as the team continues to stumble towards the back end of a five-game road-to-ruin swing. "We got to checkout our heart right now," said the Knicks guard. "We either got to compete or pack up and go home. It's just that...
Who remembers back to early December? The New York Knicks were 14-4 with two (not one, not three, not four) 20-point victories over the Miami Heat. I do not think anyone was crowning the Knicks the Eastern Conference champs at that point, but there was some hope that they could at least give the Heat a good run. Fast forward to today where the Knicks are still a respectable 38...
By, Charles R. Trimble III – Knickswag Contributor Sometimes it seems like the Knicks are a cursed franchised. Despite coming close, they have not won a championship in 40-years. Bernard King's injury, numerous Game 7 heartbreaks, unfortunate suspensions and then to add insult to injury, having to witness former coach Pat Riley build a dynasty in Miami! Then you have the 2012...
Every Sunday Kevin Smith will preview the New York Knicks upcoming schedule from a fantasy perspective and take a quick look around the NBA. Kevin writes as Dime Magazine's Fantasy Doctor. For more extensive fantasy basketball advice, click here. KNICKS SCHEDULE ANALYSIS Monday at Utah Utah is a totally different team at home (23-8) than on the road (10-24). After surrendering...
Knicks vs. Clippers: ABC 3:30PM The Knicks come into this afternoons game on a 3 game losing streak without their 3 top players and looking more like a lottery team than a 3 seed and a division leader at 38-25. They face one of the best teams in the league with most likely the best PG in the league in Chris Paul. The Clippers have the deepest bench in the league and a great record...
Kenyon Martin is averaging 5.7 points, 3.2 rebounds and 1.17 steals over 18.9 minutes in six games.
photo via msg.com   WHO: Knicks (38-25) @ Clippers (45-21) WHEN: 330PM/ET, ABC W2W4: At this point, I just want this road trip to end.  I knew it would be a challenging test for the Knicks, but I did not think they'd go winless, losing by 29, 23, and 15 points in their last three games. With the Knicks matched up against the Clippers today, things will only get worse before...
Blazer fans didn't heed Jason Quick's advice. Quick, The Oregonian's excellent Blazer Insider, implored fans to cheer Raymond Felton in his return to the Rose Garden last night. Felton didn't get cheered. He was booed. Booed hard. The fans booed him the very first time he touched the ball. After he checked out of the game, they booed him when he returned. They booed...
The Big Leagues Renaldo Balkman says "Keep it together, guys."
NBA News

Delivered to your inbox

You'll also receive Yardbarker's daily Top 10, featuring the best sports stories from around the web. Customize your newsletter to get articles on your favorite sports and teams. And the best part? It's free!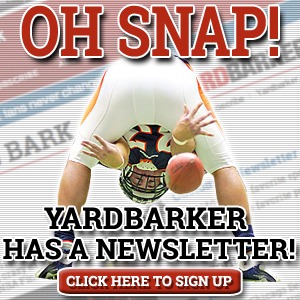 Latest Rumors
Best of Yardbarker

Today's Best Stuff

For Bloggers

Join the Yardbarker Network for more promotion, traffic, and money.

Company Info

Help

What is Yardbarker?

Yardbarker is the largest network of sports blogs and pro athlete blogs on the web. This site is the hub of the Yardbarker Network, where our editors and algorithms curate the best sports content from our network and beyond.