Found March 20, 2013 on All Sports Everything:
photo via David Maialetti / philly.com When the Philadelphia 76ers traded for Andrew Bynum last summer, Sixers fans thought they instantly upgraded their team. Coming off of a career-season, averaging, 18.7 ppg and 11.8 rpg, Bynum was seen as a key piece to competing with the Eastern Conference powerhouses such as the Miami Heat, Chicago Bulls, Boston Celtics, Indiana Pacers, and New York Knicks. However, it's been quite the contrary.  Bynum hasn't logged one second of playing time since joining the Sixers.  And it's quite possible, he may never.  Earlier this week, it was announced Bynum will have season-ending arthroscopic surgery on not one, but two knees. Bynum, 25, is a free agent this summer. The 76ers must decide if they make an effort to re-sign him or let him walk.  The seven-footer made $16.9 million for riding the pine this season.  Based on his work ethic, or lack thereof, and the perception that he now has a degenerative knee problem, which could be career suicide for a man of his size, it's doubtful he'll command another hefty multi-year contract. Philly sports fans hate him for ruining their season, and would prefer to be done with him.  According to Pro Basketball Talk, they're not the only ones fed up with Bynum's malcontent behavior.  His former high school athletic director and coaches also want nothing to do with him.  Here's what was reported, Everyone here at school says the same thing: What's wrong with him? Why does he act like that?" says St. Joe's athletic director Jerry Smith. "He went from someone we're proud of to someone whose name we don't even mention anymore." "Yeah, I never respond to that kind of request (to defend Bynum), because Andrew has chosen not to stay in touch for whatever reason, so I just don't get involved with it," says Mark Taylor, who now coaches the St. Benedict's Prep powerhouse. "I don't dislike him, and he'll continue to do well if he can stay healthy, but I'm sure he's got people who will guide him in times like this." "Like most big guys with big expectations, he seemed uncomfortable with them," says Wendell Alexis, the former Syracuse star who was Taylor's assistant in 2004-05. "And subsequently, he seemed leery of people around him — coaches, or agents, or could be anybody. He had a very serious nature for a 17-year-old, actually, whereas most people that age — with that talent — would think the world was their oyster. Normally when the chips are down, you can always count on people who knew you from way back when to have your back.  Yet, to have Bynum's former coaches and athletic director publicly voice their disapproval of him speaks volumes about his character. If you can't return home, where can you go? Cold world. -@sdotrenee Props: Pro Basketball Talk
Original Story:
http://allsportseverything.com/2013/0...
THE BACKYARD
BEST OF MAXIM
RELATED ARTICLES
The Philadelphia 76ers have not even been able to see Andrew Bynum play in their uniform for their team.  The former Lakers center has battled knee issues all season and is now set for bilateral knee surgery that will end his season.  And to top things off, Bynum is a free agent at the end of the year. Do the 76ers bring him back even though they lost an entire season to his health...
You cant get too caught up in the hype. If nothing else, the Andrew Bynum situation has taught us that much. Bynum is a 25-year old center who owns several championship rings and All-Star appearances. Hes a 7-footer with athleticism, a decent touch near the basket and a knack for altering shots. So when the Lakers made their push to land Dwight Howard last summer, the 76ers lunged...
Tops the list of Sixer BUSTS Thank you Andrew Bynum for opting for season ending surgery! Mercifully us fans can now be spared the routine B.S. that surrounds your health, hair and future with the Sixers. Now we can move on and wait to see if you are healthy enough for other teams to sign you next season for that "9 figure payday". Do you deserve such a deal? That answer should...
The hits keep on coming for Andrew Bynum. Not only does the Philadelphia district attorney want to investigate him for fraud, but those at his high school aren't too proud of him anymore. The Star-Ledger's Dave D'Alessandro spoke with Bynum's high school coach and athletic director for a column on the Philadelphia 76ers big man, who is out for the season because of knee problems...
Andrew Bynum may never suit up for the Philadelphia 76ers. The Sixers announced Monday that Bynum will undergo arthroscopic surgery on both knees Tuesday, and he'll miss the rest of the season. Doctors will clean out loose debris in Bynum's knees "in an attempt to alleviate pain and swelling." "After many months of rehabilitation and consulting with ...
Looks like the Andrew Bynum era in Philly has officially come to an end before it ever began. The Sixers have announced that Bynum will have surgery in BOTH KNEES tomorrow and is done for the season. Bynum is on the final year of a deal that paid him $16 million this season. His surgery means he will enter free agency with his last basketball action happening when the Lakers were...
The WIP Morning Show is done with Andrew Bynum and his knees. So when Sixers head coach Doug Collins said he hopes "we all keep [Bynum] in prayer "and that even though he hasn't played all season that he's still a 76er", show host Angelo Cataldi lost it.So in response, Cataldi created a "Get Well Out Soon" card and has invited Sixers fans to sign it. Along with the...
At the beginning of the season, I warned people that it was possible that Andrew Bynum would never take the court for the Sixers. When you have Oden-Like knees, rest isn't enough. Bynum knees are very brittle and he didn't help himself by being out of shape and bowling on his off days. His timetable kept being push farther and farther back, that you knew eventually he would...
Andrew Bynum has personally screwed over the 76ers franchise. STNTV's David Brickley gives you the details. SUBSCRIBE: http://sprts.is/STNTVSubscribe TALENT: David Brickley: http://twitter.com/davidjbrickley VIDEO: Troy Cruz: https://twitter.com/Troy_VE STNTV Social: Twitter: http://twitter.com/stntv Facebook: http://sprts.is/STNTVFacebook The post Andrew Bynum Screws Over...
Andrew Bynums season is officially over! He's set for season-ending arthroscopic surgery on both knees Tuesday. Philadelphia now has to decide if it will offer the former All-Star center any kind of long-term deal without him ever playing a second for the franchise. Bynum was acquired from the Los Angeles Lakers as part of a
Andrew Bynum has not even suited up for the Philadelphia 76ers this season.  There was some thought that he could suit up later this month, but that idea is now [...]
Andrew Bynum has received criticism from NBA analysts such as Magic Johnson and former mentors like Kareem Abdul-Jabbar.
76ers News

Delivered to your inbox

You'll also receive Yardbarker's daily Top 10, featuring the best sports stories from around the web. Customize your newsletter to get articles on your favorite sports and teams. And the best part? It's free!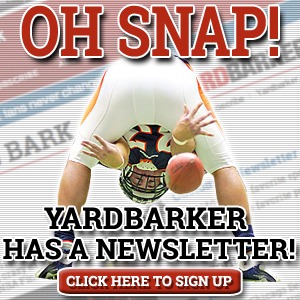 Latest Rumors
Best of Yardbarker

Today's Best Stuff

For Bloggers

Join the Yardbarker Network for more promotion, traffic, and money.

Company Info

Help

What is Yardbarker?

Yardbarker is the largest network of sports blogs and pro athlete blogs on the web. This site is the hub of the Yardbarker Network, where our editors and algorithms curate the best sports content from our network and beyond.