Found January 16, 2013 on isportsweb.com:
After their win over the Minnesota Timberwolves in Dallas on Monday night, Dallas is looking more like the team of old, not in age, but in working together and putting something nice on the court for the fans to see. It felt good, it looked good and you could tell that the players were in agreement with it because they looked relaxed and even smiling, yes I said smiling during the course of the game. This was Dallas' third win in a row, so I'm not going to go all gang busters about a streak, but it has looked like a different team that say even a month ago, why? One of the reasons could be that  Dirk is back and is finally feeling a little bit more of his grove is back on as well. Even though he only scored 10 points in the last game, he also had 6 assists during the game and even though he only had 6 assists, just his presence on the court draws attention. The opponent doesn't know if he's going to make the play or pass it off to someone else so that they can make the play, so it keeps them guessing. Dallas shot 59.7% from the field, which is not much below what they had shot throughout the whole game, at one point, they were shooting 62% from the field, not bad for a team that has been written off by a lot of naysayers. The key to such good shooting there Tex, is the transition game. Dallas had their game in overdrive from the very beginning and you can tell that everyone was in on the success when you see Dirk make 2 baskets on the run and even dunked on one! Now usually you'll see players like O J Mayo,  Darren Collison, Roddy B or even Shawn Marion on the fast break and working the transition, which they did, but now everyone is getting sucked into the flow and it's working. The proof as they say is in the pudding; Dallas ended the game with 33 assist and that only works if the team is working together and they showed how it's done in this game for sure. But if you at least look over the last 3 games that Dallas has won, the transition game worked there, the total sharing of the ball worked there as well and again I will say, this has a lot to do with Dirk being back into the flow of the game. I realize that he missed a good portion of the beginning of the season and Dallas was lucky to stay at .500 during that time; we all anticipated his return, but really didn't know how his return would effect not only the team as a whole, but also Dirk himself. Yes we were all glad to see him on the court in San Antonio, but he wasn't at a strength that was useful to the team and as he had stated on more than one occasion, he felt that he was more of a hindrance than a help because he couldn't close out games and didn't think that he was effective enough, case in point the overtime game against Oklahoma City. Dirk has never shyed away from taking control of the ball or the ball game, especially late in the game or in overtime, but his strength was not where it needed to be and when his team was counting on him to do what he normally does and did, you could see the urgency in the game for someone else to take the helm and run with it. This is something that the Dallas Mavericks are going to have to learn to do anyway. Dirk is only going to be able to be an effective player for a few more years and someone needs to say "hey, I can help, I'll do that" and we all know that Dirk really doesn't like being the center of attention, except maybe on the court during the game when he's in his zone. This is one of the main characteristics that I have respected about him for some time. He is a very humble player and that attitude effects the team as a whole and they all are on that band wagon. It's never me or I when it comes to winning, it's about team; the only time you will hear an "I", is when something needs to be improved upon and then they will all say, "I need to do this or I need to do that to help the team", that's it. There are no superstars on this team and even though Dirk is what most of us classify to be a superstar, he doesn't think of himself in that manner. Dallas is doing better at working the system. Take for instance, as I stated, they had 33 assists in the games against Minnesota, which also had 6 guys in double-digit scoring, they also had more points in the paint and these type of things are becoming a repetitive nature and if they continue on this track, there's no reason as to why they can't compete for any position in the standings. Right now, the Mavs are in the 12th spot in the Western Conference, but when you look at it, they are only 1.5 games out of the 11th spot and if you look further, they are only 4.5 games out of that illustrious 8th seed; so it can be done. We have played 39 games before they match up with the Houston Rockets and have 43 games left, so as they say, "it's anybody's ballgame", so now it's just a matter of who wants it. The keys to a victory is, protect the ball, pass the ball (when needed), and rebound the ball. I have said it over and over many times that the best offense starts with a good defense and if you can't defend the ball and block out, then you are going to have to work harder to secure a win. And with that, I will bid you a good day and say good luck and let's go Mavs!  
Original Story:
http://feedproxy.google.com/~r/isport...
THE BACKYARD
BEST OF MAXIM
RELATED ARTICLES
Dallas Mavericks center Chris Kaman stepped outside of the basketball world for a few minutes during a recent radio interview and tackled a subject that seems to be important to him. Kaman, a gun owner, gave his take on gun legislation. The 30-year-old, who signed a one-year deal with the Mavericks in July, said he understands some aspects of the firearm regulations being discussed...
DALLAS (AP) -- The Dallas Mavericks have signed veteran guard Mike James to a second 10-day contract. Dallas is the 11th NBA team in 11 seasons for the 37-year-old James. He has scored eight points on 3-of-16 shooting in five games, but was on the floor ahead of starter Darren Collison in the tense final minutes of Wednesday night's 105-100 victory against Houston. If the Mavericks...
  At 16-23, the Dallas Mavericks have been nowhere close to the NBA title contenders they have been in the past. At 7 games under .500, they will have to fight just to make the playoffs in the tough Western Conference. The team failed to sign star point guard Deron Williams this off-season, and Dirk has shown signs of aging. Enter team owner Mark Cuban who let it be known recently...
The Dallas Mavericks signed guard Mike James to a second 10-day contract on Friday. James had signed a 10-day contract on Jan. 8 and played in five games, averaging 1.6 points and 1.0 assists off the bench. The 10-year NBA veteran has averaged 10.3 points and 3.5 assists with a well-traveled career that has included stops in Miami, Boston, Detroit, Milwaukee, Houston, Toronto...
As expected, Mike James will sign a second 10-day contract with the Dallas Mavericks today. The Mavs were convinced they needed to keep James following his solid play after the point guard signed his original 10-day contract with the club on Jan. 8…"He played real solid [Wednesday] night," coach Rick Carlisle said. "He did a lot of good things." via Dwain Price, Star-Telegram  
With the NBA trade deadline about six weeks away, Dallas Mavericks owner Mark Cuban has announced that team is ready to make a deal.  "We're letting everybody know that the 'Bank of Cuban' is open. If it's the right deal, we don't mind taking back money. But we're not going to do a trade just to do a trade. It's got to be worthwhile." The Mavericks are having...
THE RIGHT STUFF
Video: Dirk is out of this world!
Dirk Nowitzki wants to be a Dallas Maverick forever, but also doesn't want to be chasing a low playoff seed every year either. The figurative (possibly literal) Bank of Mark Cuban is open, but he doesn't want to take on bad salary or deviate too far from the flexibility Dallas has built either. The Mavs have won [...]
(Eds: Updates. With AP Photos.) By SCHUYLER DIXON AP Sports Writer The Dallas Mavericks are finally playing like the team they thought they built after Deron Williams spurned them in the offseason. If they keep this up, it might not be too late to extend their playoff streak to 13 seasons. The Mavericks have won a season-best four straight games since dropping 10 below .500 for...
DALLAS (AP) -- Dirk Nowitzki scored 19 points, O.J. Mayo hit two tiebreaking free throws and the Dallas Mavericks held off a Jeremy Lin-led surge to beat the Houston Rockets 105-100 on Wednesday night. Lin and James Harden combined to score the last 18 points for the Rockets, who erased an 11-point fourth-quarter deficit and got even at 97. After Elton Brand blocked a layup attempt...
DALLAS -- Kevin Durant scored a career-high 52 to lead the Oklahoma City Thunder to a hard-fought 117-114 overtime victory Friday night over the Dallas Mavericks at American Airlines Center. Oklahoma City (32-8) won its sixth game in row in its first return trip to Dallas since beating the Mavericks in the first round of the playoffs last season. Both meetings between these clubs...
DALLAS -- On the eve of the All-Star starters for each conference being announced, the Houston Rockets' backcourt hardly looked All-Star worthy in a 105-100 loss to the Dallas Mavericks Wednesday night at the American Airlines Center. Jeremy Lin missed 1 of 2 free throws in two critical trips to the free-throw line late in the game and then committed a turnover with 15 seconds...
Mavericks News

Delivered to your inbox

You'll also receive Yardbarker's daily Top 10, featuring the best sports stories from around the web. Customize your newsletter to get articles on your favorite sports and teams. And the best part? It's free!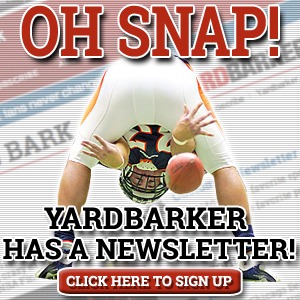 Latest Rumors
Best of Yardbarker

Today's Best Stuff

For Bloggers

Join the Yardbarker Network for more promotion, traffic, and money.

Company Info

Help

What is Yardbarker?

Yardbarker is the largest network of sports blogs and pro athlete blogs on the web. This site is the hub of the Yardbarker Network, where our editors and algorithms curate the best sports content from our network and beyond.