Found June 06, 2012 on Extra Pine Tar:
When playoff time comes around here, this site tends to get a little "homery" if that's a word. I dont think there's anything wrong with that. One of the best things about sports is getting caught up in a great run by your favorite team.
Well, the Celtics are on one hell of a run.
Have they gotten a little lucky with Derek Rose going down and Bosh being dinged up? Sure. But things have gone against the Celtics much more than for them. First it was Ray Allen's ankle, then Paul Pierce's knee and Avery Bradley's Lego shoulder. The Heat were playing at a seemingly unbeatable level and the Celtics were coming off of a hard fought 7 game series with a young, athletic team.
It wasn't looking good.
They went down 2-0. Between the dominance of Lebron and Wade, the ref's, the fact that Rondo had one of the best post-season games ever and they still lost and the injuries – the end of the Big 3 + Rondo era seemed to finally be coming an end. The window had officially closed.
A good win at home, a close game with some Celtic bounces, and just as quickly – the window was creaking open again. But this is an old window with a lot of use. It wasn't just going to open again without a group effort. And that's just what the Celtics got Tuesday night, a group effort. Five players scored in double figures with Garnett leading the way with 26.
But that's not the story. The story was Mickael Pietrus channeling his inner 2009 playoffs, Keyon Dooling hitting a huge three after getting his fewest minutes of the series and Paul Pierce – the Captain and the Truth – stepping up and hitting the biggest shot of the series in that face of the best defender (on or off the ball) in the league.
Going in to this series you knew there was going to have to be a game where Paul Pierce stepped up and won it by himself if the Celtics were going to have to chance at advancing. This was certainly the game for it. The Heat were back in Miami and the crowd was ACTUALLY in to it. With 92% of the teams who have won the 5th game when the series is tied 2-2 going on to win, this was a must win. The type of game where Pierce has stepped up time and time again throughout his career. The type of game that he had on a regular basis when they won in 2007.
Then Pierce didn't do what we've all come to expect from him. He was ice cold and couldn't seem to get to the line. And on the other side of the ball, Lebron was absolutely torching him. Even though he's playing on a hurt knee, you still expect him to at least show up on the defensive end.
Still, somehow, the Celtics were staying in the game. And as the game wound down it became clear that somebody was going to have to hit a big shot at the end. At first it seemed like it might be Pietrus, then the Heat came back. Pierce got to the line, but it was obvious the C's were going to need a dagger.
That's when Paul Pierce did what he's done his entire career. He lulled Lebron to sleep and right when James went back on his heels from a second – Pierce pulled it. Right in his eye. Without hesitation.
The Heat came close at the end, but with the way Ray Allen had been shooting free throws (a great sign that he's really getting his shot back, even if his shooting percentage wasn't there) it was going to take a miracle for the Heat to win.
Having the confidence to take a shot of that magnitude after the off shooting series he's had, coupled with the fact that he's nowhere close to healthy, shows the type of player that Pierce is. Unafraid to miss that shot and trusting that his teammates have his back. It's the way he's played his whole career, and no matter how many times he misses that fade away from the elbow at the end of a game – there is nobody I would rather have taking that shot.
But it wasn't just that one shot, it was the way different players carried the team for certain stretches. The confidence that the supporting cast has, and the trust that these players have in each other is what seperates this team from the Heat. More so than the coaching – where Boston has the obvious advantage – or the role players – where Boston again has the advantage – it's the team concept that they have all embraced.
As bad as the Heat's role players are, there should still be more chemistry than this.
Lebron said at the half, "I'm pleased with my individual peformance." Congrats, Lebronda. You're really just never going to get it, huh? Until every player on your team believes that he can contribute ALONG WITH YOU, then your teams will always come up short.
Paul Pierce knows that it takes an entire team to put him in that oppourtunity to take that shot. Lebron James tries to do everything himself until the end and then gets surprised when Udonis Haslem almost has a hear attack because he passed the ball to him with 2 seconds left. The Celtics, and Paul Pierce, learned a long time ago to check their ego's at the door and buy in. Don't make any excuses, no matter how many injuries or bad calls, you don't make excuses.
I'm not going to say this series is over because I'm not that much of a homer. I've seen this Heat team play all season long and you'd have to Helen Keller to not realize how dangerous they are. But the Celtics have put themselves in an amazing position. They've just got to win one game at the Garden, and then it's back to the promised land. One step closer to 18.
If the Celtics advance it will be because of more than just "gritt and balls." It will be because they truly play as a team, a unit, a family. Something that Lebron James and the Heat know nothing about. In a family, you don't have to do everything on your own. In a family people give you support and love, and you don't want to do anything to let those people down. Whether that means gutting it out through bone spurs, playing an entire game PLUS overtime or hitting a huge three in the face of the best defender in the game after you haven't shot the ball well in a week.
"UBUNTU" means "I am what I am because of who we all are." The Celtics are in this position because, as a group, they have been able to lift and pull that creaky old window open again.
My name is Pete Mastors, and I love the Boston Celtics.
Original Story:
http://www.extrapinetar.com/2012/06/0...
THE BACKYARD
BEST OF MAXIM
RELATED ARTICLES
COMING UP CLUTCH
Oh my... If the Celtics are able to close out this series, we're gonna be talking about this shot for a long time. Not 1, not 2, not 3, not 4, not 5, not 6, not 7 years... but for a long time. (Video courtesy @jose3030)
After trailing by 13 in the first half to the Miami Heat, the Boston Celtics rallied back to eventually take a five point lead at the end of the third. It was a seesaw from there on as the Celtics and Heat both traded leads in the fourth. As so often is the case in a close fourth quarter, one play can make the difference. It was Paul Pierce who took the dagger and drove it into...
OH VEY MARIA
Maria Menounos will not be attending Game Six between the Heat and Celtics tonight, but that doesn't mean she's any less of a fan. Dressed in her Paul Pierce jersey, Maria went on a cute little rant about her Celtics fandomness. Dear, you could yell at me any time you want for leaving my dishes in the sink. In fact, I'd even forget to take out the trash. Propers to @MichaelHayes...
PAULPIERCE!!! Came up with a huge three pointer tonight to help the Celtics take a 3-2 series lead over the Miami Heat in the Eastern Conference Finals. Pierce and one of Miami's 'big three', Dwyane Wade have both been involved in some pretty odd injury ordeals. Pierce, channeling Willis Reed, hurt his knee in Game 1 of the 2008 NBA Finals against the LA Lakers and had to...
Paul Pierce received the ball with under a minute to go and some room to breath in front of the 3-point line. The Celtics captain didn't bother pump faking or even attempting to drive to the hoop, as he was as confident as ever that he could seal a colossal Game 5 win with one stroke of the netting. Pierce sunk the clutch 3-pointer with :52 seconds to play in Tuesday night'...
 What an exciting game!   I have to admit that I was very surprised that the officiating was even.  Good job by the officials for the most part.  But I know that the Heat fans didn't feel that way since they didn't get their usual +20 free throw advantage.   It is just amazing how Heat fans turn on their own team and players.  Wow!  No loyalty whatsoever.   My...
Why am I surprised? This is the 2012 Celtics. They followed up a gritty, gutty win in Miami with a pathetic peformance at home with a Finals berth on the line. LeBron James was phenomenal: 45 points, 19-26 FG and 15 rebounds. Paul Pierce was phenomenally awful: 9 points on 4-18 FG. James is going to get all the credit, but the Celtics beat themselves tonight. Bad turnovers...
Take a trip back to February 22nd. The Boston Celtics had a record of 15-17, were almost out of the playoff picture, and were on a five game losing streak. Paul Pierce, Ray Allen and Kevin Garnett all were being tagged with the "washed up" label, and the story around this team was whether or not it was time to move forward and start a new era of C's basketball at the trade...
Athletic competition has become almost devoid of true patience. Basketball, in particular is generally a rampage of emotion and speed that can be quite overwhelming. Patience has become a lost art in the world of sports. It is the most important of the seven heavenly virtues. Patience is said to specifically oppose the vice of wrath. However, this is not something that is an exact...
This is what MVP's do. When their team needs them and it's win or go home, they rise up to the occasion, put their team on their back and get the W. Last night, Lebron James epitomized what it means to be an MVP. 45 points, 15 rebounds, 5 assists and 1 win. The last stat is the only number that really matters for the Miami Heat as they get the critical game 6 victory, 98-79,...
Dwayne Wade had 27 points.  Lebron James had 30.  The Heat had their home crowd dressed all in white behind them.  Miami out rebounded Boston 49-39.  Paul Pierce shot 6-19.  Ray Allen made just 2 of 9 field goal attempts.  And Rajon Rondo hit only 3 of the 15 shots he put up.  Yet somehow the Celtics won their third straight game in this series. What the Celtics are doing...
NBA News

Delivered to your inbox

You'll also receive Yardbarker's daily Top 10, featuring the best sports stories from around the web. Customize your newsletter to get articles on your favorite sports and teams. And the best part? It's free!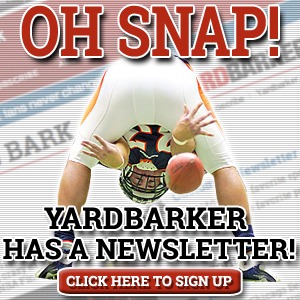 Latest Rumors
Best of Yardbarker

Today's Best Stuff

For Bloggers

Join the Yardbarker Network for more promotion, traffic, and money.

Company Info

Help

What is Yardbarker?

Yardbarker is the largest network of sports blogs and pro athlete blogs on the web. This site is the hub of the Yardbarker Network, where our editors and algorithms curate the best sports content from our network and beyond.