Found March 17, 2013 on All Sports Everything:
photo via msg.com   WHO: Knicks (38-25) @ Clippers (45-21) WHEN: 330PM/ET, ABC W2W4: At this point, I just want this road trip to end.  I knew it would be a challenging test for the Knicks, but I did not think they'd go winless, losing by 29, 23, and 15 points in their last three games. With the Knicks matched up against the Clippers today, things will only get worse before they get better.  The Clippers will take advantage of an extremely depleted Knicks roster, their lack of transition defense, and run them out of the Staples Center. There's no need to sugarcoat it, or expect the unexpected. Truth is, it's going to be brutal and extremely unpleasant to watch. Expect the Clippers to do what they do, getting off all types of SportsCenter Top 10 worthy lobs against the Knicks.  The Blake Griffin-Chris Paul show will be on 10 today.  And what's worse is they're not the Knicks only problems.  Last time the Knicks and Clippers met, Jamal Crawford became a Knicks killer, torching them for 27 points on 12-of-22 shooting.  Meanwhile, JR Smith had an uncharacteristic 6 points on 1-of-9 shooting.  If the Knicks stand a chance today, they will need Smith to redeem himself, especially with Tyson Chandler and Carmelo Anthony expected to sit this one out.   The injuries are tough to counter, but Mike Woodson has to adjust his game plan to suit the strengths of the guys that are available.  And this is something he's sucked at lately. Big time.  Why he continues to be stubborn with Chris Copeland's minutes is beyond me.  Copeland is a liability on defense, but so is everyone else on the team.  Woodson unfairly holds Copeland accountable for slacking on defense, but gives everyone else a pass.  Without Melo and STAT, if given the chance, Copeland could become the team's second best scoring option after JR Smith because of his ability to create his own shot. Wait. I just wept a little bit as I typed that because it speaks to the sad, sad state of the Knicks. Is forfeiting an option? PREDICTION: No Melo. No STAT. No Chandler. No defense. No win. Knicks lose. NEXT GAME: Knicks @ Jazz, 1030PM/ET on MSG
Original Story:
http://allsportseverything.com/2013/0...
THE BACKYARD
BEST OF MAXIM
RELATED ARTICLES
Carmelo Anthony was recently featured in a Wall Street Journal cover story. In the piece, Melo discusses his feelings on the Knicks early season run, what being in New York means, fashion and how his wife Lala is helping him transcend basketball. On the Knicks breakout run earlier in the season: "This is what I envisioned, coming to New York," he says. "This was on my vision...
Ballertainment Kenyon Martin has no love for former team Kenyon Martin and the New York Knicks lost to the Clippers Sunday night, 80-93, in Los Angeles. Obviously it didn't sit well with him (why would it, though?) and he had some sour grapes for his former team. In reference to the Clippers speedy style of play and how it might translate during the playoffs, he said… "You...
Los Angeles Clippers star Blake Griffin finished off a fast break by catching a lob pass from Chris Paul with one hand and throwing down a monster slam dunk during the third quarter of Sunday's 93-80 win at the Staples Center. Jamal Crawford started the fast break by stealing the ball from New York Knicks guard J.R. Smith and threw the outlet pass across the court to CP3....
The Knicks are currently in LA to face off against the Clippers on Sunday. The timing was perfect for Kenyon Martin, his ex-wife Heather lives here with their three children. His daughter Cierra had a 50′s themed father-daughter dance so Kenyon dressed up as the Fonz or Danny Zuko ("Happy Days" and "Grease" references) for the occasion. Super cute, I love to see dads and...
By, Aaron Kopperl – Knickswag Contributor In a manner all too similar to the 2011-2012 season, Amar'e Stoudemire is facing another serious injury that will keep him sidelined until at least the start of the postseason. Apparently, whenever Amar'e feels any "soreness" these days, that's basically code for "your seasons over, STAT".  Stoudemire had knee debridement...
When you think of the Los Angeles Clippers Blake Griffin, you think of the word dunk. That's it period. Check out a recent pregame slam. Please click here to read this watch this video. The post Video: Blake Griffin puts down sick pregame dunk appeared first on Players View.
Prior to playing the Clippers on Sunday, Jason Kidd was 2 of his last 18 from beyond the 3-point line. He made 3 of 5 in the loss, but can thank former shooting coach for the Nets, Bob Thate, who now works for the Clippers for the pregame advice.  As Kidd was swishing threes on ABC, Jeff Van Gundy pointed out  that the Knicks guard got instruction on his shot for 30 minutes prior...
As we have previously noted on That NBA Lottery Pick, we're starting to run out of ways to describe these amazing slam dunks by the Los Angeles Clippers.So, this time around...let's try a little bit of word association...DeAndre Jordan :: Fast Break =  Windmill Dunk(Courtesy of Slam Online)
With the Knicks missing Carmelo Anthony and Amare Stoudemire, it should be no surprise that Knicks/Clippers got lost in the shuffle on NCAA Selection Sunday. Sunday's Knicks/Clippers NBA regular season game earned a 2.3 overnight [...]
Clippers in transition, Chris Paul oops it up to Blake Griffin who finishes with the sick slam. **Follow us on Twitter or Facebook. Subscribe, or Return to BobsBlitz.com.Follow us on Twitter.... Full story at Bob's Blitz ~ http://www.bobsblitz.com
By, Kenneth Teape – Knickswag Contributor Pre-Game News and Notes Knicks vs. Jazz: ESPN, MSG 10:30PM This west coast road trip has gone as bad as a stretch of games could possible go as the Knicks have been blown out of basically every game.  They have had good stretches of play, staying in a few of the games for the most part but never being able to put together four strong quarters...
Photo via Jason Szenes/New York Times WHO: Knicks (38-26) @ Jazz (34-32) WHEN: 1030PM/ET on MSG, ESPN W2W4: Today, the Knicks released a few injury updates. According to ESPNNewYork.com, "Melo will miss his fifth game in the Knicks' past seven with a right leg injury. Anthony also said that the fluid drained from his right leg late last week was not from a knee issue but one...
NBA News

Delivered to your inbox

You'll also receive Yardbarker's daily Top 10, featuring the best sports stories from around the web. Customize your newsletter to get articles on your favorite sports and teams. And the best part? It's free!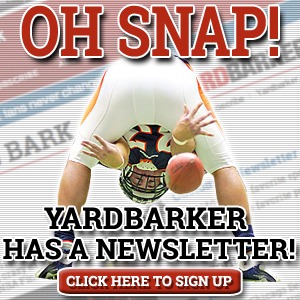 Latest Rumors
Best of Yardbarker

Today's Best Stuff

For Bloggers

Join the Yardbarker Network for more promotion, traffic, and money.

Company Info

Help

What is Yardbarker?

Yardbarker is the largest network of sports blogs and pro athlete blogs on the web. This site is the hub of the Yardbarker Network, where our editors and algorithms curate the best sports content from our network and beyond.